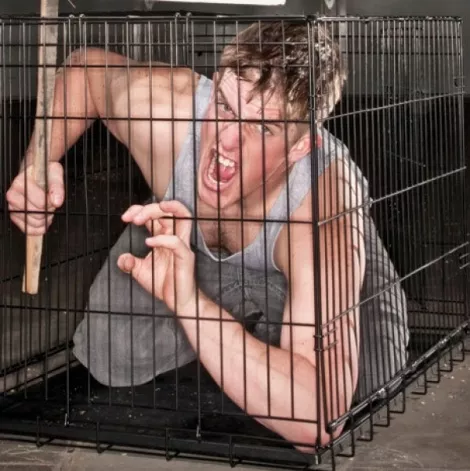 What struck me after reporting on the animosity held by Utah animal rights activists for law enforcement agencies that they believe target them for their political activities was that no readers seemed shocked or even skeptical at the activists' worst fears.---
I allow you to decide whether the Inspector General's report on FBI investigations since 9/11 basically confirms the allegations lodged by activists I featured in my May cover story, Animal Rights Activists Fight For Their Own Rights.

In what the Boston Globe editorial board has already termed "red-bating," the U.S. Inspector General details several examples of the FBI relying a flimsy evidence to open investigations against left-leaning political organizations like People for the Ethical Treatment of Animals, Greenpeace, The Catholic Worker and others.
photo by Chad Kirkland

From today's Globe editorial:%uFFFD
The best thing to say about it is that a Justice Department report cleared the FBI of investigating targeted groups to deliberately stifle their "First Amendment activities.'' But the net effect was the same.

The Justice Department's Inspector General report released this week pulled few punches in admonishing the FBI for targeting anti-war groups and advocacy organizations with no apparent justification, and for placing non-violent activists in those groups on terrorist watch lists. The report chastised the bureau for having a "weak'' rationale for some of its investigations; investigating where there was "little indication of any possible federal crimes''; and extending "the duration of investigations involving advocacy groups or their members without adequate basis.'' The agency was also taken to task for improperly retaining information about the targeted groups in its files and for classifying investigations of peace groups "under its 'Acts of Terrorism' classification.''
I haven't read every letter of the report--yet--but what I have read leaves me with this impression: as is so often the case, the scandal surrounding FBI agents breaking department policy pales in comparison to the peculiar--and some would say unwarranted--activities the FBI can engage in without violating department policy. For example, as of 2002 when policies changed, the report states that the FBI may open a terrorism investigation against a political organization if there is reason to believe that as few as two members may be planning an illegal action, seemingly regardless of whether any information indicates that the illegal activity has any connection to the organization beyond shared political goals.

While I thank the FBI's Salt Lake City Field Office for giving me about two hours of their time in preparation for my cover story in May, I'm frankly disappointed that they won't make any comment about this report. As my headline on this blog post suggests, I believe the report profoundly confirms many of the complaints activists have lodged at the FBI in recent years, but unfortunately the Inspector General did not look at any Utah-specific anecdotes. I wanted the Salt Lake City field office to address their own performance in light of this report, but alas, I'm told they will not do so.
Also remember that the FBI isn't the only agency that has taken new anti-terrorism "investigate techniques" and misused them. As City Weekly's Stephen Dark reported in February 2008--in one of CityWeekly.net's most-read stories of all time--the Utah Attorney General's office used "10 U.S. Department of Homeland Security summons" in pursuit of a gal who was harassing some AG staff attorneys using phony Yahoo mail accounts and such. The AG's office calls Rachel Guyon a stalker--and maybe that's totally fair--but that doesn't explain how our nation's security was threatened by her pranks.
Below, the IG report:

FBI Inspector General report on FBI tactics against activists
Follow Me:%uFFFD