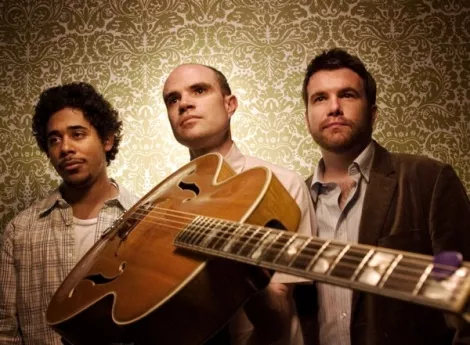 From indie experimentalists to jazz innovators, Salt Lake has always been home to an eclectic mix of local artists.---
The Joshua Payne Orchestra is a prime example of a homegrown, up-and-coming band with a unique sound. One of the dynamics that distinguish this eccentrically skillful group from their jazz counterparts is that they are not only influenced by artists from the past like Charles Mingus, but also by musicians from the present like Lil Wayne.
The Joshua Payne Orchestra takes their love of both vintage and modern music and merges them to create something contemporary and quirky. The result is a feel-good cacophony of innovative composition.
When asked about their influences, Payne said, "We do have a very unique sound…We love hip-hop, but we are jazz-trained musicians who also love pop. Old-time jazz musicians often took current hits and tweaked them, which is what we do. We just love to entertain, but we also have a fun sound that is really approachable."
It is this refreshing mentality that enables the Joshua Payne Orchestra to play gigs that range from weddings and parties to fashionable hotels and clubs. Some of these performances showcase the trio—drums, guitar, and standing bass—and at others the talented team presents the nine-piece orchestra, which includes a baritone sax, trombone, tenor sax, alto sax, clarinet, trumpet, upright bass, drums and guitar.
Another key to their distinctive sound is the group's Electonluv amplifier and Epiphone Emperor Guitar, both used with finesse and panache at every show. "It's [a] 1946," Payne explained of his guitar. "I bought it locally. It's extremely rare and unique, and I fell in love with the sound. It's built like a violin. It's old wood, so it has this really unique tone."
On Sunday, October 3, the Joshua Payne Orchestra will release their first ever 7-inch vinyl record at the Black Box Theatre inside the Rose Wagner Performing Arts Center. This self-titled record features two cover songs, Mario's "Break Up" and Lou Reeds' "Walk on the Wild Side", both of which were recorded live at the Babcock Theatre earlier this year.
When asked about these interesting song choices, Payne replied, "That Lou Reed is a classic we've loved for a long time, and I heard [Mario] on the radio, and I thought we just had to do it."
All songs the Joshua Payne Orchestra play are requested by friends or selected in an indiscriminate fashion—meaning they just skim the charts with random abandon. Each cover is artistically adapted and enhanced with a signature added bonus: an instrumental improv. However, they don't just play covers. A good portion of the songs played at the show will be original compositions.
In addition to rich layers of instrumentals, concert goers will be treated to a free record and have the opportunity to experience a live recording session. For your glimpse of The Joshua Payne Orchestra, head to The Black Box Theatre in The Rose Wagner Performing Arts Center on October 3 at 6 p.m. Tickets are $8 at the door or via ArtTix outlets.