Kicking off what feels like an extended summer today, October begins with three new local releases. --- And it all kicks off tonight over at Liquid Joe's where we'll see the debut album from Formerly So. A band you've probably heard of many times before today but haven't seen much from, mainly due to their continuing struggle to stay together. Switching between a 4-5 piece while in the process losing one drummer to another group and a bassist to an LDS mission, but it looks like they finally got their act in gear and are moving at full steam with the aptly titled full-length, Disappointment Is Control. Sounding like your standard progressive rock album with a little string play and higher vocals, singer Brayden Green walks the fine line between dive-bar wailer and emo-rock screamer. Not a bad outing for a group who have been trying to get it together for two years. You can catch them tonight (as they'll be shooting footage for a music video) along side ECS, Hour 13 and The Perennials. Just $5 at 7PM.


Then tomorrow night at Velour we see the kickoff to a small localized tour celebrating the album release from Mark Dago. The solo hip-hop specialist has been making the rounds, spinning his finest rhymes and earning his credibility. But rather than just sit back in the comfy arm of SLC, Dago has been taking his act all over the Wasatch Front, playing as high as Logan all the way down to Spanish Fork. Easy for a solo man, but quite a feat for any hip-hop act. Now he's got a smooth debut album that's got some killer beats on board, going by the title Self High Five. Awesome tracks like "Pop Rock Is Not Dead" and "Tropicana" have a very different feel to the rest of the scene at the moment, definitely a CD worth checking out. Playing along side him at Velour will be Numbs, Agents and Paper Tron, just $5 at 8PM. But if you can't catch him tomorrow, fear not, you can see him hitting up several coffee shops as all next week he'll be playing a new venue every night. Check out the flyer below for details.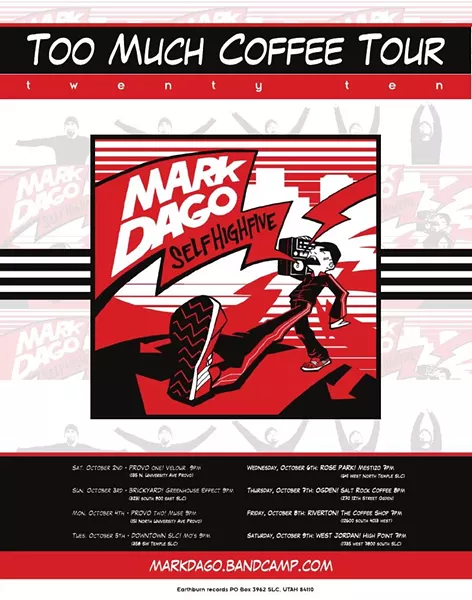 And then finally on Sunday we see a 7" release from the Joshua Payne Orchestra. Julianna Clay already wrote up a small piece about the band around here somewhere (which at the moment I can't find, but will link it up when I do), so I'll shorthand it for now. Covering Mario's "Break Up" and Lou Reeds' "Walk On The Wild Side", the vinyl EP comes from probably one of the most skillful trios in town, not just playing covers but improvising within them as they perform. And rather than sit in a stuffy recording studio the band records all its works in front of live crowds. Which brings us to this special performance on Sunday night where they'll be playing at the Rose Wagner on the big stage, the entire performance to be recorded for a later release, followed by another full orchestra to close the show. Tickets are just $10, which includes a copy of the 7". And if you're any kind of a vinyl lover or collector, then the picture below will give you some goosebumps both in presentation and design. In other words, this isn't just some random release, its an experience they want to share with you. The show goes from 6-8PM.


Head out, love music, buy local!