Coming off of a highlight season such as Pygmalion Theatre Company had last year is no easy task. Aside the sold-out sequel to the popular Sister Dottie series, a remarkable (and Arty nominated) performance from Lady Day, and the returning season closer of Sordid Lives, PYG has probably had the hardest season to follow-up on above all other theatre companies. But like everyone else they pushed on and deemed to top last year's success, opening with a curious but powerful choice.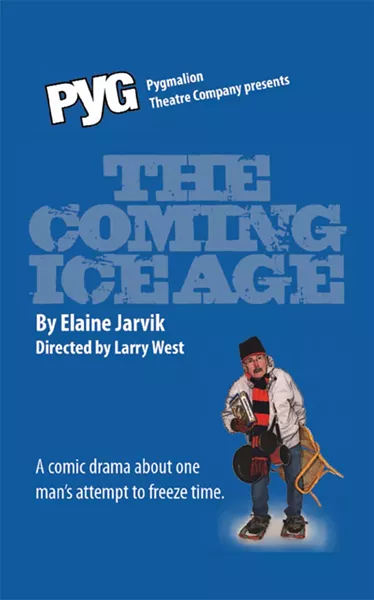 --- The Coming Ice Age tackles the subject of elderly age with humorous warmth and striking reality, delving into the ideals of whether to find solidarity in staying put or peruse the need to expand and grow in life. Viewing life through the eyes of an older man forced to vacate his longtime home for senior living, and his wife of many years who brought on the upcoming changes. We got a chance to chat with playwright Elaine Jarvik, director Larry West, and the leading actor David Phillips about the play opening tonight and the work they've each put into bringing it to life, plus their thoughts on local theatre.

Elaine Jarvik, David Phillips & Larry West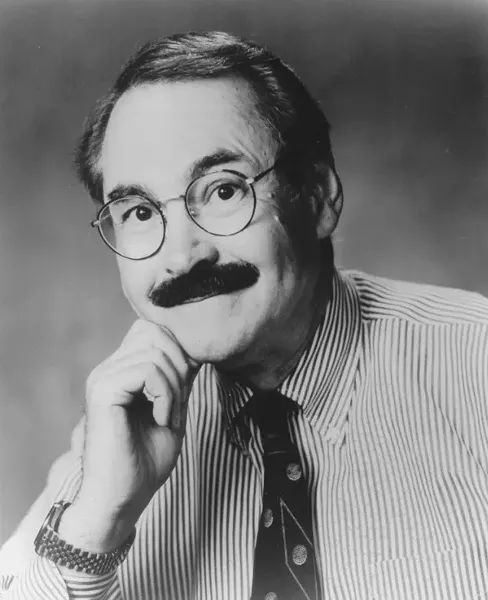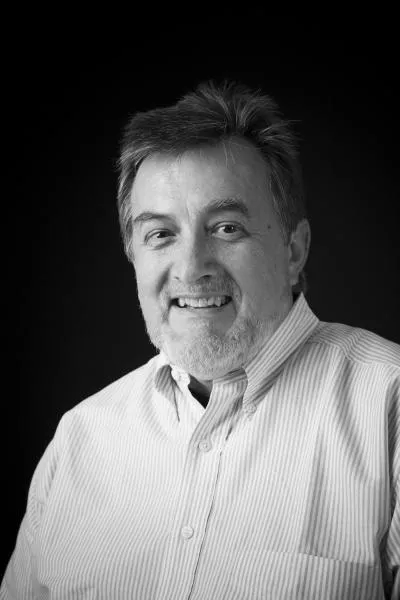 http://www.pygmalionproductions.org/

Gavin: Hey everyone. First off, tell us a bit about yourselves.

Elaine: The essence of who I am is a cross between the husband and wife in The Coming Ice Age. I'm fearful and sentimental, like Roger. But, like Francie, I hope they play hip-hop at my funeral. I've been a newspaper reporter for forty years, first in Connecticut and then at the Deseret News. I began writing plays in 2002, and was lucky enough a couple years later to study with J.T. Rogers and Mike Dorrell at Salt Lake Acting Company. Last spring I completed Plan-B's Playwriting Lab taught by Tobin Atkinson. In 2008, my ten-minute play Dead Right was produced at the 32nd Humana Festival of New American Plays in Louisville, Kentucky. Another of my ten-minute plays is a finalist this year. Dead Right was about why con-TENT is more important than CON-tent, so this boring recitation of my accomplishments is making me laugh.

David: My name is David Phillips I have been performing on Utah stages for over the last twenty years. Before that I acted in California from high school and community theatre. I am retired and spend a great deal of time writing plays. I have finished five to date, none published or performed. Four romantic comedies and one drama.

Larry: I'm a "Narth Utah" kid who fell in love with theatre in high school and never looked back. Theatre has been really good to me — its taken me all over the place. I've directed in Utah, Idaho, Texas, Pennsylvania, Oregon, North Carolina, Indiana, Minnesota, New York, California... and Mongolia. I've taught theatre at a bunch of universities and currently my day job is as a political consultant... it's all theatre.


Gavin: What inspired all you to take an interest in theater?

Larry: I did a lot of singing as a kid, then moved into theatre... realized that it was a great way to hook up with girls... and never looked back. I realized early on that I was a good, solid actor, but not brilliant and discovered that I loved the process of making things happen. I became a director.

David: I started acting in theatre in grade school then high school and in college. I might never have done it but at twelve my sister was born and I had to figure out a way to regain the spotlight at home.

Elaine: I used to read plays as a teenager, but was too shy to act so I was an assistant prop manager instead. Then several decades went by and the other assistant proper manager contacted me out of the blue and said he was now writing plays. That sounds like fun, I thought. Eight years later I still think that playwriting is painful and exhilarating.

Gavin: Elaine, how did the idea come about for The Coming Ice Age?

Elaine: I started writing it when I was at the Humana Festival in the spring of 2008, sort of as a prequel to Dead Right. Like most playwrights, I'm drawn to writing about what I struggle to figure out: in this case how not to get frozen by a fear of change, how to let go of the things, both physical and metaphorical, that I no longer need to lug around.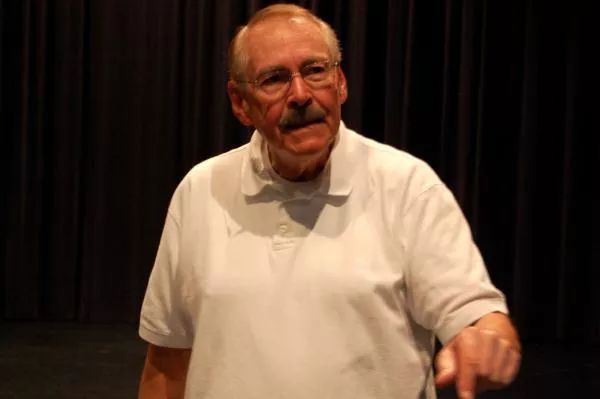 Gavin: What was the writing process like for you, both in looking at these topics from a humorous prospective, and developing the characters along the way?

Elaine: The writing process... Did I already mention the word painful? I whine a lot to my daughter and friends. Because the play deals with some heavy topics. Grieving, mortality, moving from a family home. I knew I had to make it light-hearted and, hopefully, funny. I've drawn on many years of newspaper interviewing, most recently a series on aging I co-wrote with Lois Collins of the Deseret News. For the past several years I've also worked with the Senior Theatre Project (Jayne Luke, Justin Ivie, Ron Frederickson, Steve Phillips, Christy Summerhays), and those visits to senior residences and senior centers also show up in this work.

Gavin: Larry, how did you join up with Pygmalion and eventually took on directing the play?

Larry: I've been a huge fan of Pygmalion for years. I've known Fran and Barb for years, my wife, Betsy worked with them and on many occasions I presented myself as a director. I'm a white, middle-aged, straight director... which didn't quite feather into their mission statement, "Plays For And About Women." I think I just wore them down, plus I have a history/love for new plays — I've been a Sundance Theatre Lab reader for a long time — and they asked me to help them develop The CIA. So, a year ago we did a reading, then a second reading and finally moved into full production mode.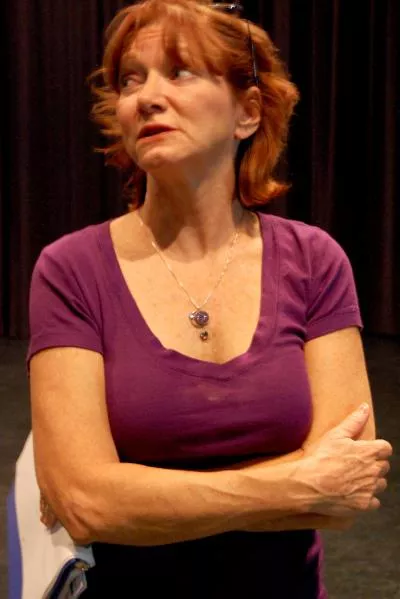 Gavin: How much of a challenge has it been for you adapting the play and putting it together for full production?

Larry: Elaine writes terrific dialog and wonderful characters. Since she hasn't done a lot of theatre, my job is to take these brilliant characters and their words and shape them into a piece of theatre that has movement and dimension... or maybe dementia. Working on a new play is unlike anything in the theatre. I've done a lot of Shakespeare and it's not uncommon to have audience members with scripts in hand, following along during a performance. They know the play — they can quote the dialogue and sometimes do in tandem with the actors. I like to imagine the first production of Hamlet when it all unfolded to a virgin audience — the anticipation, the surprise, the absolute newness of it must have been magical. So it is with this new play... there will be no audience members with scripts in hand, and with the exception of a precious few who may have read the script, the story and characters will present themselves new and uncluttered. That's big stuff!

Gavin: David, what was it about this particular play that caught your eye to audition for it?

David: First of all the age. The older one gets the fewer roles there are. Secondly I would say I loved what the play says about how little control seniors have over what happens to them. Thirdly I have always wanted to act in a "first time production". I've always wanted to see how a play is approached for its first run. I have had the privilege in my career to act in seven Pulitzer Prize winning plays but so far this first time production is just as exciting.


Gavin: How was the audition process like for you and what was it like getting the part?

David: It was a difficult audition because I had never worked for this company before and because I had a limited time to study the script. Usually if I plan to audition I will study the script for months before setting foot in the audition.

Gavin: What has it been like fitting into the lead role, and what challenges have you met in bringing out the character and perfecting your performance?

David: I'm lucky because I'm working with a great director and an outstanding cast. When you have those two things going for you it is not as difficult. It is a challenge to keep the on stage energy at a high lever. I walk five miles six sometimes or seven days a week. I take care of what I eat. It is much like training for a fight. You will never win if you're not trained to go the distance.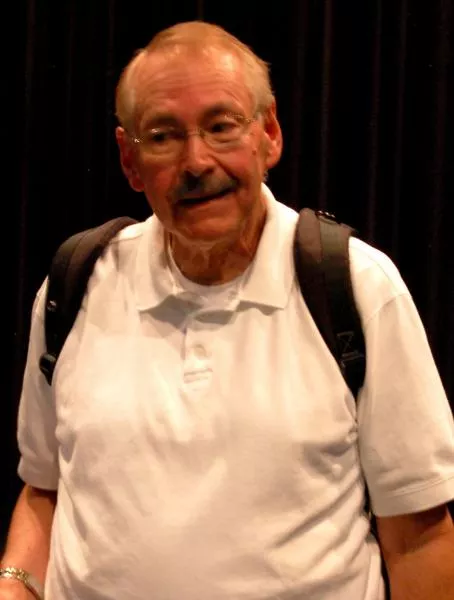 Gavin: How has your interactions between each other been while bringing this play to life?

Larry: This is a dream cast — smart, funny, hard-working and pretty much the right ages for these amazing characters. I've spend a lot of time in university theatre and so I've cast a lot of younger actors as older characters. It's fine, it works, audiences are usually good with it. However, there is a life-experience that is sometimes missing. With this cast of mature--note that I didn't say "older" — actors there's a wealth of life experience and lots of great stories. We share some common ground, we know the same movies and songs... it's great fun.

David: I love each of the three women I work with. They all have unique personalities. As I get to know each one of them and feel of their timing and their spirit I am able to use my character to their rhythm.

Gavin: Going into opening night, what are your overall thoughts on the production?

Elaine: This production is better than anything I ever imagined in my head — thanks to director Larry West, four amazing actors, lighting designer Cory Thorell, and sound designer Troy Klee.

David: There are so many questions that really remain unanswered until the play has been given the life only an audience can give it. It's like working on a painting for a long time. Then turning it around to be viewed by others. The artist knows his own feelings but has no idea how it will be viewed.

Larry: We are so ready to see how this plays to an audience.


Gavin: Moving state-wide, what are your thoughts on local theater, both good and bad?

Larry: Theatre has always managed to endure... good times, bad time, boom or bust. Theatre even managed to survive the invention of film and TV. I think local theatre is strong. There are new companies that are looking to make a mark and I think it's healthy and encouraging... it also keeps the older, established theatres on their toes.

David: I believe local theater in this state can offer to each individual a lifetime of fulfillment. There are a broad range of productions that are being put out there for the public. From north to south it's alive and vibrant.

Gavin: Is there anything you believe could be done to improve on it or make it more prominent?

David: No new ideas here. Just keep hiring local and give the people that want to perform a chance. Some theaters think they have to cast from out of state and I think that is a mistake.

Larry: I think that theatres should never underestimate their audience... our local audience is bright, educated and eager to take some chances... they want new exciting stuff. I think they're tired of seeing the same old plays over and over. Thinking that theatres play it way to safe. I love that most of the theatres in the area are invested in developing new scripts... I'm just always wanting more.


Gavin: What's your take on the push to bring "Broadway to Utah" and the steps being taken so far?

Larry: I love what Broadway in Utah does for the local theatre community. They raise the bar, they keep us up-to-date, they provide quality theatre... and I strongly believe that "a rising tide lifts all boats."

David: This state would support Broadway shows. I think in the long run it would benefit everyone.

Gavin: What can we expect from all of you over the rest of the year and going into next?

Elaine: I am currently working on three connected one-act plays, and a full-length about a woman who falls to pieces because her neighbor builds a fake-stone wall between their properties.

David: After this play ends I will be busy writing again. I hope to get a play produced in the near future.

Larry: I'm always on the lookout for directing jobs... looking at a new play about Ava Gardner.


Gavin: Aside from the obvious, is there anything you'd like to promote or plug?

David: Nothing to promote here… but thank you very much for letting me voice my thoughts.



| | | | |
| --- | --- | --- | --- |
| Follow Gavin's Underground: | | | |