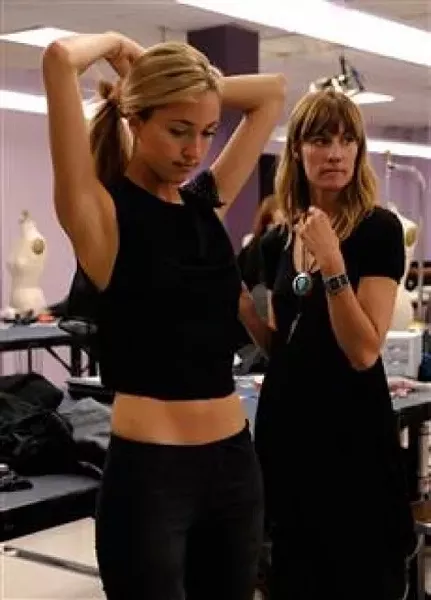 Hey kids! Tonight's the
Season 2 finale of Jersey Shore
! And the reunion show is next Thursday! And DJ Pauly D and JWoww are coming to SLC! Pump it! ---
What's new tonight:
Project Runway (Lifetime) Season Finale, Part 1: Why the hell is Gretchen still here? More importantly, why the hell do I know who Gretchen is? Tonight, Tim Gunn preps the Final Four for the Fashion Week showdown … I mean, the Mercedes-Benz Fashion Week showdown brought to you by Garnier, Loreal, Piperlime and Taco Bell. Sorry.
The Office (NBC) Timothy Olyphant (Justified, Deadwood) guest-stars as a slick salesman who's stealing Dunder-Mifflin business—but you probably won't recognize him without a cowboy hat. Meanwhile, Andy starts a band that may or may not compete for local gigs with Scrantonicity. Rock throwdown!
Nikita (The CW) Return: After a week off, The CW brings back Nikita with a new mission: Appeal to an audience, any audience, beyond middle-aged white dudes who like to drool (and who knows what else … oh, we know) over star Maggie Q—preferably, young women who drool over The Vampire Diaries. Answer: Play up the girl-power camaraderie between Nikita and her protégée on the inside of evil Division, Alex. This will probably also mean less mindless violence … damn it.
Night of Too Many Stars (Comedy Central) An autism education benefit concert with performances from Tina Fey, Lewis Black, Sarah Silverman, Steve Carell, Tracy Morgan and, as the name implies, too many more. Did anyone invite Tim Gunn? That dude's hysterical.
Also new tonight:
Grey's Anatomy, Private Practice (ABC); The Big Bang Theory, Shit You Shouldn't Watch, CSI, The Mentalist (CBS); Community, Outsourced, The Apprentice (NBC); The Vampire Diaries (The CW); It's Always Sunny In Philadelphia, The League (FX); Jersey Shore (MTV)
Preview: Meet the new, girlier Nikita—which apparently entails whispering, flashbacks and power ballads.