Hello to all you tinsel buying, light decorating, stocking stuffing, gift%uFFFDwrapping, candle lighting, carol practicing, Halloween-raping enthusiasts. ...You pricks. I say it ever year, but it doesn't seem to click in, so I'll say it again. Just because Christmas material went on sale in late September, doesn't mean you have to buy it and mount it now. We've got two fucking holidays, one of which takes two days and has its own football game, before anyone can officially declare it the Christmas season. And while I'm sure someone in the nation is already setting up their pup-tent outside a box store for Black Friday as we speak, I'm begging to anyone reading that you shovel this holiday back into the storage closet for another six weeks. Just please, enjoy the fall, and stop encouraging companies to create advent calendars that start on Labor Day. Do I really need to say more? I don't have any graffiti shots today, so instead how about this shot of what I'm calling "Duct Tape Poetry" found along Broadway this week.


--- You might wanna get nestled in your chair for a few, we've got a lot to cover. First big think on the docket today, Beers For Bikes! Epic Brewing over on State Street are throwing a fundraiser from 1-8PM, today! All going toward the Salt Lake City Bicycle Collective. Honestly, do yourself a favor, fight the rain and go for the beer tasting to help out a worthy local cause. $10 donation gets you a tasting cup to try out their various brews, plus some food to float on in with it from four different restaurants. A noon parade going to Liberty park and back, valet bike parking and a DJ spinning... do I really need to promote this any more than I am? Just go!


Moving on, this past Thursday was the Local First Utah "Share The Bounty" event. Lots of fantastic eats, not to mention some truly tasty wines and beers from around the state, the items being auctioned off weren't too shabby either. Not to mention the Joshua Payne Orchestra laying down their finest tunes. For those of you who were wondering, the four winners for the LocoMotive Awards were: Air Terminal Gifts, Carla Kelley (the Human Rights Educations Center of Utah founder), the Beehive Cheese Company, and Suzy Dailey (Grounds for Coffee). For those of you who'd like to check out some shots from the night, there's some photos for you to peep out over here.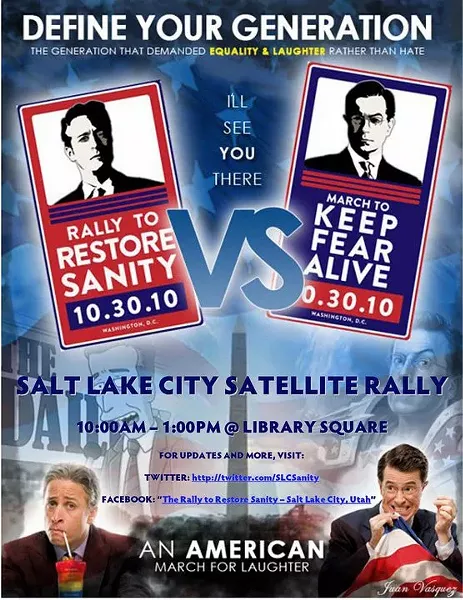 Now as we approach Halloween weekend we have a number of events to chat about (and some we can't), so let's throw up some of the more popular highlights on the way. First on that bill, you may have noticed that City Weekly has officially joined on as a sponsor for the SLC Fashion Stroll. Usually reserved for the third week in September, this year pushed back to the final week of October to tie into All Hallows Eve while showing off the latest in Winter and some Spring fashion. If prior years are any indication, there will be plenty of vendors, deals galore from businesses along Broadway, and completely free to attend. Live music from popular local acts and runway displays throughout the night. Don't miss out on one of the last fashion shows of the year.


Another event happening on the 29th and branching into the 30th will be the CD/DVD release from local comedian Marcus. For those of you who may not remember, about five months ago the man himself taped a comedy special live at Kingsbury Hall entitled "The Hand The Feeds". Three hours of material for the live crowd, which I was lucky enough to witness completely unedited (with some material that wasn't filmed as he chatted with the audience) and I can say it was probably one of his best sets to date. And now you can purchase it in all its high definition glory this coming Friday as he gets set to perform two shows a night for two nights at Wiseguys in West Valley City. He'll also be selling a freshly tracked comedy album entitled Hell Oh Well, recorded last month at the Trolley Square location with even more new material completely separate from the DVD. I got the chance to listen to the whole album today with over sixty minutes of new material, and its damn funny. His interactions with the crowd remind me of Dave Chappelle or Robin Williams where they bring the audience into the experience. Frequently topical on pop culture with personal musings while also delving into married life and parenting, its%uFFFDdefinitely%uFFFDworth a listen. Oh, and just enough local references to make it feel personal to the Utah listeners. Head on over and check out the show, and grab a copy on the way out.


Speaking of comedic events, you may have heard of this little thing happening in Washington D.C. Its a small public event by the name of The Rally To Restore Sanity And/Or Fear. As expressed on "The Daily Show", clearly not everyone is going to be able to attend, so they encouraged people from the "silent majority" to start up their own rallies in respective cities to gather and watch the feed. A simple way to have fun while showing support for this cause. Well, Salt Lake City has one brewing to be held at Library Square next Saturday from 10AM-1PM. But like any event, it requires a bit of help, mainly in for form of donations to support the broadcast feed for a group of people to watch. The group needs $2,500 to become fully equipped and show the entire Comedy Central feed in a public venue, so far they only have $1,000 which covers an audio feed. You can help them out by heading to their Facebook page and donating there. All donations after their goal will go toward the Trust Fund for The National Mall. Help them out and go enjoy the rally!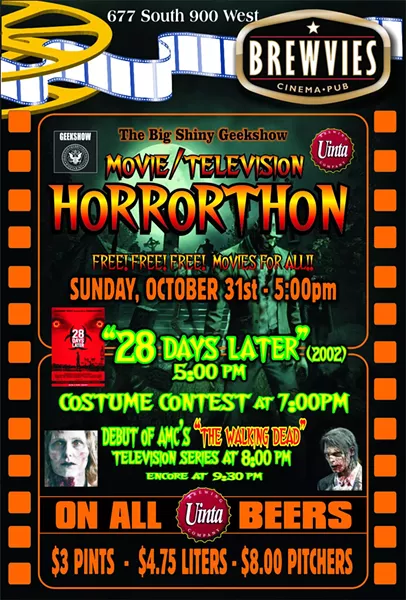 Then later that night you can head over to The Urban Lounge for Mike Brown Fest 5, or as I'm calling it, "The Fucktard Frontier". For those of you who haven't had the privilege of attending one of these... you're fucking up! Brown and company know how to throw a party, they also know how to throw beer and skateboards at the audience. Last time one of the members of The Fucktards got too drunk to keep playing and ended up laying down during half the set. That said: you'd be stupid not to go. Along with the headlining anti-everybody punk group, the Pretty Worms will be playing, along with skaters shredding up the cheaply-installed wooden dance floor and probably getting injured in the process. Oh, and did we mention a costume contest? Well there probably won't be one, but dressing up is highly encouraged. All this for just $5


But if that imagery scares the crap out of you, and it should, don't worry. The following night at the same venue will be the Ted Dancin Halloween showcase. A whole night to shake your booty to everything except the copyrighted "Monster Mash", which is a good thing. Drink specials and hot music from decades past, costumes extremely necessary, and cheap too! Go get in one last big party before winter.


Prior to that over at Brewvies will be the extremely long-winded title "Big Shiny Geek Show Movie/Television Horrorthon". Kicking off at 5PM they will show "28 Days Later", followed by a costume contest, and to wrap up the evening they will be showing AMC's debut of "The Walking Dead" (based on the Dark Horse Comics series) live in the theater. Hosted by the panelists of Geek Show Podcast, drink specials galore, and did we mention the evening is totally free?!?


For those of you not into either a concert or a movie and are looking for something else at home, KUER has your answer as they'll be airing all five hours of Plan-B Theatre's "Radio Hour" series from 8PM-Midnight on Sunday night. All the original performances going in order with "Radio Poe", "The Hitchhiker & Zero Hour", "Lavender & Exile", "Frankenstein" and "Alice". All in celebration of Plan-B's 20th and KUER's 50th anniversary.


Speaking of Plan-B (which we'll discuss more of later int he week), the "Script In Hand" series kicks off on November 3rd, featuring two new plays for audiences to check out. Forty minutes performances will be shown of resident playwright Matthew Ivan Bennett's What Are You?, and Jennifer Nii's adaptation of The Scarlet Letter. And did we mention this is free as well? But you have to RSVP via Jerry Rapier at jerry@planbtheatre.org. There won't be another until March so check these two out while you can!



Whew! As for the blog... a couple of interesting things on the way the next few weeks. We'll have a brand new concert with interviews, chat up a brand new art gallery, hit up a local publication that just went out, as I said we'll visit with Plan-B, explore a photography studio and its duo, and look into one of the last local film festivals of 2010. At least that's what we're hoping will go on around here. As always, we'll see what happens.