If any single production company had one hell of a run in the local theater scene, its has been Plan-B Theatre Company. Last year above others was probably one of their best. Both Wallace and Amerigo received heavy praise for their subject matter and choice in casting, not to mention the later picking up two reader's choice Arty awards for best production and performance. Plus the final presentation of the popular Radio Hour series (which you'll be able to hear in their entirety this Sunday on KUER) ending with their take on Alice In Wonderland. And while looking to top the work they presented last year, the celebrate a resonating anniversary this year.


--- Entering into their 20th year as a full-fledged theatre production company in Utah, the season opener kicks off with a rather interesting choice: She Was My Brother. Loosely based on historical explorations, it follows the story of a dual-spirited leader of the Zuni tribe and his relationship with two Victorian-age anthropologists. Touching on subject matter like cultural presumptions, sexual identity and even natural love, the play explores areas that still hold true in modern society. Prior to this Thursday's debut, we got a chance to chat with all three actors involved, as well as playwright Julie Jensen and director Jerry Rapier about the play and their thoughts on the subject matter, plus musings on local theatre.

Jay Perry, Joe Debevc, April Fossen (all below), Juile Jensen, & Jerry Rapier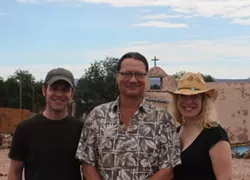 http://planbtheatre.org/planbtheatre/She_Was_My_Brother.html

Gavin: Hey everyone. First first off, tell us a bit about yourselves.

Joe: That's classified.

April: I'm an actor... among other things. I would still call myself "new" to Salt Lake theatre.

Julie: I'm from Beaver, Utah originally. And I'm back in Utah again after living all over the country. I like it that I've been everywhere and yet I'm back now where I belong.

Jay: I'm a Salt Lake native and attended the University of Utah's Actor Training Program in the late 90's. I live in downtown SLC with my fiance Daisy.

Jerry: I'm beginning my 11th season as Plan-B's Producing Director. And I recently began a relationship with Hulu, which brings me great joy.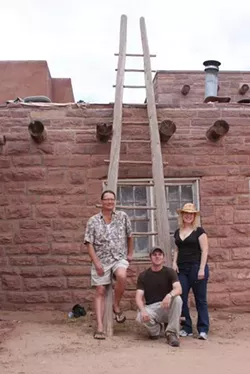 Gavin: What inspired all you to take an interest in theater?

Joe: The Dormouse.

April: I saw a production of Richard III at the Utah Shakespeare Festival right before I started college. I wanted to do what they did. I wanted to have a relationship with audiences and tell them stories they wouldn't otherwise hear and give them experiences they wouldn't otherwise have.

Julie: At first I was an actor, but then I became frustrated because someone else controlled my access to it. I had to be invited to do the work. Writing for the theatre did not work like that. I could write the plays, on my own, without anyone else's permission or invitation. And so I became a playwright and never looked back.

Jay: I grew up singing but my sister and I wrote and performed sketches for my parents in our living room growing up. My first play was at the Vine Street Theatre in Murray when I was 13 after my neighbor dared me to audition. I took to it and tried out for things in junior high and high school where I scored the lead in the musical my senior year. On closing night I looked up into the light grid and thought, this is what I want to do. I auditioned at the U and have been close to the theatre ever since.

Jerry: I feel into it in my second semester of college. It took over my life immediately. I have deja vu moments quite frequently - it's calming to know you're doing what you're supposed to be doing.

Gavin: Julie, How did the idea come about for She Was My Brother?

Julie: I wrote a play about Native Americans, The Dust Eaters. It was about the Goshutes and their struggles with burying nuclear waste on their reservation. In response to that play, a friend of mine, David Chambers, at Salt Lake Acting Company, showed me a book called The Zuni Man Woman, a biography of an actual historical person, who was born a man but had the work and dress of a woman. He was quite famous, actually, and was taken to Washington, DC, where he passed as a woman. He met the Congress, the Supreme Court, and the President and his wife. I was intrigued by the story and wondered what the two white ethnologists, Frank Cushing and Matilda Coxe Stevenson, had done with this character. The answer was, very little. So I then began to speculate on why.


Gavin: What was the writing process like for you, both in adapting this somewhat historical story for stage and then putting it into a modern context for audiences to relate to?

Julie: It was not an easy play to write. Initially I was hesitant to write the Zuni character. He knew English, as well as several other languages, so that wasn't a problem. I wanted to do him justice. At the same time, I did not want to idealize him. So it was difficult at the beginning. But finally it was a delight. I liked writing him and I liked the other characters, too. As for the modern context, that came naturally. I live in the now. I am political. This was a story which suited me. And that delighted me.

Gavin: Jerry, what made you decide to direct the play yourself, and how was it for you putting it together for a full production?

Jerry: I love everything about this play. And, for the most part, the entire process has been a joy.


Gavin: For the actors, what was it about this play that caught your eye and made you want to be a part of it?

Joe: Blind faith and implicit trush in a covey of "fuck you all" seers of the extraordinary.

April: Very simple, it's an unexpected story and a beautiful one.

Jay: It is just a beautiful play Julie has written and I love working with Plan-B.

Gavin: What was the audition process like for each of you and what was it like getting the part?

April: Auditioning and getting the opportunity to read with Joe and Jay was wonderful. I had been lucky enough to work with Joe before, in Plan-B's Miasma, and was excited about the possibility of working with him again. Jay is a good friend and an actor whose work I always admire, so the possibility of working with him was also exciting. When I actually got the call that I was cast, I have to say I was surprised. I had assumed they would cast someone older than me. But I was thrilled!

Jay: Joe and I read for it together for Jerry and Julie at the Rose Wagner. I had been in a production with Joe years ago and hadn't seen him since then. We talked a little before we went in for the read and then just went in and gave it our best. Some things really clicked right away. I was so excited to find out that we'd been cast together. He's amazing. Later, I sat in on call-backs for the part of Tullis which was secured by the wonderfully talented April Fossen.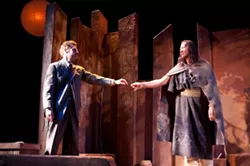 Gavin: What has it been like for each of you fitting into these roles, and what challenges have you met in bringing out the character and perfecting your performance?

Joe: I can't answer that.

April: "Perfecting my performance?" It won't be perfect. It will be in progress up to the last performance. And then there will probably be lots of things I wished I could have done differently/better.

Jay: It helps that Julie has written very real, complex characters and given clues to follow into a life that's grounded and human. The first time I read the play I had a clear sense of who Wilson was, or at least the person he was projecting into the world. The continuing challenge, of course, has been to fill in the gaps, get inside, underneath. That's an endless journey.

Gavin: How have your interactions between each other been like, as well as working with Jerry in bringing this play to life?

April: We all get along really well. I love working with everyone that is in that room each night. It is a completely safe and comfortable place.

Julie: I love these people, the actors, the designers, the director. It's a wonderful group. I have to say, too, that Plan-B is the only theatre I've ever worked in or ever heard of, which has the set in place by the time of the first rehearsal, and the designers are a part of the rehearsal process from the beginning. That's such a luxury. Designers are then a part of the process, not an addition at the end. I love this way of working and am surprised that this process is not a part of other theatres. From the start, Jerry's had a vision and a passion for that vision that is infectious. Our trip to Zuni was a bonding experience for the whole group. There's nothing like a road trip to bring people together and provide a valuable common perspective.

Jerry: I'm thrilled and honored that Julie trusted us all with her play.


Gavin: Going into opening night, what are your overall thoughts on the production?

Joe: Glowing, man, glowing.

April: It is impossible to be in a production and to be able to have any kind of objectivity about it. I only know that from the inside it feels well put together.

Julie: Well, I'm enthusiastic about what I've seen so far. And I am sure we'll be in great shape by opening. The bones are all there. Now it's just a question of putting more flesh on those bones.

Jay: It's very exciting to finally give the play to the audience. There will have already been previews, but everything is sort of heightened and extra-energized on opening night. It's a great night to look forward to.

Jerry: I can't wait to share this story, and the world we've created to tell it, with our audience!

Gavin: What are your thoughts on the play being a part of Transgender Awareness Month and representing that part of the community to bring attention to their issues?

Joe: Perfect.

April: I think it is timely. I think people need a story, especially one based in history, about this transgendered individual who is honored and respected. And, as a society, we need to take a lesson from it.

Julie: This play was done in Tucson's Borderlands Theatre last fall. On that occasion, the theatre also made the play a part of the Transgender community. I found that a wonderful opportunity for all of us to speak to issues are infrequently put on stage. In short, I'm delighted by the fact that we're a part of Transgender Awareness Month here in Utah.

Jay: I have a cousin living in Vegas who is transgendered and I'm really hoping she'll be able to make it to the show. There is no better use of the arts in my opinion, than to do something that is socially conscious and potentially uplifting for the community. Being involved in this show at this time is a very special experience and I am honored to be a part of it.

Jerry: I'm thrilled the timing worked out so we could be a small part of it.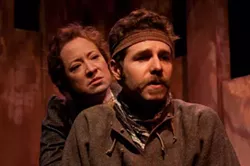 Gavin: Moving state-wide, what are your thoughts on local theater, both good and bad?

Joe: All theatre is good.

Julie: Salt Lake has a very active and wonderful theatre scene. It has some very good companies, with excellent professional standards. What's unique about theatre here is that so much of it is written by local writers. I don't know of any city in the country (except New York) which is doing so much local work. We're unique, and we're good.

Jay: We have a vibrant theatre scene in Utah with an absolute wealth of talent that has a great history. It's growing now faster than ever, with some fantastic new people and organizations bringing fresh perspectives and pushing the envelope. It's a very exciting time to be a theatre artist in Utah. We have wonderful audiences who support and sustain our art. For a state so large, our theatre community is quite close-knit with few degrees of separation between us. I'd like to see the many companies find more ways to collaborate.

Jerry: Ditto, times four!

Gavin: Is there anything you believe could be done to improve on it or make it more prominent?

Joe: Everything!

Julie: I think if the city would build another facility like the Wagner, we would have an even more vibrant theatre scene. That facility makes it possible for smaller companies to do good work. They do not need to have their own space, and the do not have to run their own box office. That frees them to do good work. Which they do! In other words, all the talk of building a "Broadway style" theatre is not a great idea. We have several theatres like that. We don't need more. We need another Wagner.

Jay: Funding. Lots and lots of funding. If there's work you appreciate, please support it.


Gavin: Speaking of, what's your take on the push to bring "Broadway to Utah" and the steps being taken so far?

Joe: Broadway is in New York. We're on 3rd South.

Jerry: Can't say it better than Joe did!

Gavin: What can we expect from all of you over the rest of the year and going into next?

April: I will be in the next Plan-B production, Mesa Verde, which I'm so excited about. And after that.

Julie: I have another production of another play coming up in November in New Jersey. That's important. At this point I am working on a memoir of a relationship I had with a 70-year-old New York artist. I was 36. After I finish the memoir, I will make it into a play with the help of two local actresses, Anne Cullimore Decker and Brenda Sue Cowley.

Jay: I'm very excited to be reprising the role of Bud in Gutenberg! The Musical! next summer, as part of a new partnership between Plan-B Theatre Company and the Egyptian Theatre in Park City, with the wonderful Kirt Bateman as Doug and Jerry Rapier as our fearless director.


Jerry: We at Plan-B are gonna be busy over the next few months with a series of events that celebrate our 20th Anniversary and our community partnerships. The Radio Hour Marathon on Halloween, October 31st - all five Radio Hour plays in a, well, marathon broadcast on KUER from 8PM-Midnight. The first Script-In-Hand Series reading is on November 3rd. Different = Amazing on November 14th, an event addressing bullying and a fundraiser for the Human Rights Education Center of Utah. Readings of David Sedaris readings on December 5th as part of KUER's 50th anniversary party - the premiere of a new short play by Matthew Ivan Bennett called This Is Now as part of Equality Utah's Jazz Brunch on January 16th. Oh, and then our regular season resumes!

Gavin: Aside from the obvious, is there anything else you'd like to promote?

Joe: Hi Keo!



| | | | |
| --- | --- | --- | --- |
| Follow Gavin's Underground: | | | |