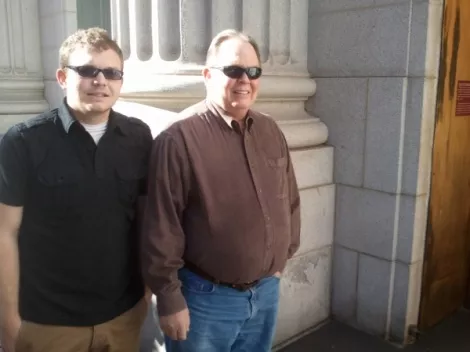 Animal rights activist Jordan Halliday was sentenced today to 10 months in prison for refusing to testify to a federal grand jury after already serving four months for civil contempt for the same refusal.---
City Weekly reported on Halliday's case Oct. 20. Read: Animal Rights Activist Pays Price For Grand Jury Resistance

U.S. District Judge Ted Stewart denied the U.S. Attorneys' effort to increase the sentencing level which would have made the sentencing guidelines for his conviction 15-21 months. As a result of Stewart's ruling, the advisory sentence was dropped to 10 to 16 months. Stewart said that the court and security costs the government used to justify requesting the enhancement are the same costs that underlie the charge of contempt and thus should not also be the basis for an enhancement.

Defense attorney Kent Hart did not explicitly call Halliday a political prisoner, but said prosecutors believe "Because Mr. Halliday is a vegan and an activist ... therefore he's guilty by association of these mink farm cases." Hart said the U.S. Attorney's pursuit of criminal contempt charges against Halliday after he already served four months for civil contempt is not only very rare, but perhaps "unprecedented and it seems to be rather dangerous."

Assistant U.S. Attorney John Huber admitted that criminal charges for contempt following civil incarceration is "unique" but said he is aware of one Florida defendant facing the same circumstance. Huber maintained the government's position that Halliday has insider knowledge of two mink releases from 2008, a claim Halliday denies.
In a brief statement to the court, Halliday said he will continue his animal rights activism but "I always have and will always work within the law."
Halliday pleaded guilty to contempt Sept. 20. He explained to City Weekly his resistance to testify by expressing fear that the grant of immunity from the government in exchange for his testimony is not what it seems. While his own testimony could not be used to prosecute him, he said, he feared that anyone prosecuted with evidence he provided could retaliate by providing evidence to the government. He chalks it up to government obstruction of lawful protest akin to the 1970s-era COINTELPRO strategies for federal law enforcement.

"[Halliday] is being used as an example for the government to send a message to all other animal rights activists that if they do not cooperate with the government they will be incarcerated," Hart said.
The hour before his hearing began, Halliday posted a video (embedded below) of himself singing a good-bye song to friends and family. In the tweet containing the video, he wrote, "I'm going to be a jerk and leave this as my (possible) last tweet for a while. Love you guys. Wish me luck."
Halliday was ordered to self-surrender by Jan. 3, but will appeal the sentence.

Follow Me: