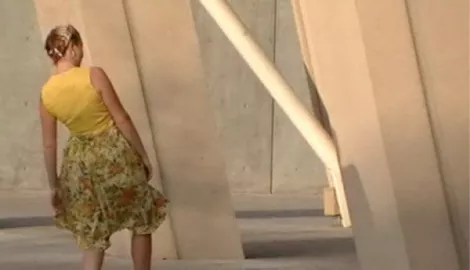 Love dance? Love free dance? Ashley Anderson thinks whatever your answer is, you should love dance more. Get your fill today in the Main Library's Urban Room for a free showing of loveDANCEmore resident artist Diana Crum's "yellow" at 4:30, 5:30 and 6:30 p.m.--- Check out Anderson, host of loveDANCEmore residencies, interviewing Crum below. For more info about future free showings at the library, among other performances, check out lovedancemore.org.
Tell the readers a little bit about your background and how you came to Salt Lake City.

I grew up in Atlanta and moved to New York to study dance at Columbia University, where I earned a B.A. in 2005. I stayed in New York for three years and worked as a choreographer, dancer, teacher and administrator. In 2008, I needed a break from the fast-paced city and started the M.F.A. program at Hollins University/the American Dance Festival. Ashley Anderson was working there, having completed the M.F.A. program the year before.
While I was a graduate student, I began developing a practice of making site-specific work based on improvisational scores. I was very influenced by classes with K.J. Holmes and a performance with Jennifer Monson/iLand. Also, my parents are both architects. As a child I spent spring breaks and summer vacations following them through city streets, looking at buildings and urban plans. Living in a small Southern town and studying at Hollins, I had lots of time to reflect on all of these experiences. I would go to the studio everyday and improvise. I also had access to an incredible library and great mentors, who showed me a variety of other artists' work and writing. I was able to begin developing a practice of dance that integrated my past experiences.
Ashley contacted me last spring when she was making site-specific work at the Main Library. I knew about her dance performances at the State Capitol with Burr Johnson and at Sugar Space with Regina Rocke. I was eager to come to Salt Lake City and make a site-specific work while Ashley was eager to have her company (Ashley Anderson Dances) develop a presenting arm (loveDANCEmore) which could host resident artists.
So, I'm here for a week, making a dance in the Urban Room [main lobby] of the Main Public Library and teaching at schools in the area.
Can you give us more information about the performance at the library?
The dance will happen three times on Monday, November 8, - at 4:30pm, 5:30pm, and 6:30pm - in the Urban Room of the Main Public Library. It will be free and lasts about 20 minutes. Most of it happens on the ground floor. Viewers can watch it from anywhere in the building. I recommend the ground or second floor.
I'm expecting some viewers to come to the library specifically to see the dance. These people will sit and watch it all the way through. Some pedestrians will probably walk through the library, see the dance, stop and watch it. Other pedestrians will see the dance and walk right past it. The mix of all of these people and the performers is exciting to me.
I've been working with five dancers, all incredibly talented and very different from one another. We've spent an intensive week in rehearsals, developing a way of working together. I'm interested in building scores which show the dancers' individuality as well as a cohesive group identity. We've created a performance score in which the dancers alternately try to fill up the whole space, embody states of being suggested by the architecture, imitate pedestrian behavior, and literally draw the site.
When dancing, one feels the here and now. Performance can include viewers in an awareness of the present moment. During a performance, dancers and viewers alike sometimes slow down. They can see space, the architecture, the values behind aesthetics of building, the uses of space, and the history of the site. I am interested in dance as a practice of awareness, a practice of being in the here and now.
Are there other general interests you have with public art projects?
I am interested in public art. Who makes it? Who commissions it? Who is it for? When I make a dance in a public site, I cannot choreograph pedestrian activity. The pedestrian activity is always unpredictable and out of my control. So I have to create a choreographic structure that is clear enough to contain the performers and at the same time open enough for them to respond to their surroundings. I think of the dance as a both the performers' and pedestrians' activity. In a way, I am creating a frame through which viewers can see the relationship between art and life. The dance and the everyday surroundings interact much like art and life do. I like that. I like seeing and learning about what that relationship is and what it can be.
How did you choose the library as the site for your work?
When Ashley and I decided that I was going to come to Salt Lake City, she suggested a few sites to me – including the Capitol Building and the Library, where she had done dance projects before. I went online and looked at photographs of buildings and public sites around the city. I decided to use the Library because I liked the building and the way it relates to the surroundings. The wide, open space of the Urban Room invites movement. At the same time, the glass walls and tall columns frame the space and contain the activity.
I also wanted to work in a space, where dancers would be among pedestrians and the audience would be composed of both visitors who planned to watch the dance and visitors who were surprised by the dance.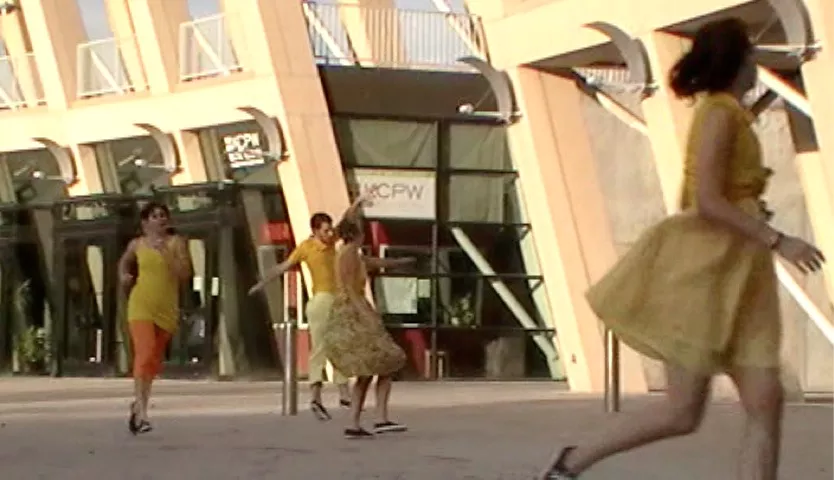 Describe what else you've done as part of your residency.
I've been teaching at schools in the area, including West High School, University of Utah and Salt Lake Community College. I love teaching. I learn so much from sharing with students and hearing their impressions.
I've also tried to see the city a little bit. I'm staying near the Capitol, so it's easy to walk downtown. I've seen Temple Square. I'll be going to the Salt Palace later today (my dad was one of the architects on the renovation). It's a great city.
Do you think there is any new information your work in SLC will contribute to your projects in New York & elsewhere?
For me, the only way to live in New York is to occasionally leave it. Traveling helps me make sense of my life there. The pace of life is so different. It's nice to be reminded that not everyone in America lives that way.
I also always learn from making work and from teaching. Each project helps me further develop my ideas. I've gotten to work with really amazing performers and students here. They've all embarked on a process with me. We learn by going through the process. I can go back to New York now with a deeper understanding of public art, site-specific dance and improvisational practices.