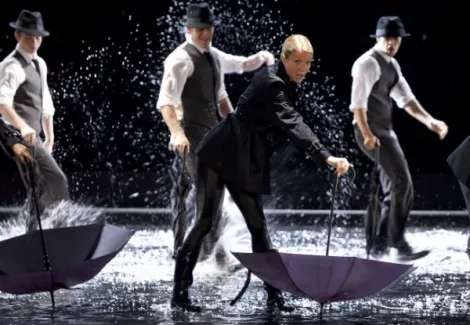 Fox has benched Will Arnett's
Running Wilde
for November Sweeps, perhaps forever, so tonight you'll get back-to-back
Raising Hope
s. I'd say plug in a
My Name Is Earl
rerun at 8:30 and see if anyone notices, but that's just me. ---
What's new tonight:
Glee (Fox) Holly Holiday (guest star Gwyneth Paltrow) is the new Mr. Shue, and Sue (Jane Lynch) is the new principal. Hey, I might start watching Glee now.
No Ordinary Family (ABC) Remember this? The Incredibles-lite, starring Michael Chiklis (The Shield) and Julie Benz (Dexter)? You won't if you play the NOF drinking game: Every time someone, especially Benz, says "this family," or "our family," or just "family," take a shot. You'll be hammered by the first commercial break.
Sons of Anarchy (FX) Yes, they're still in Ireland. After nearly nailing his long-lost-but-in-his-defense-very-hot sister, Jax (Charlie Hunnam) has another tough decision to make: Leave his baby with a nice adoptive Irish couple, or take him back to Cali to live with a hairy, violent motorcycle gang. At least he has a spare on the way with Tara (Maggie Siff) … maybe.
Glory Daze (TBS) Series Debut: TBS' track record with original programming consists of one brilliant acquisition (Conan), a couple of passable comedies (the canceled My Boys and 10 Items or Less) and mucho forgettable filler (everything else). Now comes Glory Daze, a college comedy set in a 1980s frat house. How to top such a terrible, played-out premise? It's from the producers behind Wild Hogs and You, Me & Dupree. As Conan would say, "It's According to Jim good!"
Also new tonight:
Dancing With the Stars, Detroit 187 (ABC); NCIS, NCIS Los Angeles, The Good Wife (CBS); The Biggest Loser, Parenthood (NBC); Raising Hope (Fox); One Tree Hill, Life Unexpected (The CW); Stargate Universe (SyFy); Nick Swardson's Pretend Time (Comedy Central); The Bad Girls Club Reunion (Oxygen); In Treatment (HBO); Conan (TBS)
Preview: Who needs Mr. Chia Pet with Gwyneth Paltrow around? Not Glee.