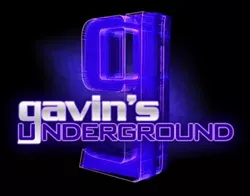 While the struggle for gay rights continues across the country, for many it feels as if Utah has transformed over the years into the major battleground for equality and acceptance. Granted, every state has been having its own issues in both allowing and denying various rights every single year, but Utah seems to have its own special brand of "crazy" mixed into everything from government to religion to activism and all points in-between, making us distinct enough to garner national attention raise contention between groups. With that much friction and support on both ends of the spectrum, it was bound to provoke some type of observational coverage beyond the normal set of journalistic outlets.


--- The website PRIDEinUtah.com got its start in the wake of the Prop 8 debates in California. Witnessing the various roles played in getting it passed and the backlash that followed promoted creator Eric Ethington to start publicly writing about the fallout and many of the issues surrounding its affects on our community. The website quickly branched into national and global topics, bringing everything he could for the local audience to read about, turning his website (and recently started podcast) into the biggest independent source for LGBT news in our state. I got a chance to chat with Eric about the site and the work he's done so far, plus his thoughts on local issues and a few other topics.

Eric Ethington


http://prideinutah.com/

Gavin: Hey Eric, first thing, tell us a little bit about yourself.

Eric: I grew up in Cottonwood Heights, and attended both Skyline and Brighton High Schools before attending Utah Vally University (which was UVSC when I was there). I work full time as an insurance agent, but consider my activism and blogging work as my real profession.

Gavin: For you personally, what was it like growing up gay in Utah?

Eric: Not easy, I was raised in an incredibly strict Mormon household. I was aware that I was different from a very young age, and it was very isolating and depressing listening to lesson after lesson telling me that who I was inside was evil. I was too young to even understand the concept of sex, and didn't have any correlation between sex and orientation in my mind yet. All I knew was that my feelings were apparently wrong.

Gavin: What got you interested in participating more in activism and awareness, and what really inspired you to start doing it?

Eric: Two things kicked me off. Prop 8 was a major factor in my life, having been raised as a Mormon. Until then I had been satisfied to leave the church behind, but at that point I saw the direct negative impact they were having on myself and others like me who weren't even a part of their religion. I couldn't let that go. What they do is their own business, but a line is crossed when they hurt others. Around the same time, I had an evening where I was at the Utah Pride Center and saw them have to kick out the homeless youth at night. Utah law doesn't allow them to let the homeless youth spend the night there and I was heartbroken as I watched these young kids walk off to find a place to sleep.

Gavin: At what point did you decide to make it a major part of your life and started contributing more time to gay rights and other issues in the community?

Eric: It came right after I helped organize and spoke at the Join The Impact rally at the City & County building in SLC. That moment as I spoke to a crowd of 3,000 I realized that I could do good in this world if I continued speaking.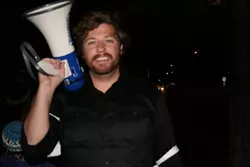 Gavin: How did the idea come about to start up PRIDEinUtah?

Eric: After the first rally after Prop 8, I started looking for local coverage online of the march. Not finding any, I decided to do something with my personal blog and start covering events that I thought Utah's LGBT community needed to hear about.

Gavin: What was it like for you first starting the blog up and figuring out what to write about?

Eric: Well the blog first started as "ethingtoneric.wordpress.com" in early Oct 2008, and was really just a place for my personal political ramblings. But after Prop 8 it developed quickly into PRIDEinUtah. It wasn't easy getting started, I didn't know where to go for information and it was a struggle before I ended up with all my news feeds that I use now.

Gavin: The blog started in October 2008, just before Obama was elected and Prop 8 passed in California. What was it like for you being on the cusp of that here in Utah, not only being an active member in protests and rallies, but writing about the immediate fallout from both?

Eric: Personal. For me it has always been personal. These events I was writing about were direct impacts on both my life and most of my friends. It's been an interesting line I've walked ever since, trying to balance my personal feelings and motivations on the site with my fight as an activist.

Gavin: You've had to deal with a number of topics over the past two years. Anti-gay protests, Chris Buttars, Pride and Human Rights events, the recent upswing in gay suicides. What kind of toll does it take on you covering material that directly affects you, and how do you push on from that and keep doing it?

Eric: I have to find positive in anything I can, even if that just means laughing at things that are truly evil. I won't say it's easy though, writing about so much horror and bigotry in the world definitely takes it's toll. If I didn't have the amazing friends and support that I do, I don't think I could keep going. But at this point I view it almost as a responsibility to keep going. There aren't enough activists in the world, and no other LGBT news blog in the state. I feel that the topics I address must be shared and we have to stay informed if we are to ever succeed.


Gavin: What's the process like for you in deciding what to write about on a daily basis?

Eric: I have what seems like a million news feeds. It's pretty simple, I read over every story I see and the ones that touch me personally I will write up.

Gavin: How does it feel at this point having the only independent LGBT news oriented blog in the state? And what kind of task is it for you to stay on top of events and stories here?

Eric: I feel very proud of what I've been able to do, but there's always room for others. It's a huge task, but I just do the best I can I guess.

Gavin: On the same token, do you feel any pressure to be a representative of that community, or do you simply ignore it and just focus on the material rather than the personality to follow it?

Eric: You have to ignore that pressure and just focus on the issues. If I let that pressure build on me, I start worrying that I'm not going to be pleasing everybody and that defeats the purpose of an activist. It's about sharing your own voice, some will disagree and some will agree with you, but your message is still getting across.

Gavin: When did you decide to do a podcast, and what was it like developing that project and bringing it into fruition?

Eric: The idea for the podcast started just three weeks before the first episode. I was speaking with a group and many mentioned that they didn't have time to read through the website everyday but a podcast they can take with them on the go. I thought it was a great idea and it turned out to be easier to create then I thought. Really just a matter of downloading some software and getting a couple mics.

Gavin: You're only a few episodes in at this point, but what's the reaction been like to the show?

Eric: We're ten episodes in now, and the reactions have been fantastic, actually. We had quite a few glitches when we started but we've slowly worked through most of them. But we've had many folks come back to us and tell us how thrilled they are with what we're doing. The episode where debated Carl Wimmer for an hour especially got a lot of great feedback.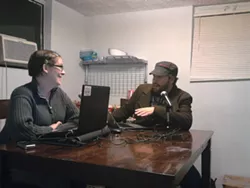 Gavin: For yourself, what is the main goal for the blog and what you're attempting to achieve with it as a whole? And what kind of impact do you believe you've had with it on the community so far?

Eric: I don't know if there's really an ultimate goal. It's about bringing what's going on locally, nationally and world-wide into the view of the Utah LGBT community. If we're going to achieve anything, we must have as much information as possible.

Gavin: Delving a a bit into state-wide stuff, what's your take on the LGBT community here in Utah, both good and bad?

Eric: Utah's LGBT community has a lot going for it. More than any other state in the country, we are tight-knit and supportive of all. The heads of every organization communicate and meet with each other constantly so that we can be as solid of a front as possible. It comes as a direct result of the Mormon church. We face the strongest opposition here, which creates the strongest activists. The only complaint I've had about the LGBT community as a whole is how apathetic we are. We must stop this reactionary-only viewpoint. The community is very willing to show up en masse when someone does something really bad to us, but that number drops to only a fraction when an event is held without that catalyst. We must be more aggressive and not just sit around until we're angry.

Gavin: What's your opinion on local publications like QSaltLake and the work they do presenting stories from the gay community?

Eric: I love the Q and their whole staff. They have a great readership and do really well representing the community. I just wish they could be daily rather than bi-monthly!

Gavin: Along the same lines, what's your take on the way local media, both print and broadcast, have reported on stories involving GLBT issues?

Eric: It tends to be iffy. The Utah media loves covering LGBT events, because we're apparently controversial. But the message we stand for does tend to get slanted to what they're looking for on occasion. It's been very interesting over the past few years, as I've learned which reporters can be trusted and which to not.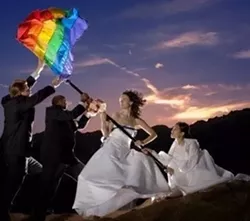 Gavin: What's your take on the current conflicts between the LDS church and the GLBT community at this point and the issues that remain there?

Eric: I think the Mormon church is running scared, literally. Since Proposition 8 they've been terrified of their public image, and that's a good thing because public opinion of them was tanking. As a result, we saw their PR department coming out and defending itself against one lone activist when I called national spotlight onto their bigoted practices. As a community, we honestly don't care about their doctrine. If they want to believe homosexuality is a sin, that's their right and we respect that. But what we cannot respect nor tolerate is they way in which they implement their doctrine which is provably destructive and dangerous. That is what we fight for, our lives.

Gavin: With Prop 8 in court at the moment, what are your thoughts on how its affected people here and what the long-term affects might be for us in Utah?

Eric: Prop 8 is viewed synonymously with the Mormon church and Utah. Because of that emotions run high and our community is following that trial and now appeal very closely. If Prop 8 is upheld by the appellate court as unconstitutional, I think we'll see many long-term affects in Utah both in the Legislature and in the courts.

Gavin: In the same vein, what are your thoughts on Don't Ask Don't Tell and the way its progressing within the legal system?

Eric: The courts seem to be the only place dispensing justice these days. 80% of the country wants to see DADT repealed, and according the Pentagon's study 70% of service members want it repealed as well. Yet with all this, Congress and the US Senate cannot get over their little games to actually put repeal into place. Don't Ask Don't Tell is on the verge of being shut down, but I believe it will come from the courts.

Gavin: What are your feelings on the idea that Salt Lake City has become a "Gay Mecca"? And do you think we deserve the title?

Eric: I think it's true, and I love it! We have a disproportionately high number of LGBT citizens in this state and I think it's a credit to the leaders of the community like Equality Utah and the Utah Pride Center that our state comes off as a good place to be.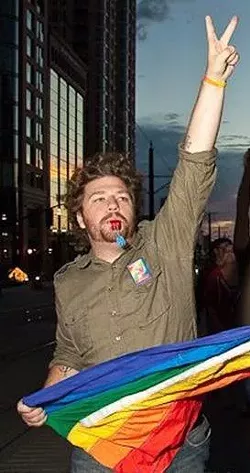 Gavin: Is there anything you wish would change within the GLBT community right now, or do you feel like things are in a good place for the moment?

Eric: We need more outspoken, loud, brash and radical activists. Every civil rights movement depends on every angle being attacked, and right now we're only covering the soft-spoken democratic negotiations. Social pressure has extreme value and we could move things along so much quicker if we were to put more social and direct pressure on our legislators and the Mormon church itself.

Gavin: What can we expect from both you and PRIDEinUtah the rest of the year and going into next?

Eric: We'll continue to grow. PRIDEinUtah has grown larger than I had ever hoped since those early days and I will do all I can to continue to be a voice for the LGBT community as long as I'm needed. We cannot stop this fight until all citizens are equal in the eyes of the law. Once we're done with the fight for LGBT equality? I fully plan on jumping on for other minorities.

Gavin: Aside the obvious, is there anything you'd like to plug or promote?

Eric: Just make sure everyone keeps their eyes on PRIDEinUtah and the Justice Vanguard! We always need as much help as we can get!



| | | | |
| --- | --- | --- | --- |
| Follow Gavin's Underground: | | | |