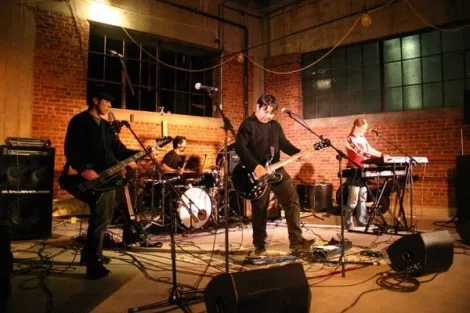 Last week I would have made a post for local releases, but Dan Nailen beat me to the punch. So this week we talk about two localized albums on a Thursday! You're move, Nailen. --- But anyway, kicking it all off tonight we'll see the latest from Dulce Sky. Coming up on thirteen years, the group are currently one of the longest running bands still together and making music, though we haven't heard much from them since their 2008 EP: Unfamiliar. Turns out they've been using that time to put together a complete full-length album as opposed to more EP's or single compilation tracks. Their latest endeavor, Invisible Empire, takes a slightly darker turn than prior works, keeping the Oliver Valenzuela's howling vocals as centerpiece to carefully composed tracks. The album contains shades of bands like VAST, taking songs into three different directions while keeping the same vibe until the end. Probably one of their best efforts to date. You can celebrate the release with them at Urban Lounge this evening along with The Plastic Furs and Summerhead. Just $6 at 10PM.


Then Saturday night sees the highly anticipated release from Mason Jones & The Get Togethers. Probably one of the best showmen in the music scene, Jones and his merry band of rockers rarely disappoint, even when their equipment goes to shit they'll play through it until the end. So fans will surely be relieved to find the debut album, Bibles & Basterds, hitting the shelves this coming week. Its not a live album by any means, but its as close to the live experience as you'll get without going to the show. Hearing Jones' infectious attitude screaming and dancing over each song, not to mention every solo sounding like he's attacking the speaker with the guitar. You can catch these guys two days later at Urban Lounge along with Spooky Moon Full, Blackhounds and Matt Ben Jackson. Just $6 at 10PM


Head out, love music, buy local!