Looking into local releases today, since the new year is only hours away, we're kicking off the official list of 2011 albums today. --- Starting with one that was technically released yesterday. Jon Bentley may be a familiar name to those of you up in Ogden as the singer/songwriter has been making the rounds in Weber County with a few stops in SLC and Provo. Hit music hits somewhere between the technical and the astral at times, while others seem simplified and catered for a coffee shop vibe. His full-length Coyote features fourteen tracks, a few with his wife Katy singing backup for a very pretty and soothing sound. Its assuredly worth listening to at least once. As of right now the album is said to be available for free on his website, but its currently down as of this post. So I'd hit him up on his Facebook page for more info. Hopefully he'll do a proper release show and physical copy soon.


Meanwhile, an official release show is on the way for an album released last month, as the psychedelic rock band In Dreaming celebrate their full-length effort. The Orem group have been making a name for themselves over 2010 playing gigs and festivals, setting themselves apart from their peers in subtle ways while still holding true to the music. Their album, The Pathless Sounds Of In Dreaming, was totally self-recorded with the help of Andy Patterson putting his touch on the mastered version, but the real hook to this album is the packaging. The band got about 100 books, hollowed them out and filled them with poetry and designs with a main insert for the album (as seen below). All the proceeds from this "first edition" release will go to getting the album officially printed for mass release. You can buy one from them personally this Monday the 3rd over at Kilby Court, playing along with Spell Talk, Holy Water Buffalo and Smile For Diamonds. Just $6 starting at 7PM.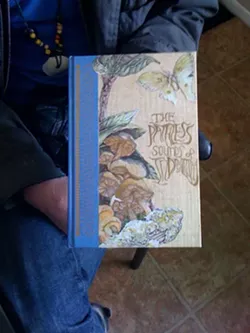 Head out, love music, buy local.