Ringing in the New Year in Las Vegas enabled me to check out some of the much-touted new eateries there, as well as revisit some old ones. Things have changed dramatically --- since a few years ago when I was the off-site Dining Editor for Las Vegas Life magazine. Most of the hoity-toity celebrity chef restaurants were just beginning to open then -- places like Jean-Louis Palladin's Napa, Emeril Lagasse's namesake fish house, Wolfgang Puck's Lupo, and Charlie Trotter's now-defunct restaurant.
The night we arrived, before taking in Viva ELVIS! at the new Aria Resort and Casino, we dropped into one of our perennial favorites: Bouchon at The Venetian, kicking off with a bottle of Champagne and a plate of charcuterie. I've yet to have anything but exceptional meals at Bouchon, despite the unexceptional (especially for The Strip) prices. However, ours was ever so slightly marred by an overzealous server, who kept trying to upsell us -- on cocktails, salads, appetizers, desserts, coffee, after-dinner drinks -- you name it. Perhaps thinking we were cheap, he also never once touched our bottle of wine to pour it. Thankfully, the evening was saved, service-wise, by Paul Peterson, Bouchon's sommelier, and original former-owner with his wife Encina of SLC's Cafe Madrid. Paul, as always, helped make our night memorable, although a perfect pot of steamed mussels and frites helped, too, Ditto the wife's Coquilles St. Jacques. Bouchon remains one of my favorite restaurants - an especially reasonably-priced one on the Vegas Strip.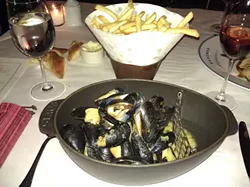 The self-named Julian Serrano restaurant at Aria combines the atmosphere of an airport food court with the prices of a 3-Star Michelin restaurant in Paris. This may be one of Esquire's Best New Restaurants but I'll be damned if I'll pay $35 for a "tapa" of Spanish Pata Negra ham, even if it is the world's finest piggy. Seafood paella here goes for $50 and takes 35 minutes to prepare. I don't think so. At these prices, I'll stick with Serrano's terrific Picasso restaurant at The Bellagio.

We'd heard that Sage at Aria was a good place to drop in for a causal, not-too-expensive meal. Well, not for someone in my income bracket. A starter of yellowtail crudo is $19, Belgian ale-briased short ribs are $41 and Liberty Farms duck confit is $48. Nope, let's move on.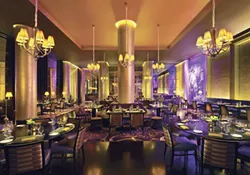 More in line with our budget was a lunch at Roberto's Taco Shop. There are countless Roberto's location in Las Vegas, an indication, perhaps, of their good value. For under $18 the missus and I enjoyed a delicioso lunch of pork carnitas with gargantuan fresh-made tortillas, frijoles and rice, chips and fresh salsa, and yummy fish tacos, plus drinks. Roberto's operates in Nevada and California. Hopefully, they'll throw Utah a bone soon.
Charlie Palmer was one of the first big-name chefs to venture into Las Vegas, and it's probably testament to the quality of his food that Charlie Palmer Steak at the Four Seasons Hotel continues to thrive. In a place like Las Vegas, where cutting-edge cuisine is the order of the day, a steakhouse might not seem too adventurous. Indeed, it's not. But for a solid, no-nonsense meal in a restaurant that doesn't feel like the hustle and bustle of The Strip, this is a great choice. Allow the talented sommelier (and ex-Park City native) Eric Davison to help select wines by the bottle or glass, then dive into tasty starters such as truffled risotto cakes, petit crab cakes or the killer Kobe beef sliders. Then, launch into MEAT. Well, OK... there's lobster, butter fish, sea bass, King salmon and such on the menu, too. But, the reason you come to Charlie Palmer Steak is for STEAK: The 16-oz New York Strip with caramelized garlic jus was one of the best pieces of meat I've ever got my incisors into. And, it's good to know there are still some joints with class left in Vegas.
There was more food, more wine, more bills... But, hands-down the best Vegas experience of this trip was at Vintner Grill, about 15 minutes off The Strip in Summerlin. Executive Chef Matthew Silverman's Mediterranean-spiked menu is heavenly, and the wine options here are endless. The flavors of Spain, France and Italy abound and, again, the wine list spans the globe. The setting is very contemporary, but comfy, with ballpark-size leather wrap-around sofas lining the walls and lounge area, and pillows -- lots of pillows everywhere. Lobster cannelloni with trumpet mushrooms and mascarpone mousse, anyone? I couldn't have enjoyed my fresh-made black pepper tagliatelli pasta with lamb Bolognese and truffled ricotta any more than I did. The wife's Steelhead salmon tagine with saffron broth, grilled leeks, red potatoes, baby fennel and roasted tomatoes was also delightful, and a cheesey after-dinner plate from the cheese board hit just the right notes. Service, courtesy a fellow name Joshua, was an A-plus. The next time you're in Vegas, I suggest a small detour off The Strip to Vintner Grill.