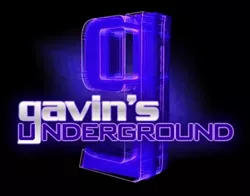 The snow is fresh in the hills, the skies are charcoal grey in the valley, and the skiers and boarders are anxious after the holidays. Fear not, restless youth! The SLUG Games are on the way. Due to take over Park City this weekend and Brighton next month, the monthly mag's winter competition event has been a must attend for years now. At every event the magazine and staff try to up their game and the difficulty for the competitors, and for 2011 they're taking things up an extra notch. Check out this picture...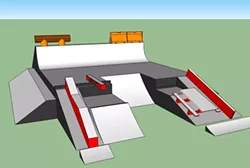 --- Not just taking over the hill, but building their own courses and mini-parks at both clashes, in an effort to present a new challenge to those who may be all too familiar with the slopes or your run-of-the-mill obstacle courses. Setting up those who dare enter tomorrow's "Night Riders" event (which you can still do as of today) and March's "Construction To Destruction" for what may be one of the hardest events SLUG has ever produced. Prior to the event we got a chance to chat with Mike Reff, events coordinator for the SLUG Games about his career and time with the magazine, the upcoming games and some thoughts on extreme sports in Utah.

Mike Reff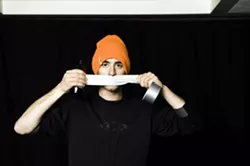 http://www.thesluggames.com/

Gavin: Hey Mike! First off, tell us a little bit about yourself.

Mike: What up Gavin, I grew up in a Washington DC suburb, and I currently live in Park City.

Gavin: How did you first take an interest in skiing and other winter sports?

Mike: My parents like to ski, so we would go on ski trips every once in a while, and I pretty much got hooked the first time I remember seeing big mountains out west.


Gavin: When did you first officially get involved with the ski industry?

Mike: When I was seventeen I graduated high school, and headed west to Steamboat Springs, Colorado. Which is where I guess you could say it all started for me. I began working at a local ski shop there and I have pretty much had ski related jobs since than.

Gavin: Originally you went to Colorado Mountain College for a few years. What was your time like there?

Mike: My time at CMC or "See Me Ski", however you would like to refer to it, was amazing. The memories are a bit hazy but I learned a ton. Like, how to ski pow, how to build a shot ski, and all jokes aside I made some amazing connections. CMC was a great place to start a career as a student, small classes, chill people, and of course the five minute ride to the gondola.


Gavin: You eventually changed majors and came to Utah to get your degree from the U. What made you choose the U and how was their program for you?

Mike: I had stayed in Steamboat after finishing up at CMC which at the time only had a two year AA program. I was looking for something different, I wanted to be in a place where there was more opportunities than a small ski town but still had world class skiing close by, so SLC was a no brainer. The program their worked out fairly well for me, I landed an internship that after graduation solidified a job for me working with an event production company fresh out of school, so I was stoked on that.

Gavin: You've worked for a number of companies like Black Tie, Back Country and MSI. What was it like for you coming up through the industry?

Mike: The ski industry is an interesting community, and a small one at that. However it is quite divided, there is the side that provides services towards tourism, than there is the other side, that is more about the athletes and competitions, and of course products for consumers. I have been fortunate to have experience working in all aspects of the ski industry, from rental shops, to retail, to world class competitions, and ski media. Every aspect has its plus and minuses, I have learned that the farther from the front line rental shop employee you get, generally the less ski time you have. It can be a tough industry to be successful in, but its small, so make the right connections and impressions and more opportunities will definitely open up.


Gavin: What eventually led to you getting involved with SLUG Magazine?

Mike: I had a friend at the time who was involved with the magazine that I knew from Steamboat Springs. He introduced me to the crew at SLUG and I guess I sort of filled the void of a skier voice, and its been working out great ever since.

Gavin: How were things for you filling that position and basically learning the ropes in publishing?

Mike: When I first started out working with SLUG, I was doing random reviews and covering ski events, and honestly I did not have much experience at all writing or in the publishing industry. The more you get to write the easier it comes, the better you get, and honestly Its a constant learning experience for me and that is the best part.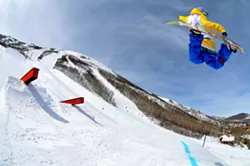 Gavin: How did the opportunity come about to be the Events Coordinator for the SLUG Games? And what's it been like for you holding that title and the work you do?

Mike: I would say it sort of worked out hand in hand, I was working for an event production company as my full time job, and SLUG on the side, so why not bring it all together and help produce winter events with SLUG. It's been great, every event I have worked on with SLUG has been a success and great time. For some producing events can be a stressful and hectic task, but with our team of event coordinators at SLUG we make it happen, and we make it happen right.

Gavin: Speaking of, The SLUG Games kicks off at Park City Mountain Resort tomorrow. Tell us about the Mini Park and the events you've got planned.

Mike: This event is probably the most exciting event we have worked on to date. Its going to be the first ever contest to be held on PCMR's newly lit up Three Kings terrain park. The PC park crew has been amazing working with us and is building some exclusive features for it that we are super excited for. The mini-park style features is going to be off the chains, and the up and back skatepark style setup is really going to give skiers and riders a great opportunity to show the community what they have in their bag of tricks. See the renders here of the course setup.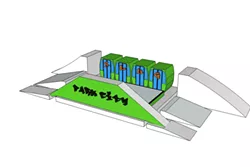 Gavin: A month from now you'll have Construction Destruction over at Brighton. What have you got lined up for that event?

Mike: Also gonna be a great event, going with the construction theme this year. Everything will be construction themed from the bibs to the jibs. Brighton has always been a staple partner with the SLUG Games and always makes for a good event. More details on course design to come...

Gavin: Have you got any other plans or events in store before the season ends, or are things pretty well set at this point?

Mike: Things are pretty well set for the winter at this point, two events with the SLUG Games take up quite a bit of time. Other than that I'm gonna try to ski a bit myself.


Gavin: A little state-wide, what's your opinion on the way winter sports are handled by the local resorts? And is there anything you wish you could change?

Mike: Utah has such a great and strong snow sports community. The Salt Lake Area boasts some of the best skiing the world has to offer, and the resorts definitely embrace that. It would be exciting to see more resorts host events and competitions for local competitors. There is a lot of pressure for resorts to have internationally recognized competitions to bring in higher dollar sponsors and more awareness to their properties. With such a huge pool of talent right here in the Salt Lake Valley I would love to see more of an emphasis on local competition just like the SLUG Games do.

Gavin: Do you see any major changes on the horizon for winter sports or upcoming trends?

Mike: I think with more of the higher profile athletes merging disciplines such as park and big mountain riding we are going to start to see competitions take a note from that. In France, Redbull hosted the Linecatcher event last winter which was a great example, a natural big mountain face, with booters and features built throughout the face for skiers to showcase their diverse skills. I think we will be seeing more events like that.


Gavin: What's your take, both good and bad, on the way "extreme sports" are presented with the X-Games and time on ESPN?

Mike: As you say, its got both its pluses and minuses. On one aspect, I hate how "extreme sports" lumps together all action sports, wakeboarding, skiing, BMX and motocross. Are you serious?? These sports really have nothing to do with each other, and should be showcased individually. On the other hand ESPN and the X-Games are huge for the success of these events. They raise awareness in the mainstream economy culture which is where money to fund these events will come from. They make people aware of the sports that maybe normally would have no idea they even existed.

Gavin: What can we expect from both yourself, as well as future events throughout 2011?

Mike: You can expect to see me at the SLUG Games events as one of the guys on the mic, and maybe making some cameo's at other ski events in Utah.


Gavin: Aside the obvious, is there anything you'd like to promote or plug?

Mike: I would like to promote all of the local companies that are supporting the SLUG Games this year, as they realize the importance of local competition, and we could not do it without them!



| | | | |
| --- | --- | --- | --- |
| Follow Gavin's Underground: | | | |