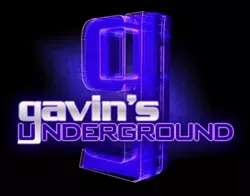 Bluntly speaking, if you're a musician in Utah and you don't know who Corey Fox is, who are you and why are you relevant? With a career spanning across three decades and in several fields from promotion to technical to management, Fox has been one of the biggest key figureheads for local musicians to obtain a gig and get their name out. Helping several bands and solo artists reach indie and national success along the way; Joshua James, Issac Russell and The Neon Trees to name a few. Furthering the cause in recent years by owning his own venue and being a founding member of production team The Occidental Saloon. With all the work he's done it could easily be said that Provo, let alone parts of Utah itself, wouldn't be the same without his influence.


--- Coming up this weekend are two milestones for Fox. 2011 marks his twentieth year working with our music scene, and it also marks the fifth anniversary for the opening of his venue, Velour. Aside the usual congratulations, Velour itself will be throwing a three night celebration with many of Utah County's finest, both past and present. Kicking off tonight with Corey Mon & The Starlight Gospel, Holy Water Buffalo, Ferocious Oaks and Gypsy Cab (just $8 at 8PM). Marking the occasion I got a chance to chat with Corey about his lengthy career as best we could, Velour in general, thoughts on Utah music and a few other topics that came up.

Corey Fox


http://www.velourlive.com/

Gavin: Hey Corey! First thing, tell us a little bit about yourself.

Corey: My name is Corey Fox, I'm the owner of the Velour Live Music Gallery in Provo Utah, and we are celebrating our five year anniversary this month. 2011 will also mark twenty years for me working in the Utah music scene.

Gavin: What first got you interested in music, and what were some early influences on you?

Corey: My first taste of music was growing up listening to the rock and metal that was coming out of my brother's bedroom, but at that time I was more interested in drawing his KISS album covers than actually listening to the records. My real love for music kicked in as a teen when I discovered British bands such as Joy Division, New Order, Depeche Mode, The Smiths, etc. There were no radio stations in Utah Valley playing that stuff at the time so me and a friend would go to the local record store every day after school and buy whatever new album looked coolest. I caught the music bug at that time and it has never stopped.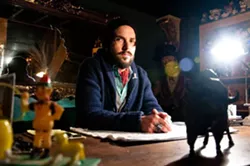 Gavin: Did you seek out any college or professional training when it came to music or business management, or did you just dive right into it?

Corey: I wish I could have seen the future at that time because business management training would have definitely come in handy down the road, but no. I also didn't dive right in to this business, it was more like I was casually wading in the shallows and got hit by a wave!

Gavin: What made you want to go the management route as opposed to playing in a group yourself?

Corey: I actually hadn't planned on doing either. There was no local music scene when I was growing up so kids didn't really even think about starting bands. The only kids playing instruments were in our high school's marching band. The Utah Valley music scene didn't start until about 1990 but when it did it was an explosion and definitely changed direction of my life.


Gavin: You started out in the early '90s managing venues. How did you first break into doing that, and what were some of the places you worked with in the first few years?

Corey: I actually didn't get into venue management until 1996. As I mentioned above, there really wasn't a local music scene until about 1990 when a ska band called Swim Herschel Swim started up and spawned a thriving scene. They were genius marketers and used to pull over a thousand people to their shows, which created an infectious excitement about local music and inspired many new bands to form. It was at this time I became a fan of a new folk-rock band called Ali Ali Oxen Free and quickly grew from a fan, to a glorified roadie, to their manager in 1991. From that I added concert promoter and was heavily involved in the nationally respected Utah Valley Ska scene of the 90's. In 1993 I started managing the SLC band Clover who became one of the most successful bands of the '90s in Utah, frequently selling out venues like Kingsbury Hall along with having hit songs on local radio, songs in movies and TV, etc. It was the success of Clover that got me my first venue management offer, Wrapsody in 1996. Wrapsody was a restaurant and venue and I managed the music half until 2000 when the restaurant side failed and took the venue with it. From 2000-2002 I managed the Venue Johnny B's which was a concert venue on the weekdays and comedy club on weekends. In 2003 I was approached to manage the new venue Muse Music which I did until 2005 when I decided it was time for me to finally open my own place.

Gavin: What made you choose working specifically in Provo and Utah County as a whole, and what was it like for you establishing yourself in the area while learning the ropes?

Corey: The fact that I grew up in Utah Valley and got involved in this music scene in it's infancy had a lot to do with it. I also think it was a natural progression to continue building the scene that got me interested in this business in the first place.


Gavin: Considering some of the success you had early on, why did you choose to stay in Provo instead of moving on and helping other areas?

Corey: There have definitely been times that I've thought about testing the waters in other places, especially when I was at a crossroads after Muse Music in 2005. Ultimately I decided that It was time to open my own venue and that I would kick myself if I didn't open it in the community I grew up in and was already established in. I also believed that for this scene to grow to it's potential it needed a legitimate music venue.

Gavin: Prior to your own venture you ended up working with Muse Music. What was your time like spent there and helping that place grow?

Corey: I have good memories of my time at Muse Music and put a lot of work into establishing that place. The music scene had taken a hit after Wrapsody closed in 2000 and Muse ended up being the stage that started bringing things back to life.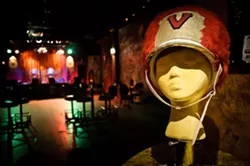 Gavin: Of all the places you've helped out, which one was your favorite to work with and why?

Corey: Definitely Wrapsody. It was a beautiful 400 capacity venue and the scene was full of great bands that could fill it at the time. The impact of it closing affected the scene for years.

Gavin: What made you decide to move on and start your own venue?

Corey: A lot of reasons. I just felt like the quality level of the bands in area was rising so quickly that they needed a more professional environment to progress any further. It was also time for me to start calling all the shots and create the venue that had been in my head for years.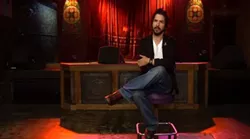 Gavin: How did you choose the location on University Avenue, and where did you come up with the name for Velour?

Corey: The hundred block of University Avenue has always been a destination for live music since 1992. Both Wrapsody and Muse Music were on this block along with several other venues over the years. My number one priority for Velour was atmosphere. I wanted to fill it with rich colors and textures and tried to come up with a name that would portray that without even seeing the club. I felt velvet was way overused and decided Velour was a very fitting name. I also added Live Music Gallery to the title, not because we also display art on the wall, but because live music is often forgotten as art. I feel we are displaying great art on our stage every night.

Gavin: The place first opened up in January of 2006, what were the first few months like and how did the community react to the new venue?

Corey: Well unlike a lot of new businesses who have to slowly build a clientele, we had a built in fan base who were very eager for a new venue. It took us six months to remodel the building which added more anticipation, and I also kept the interior completely secret until we dropped the curtains and opened the doors that first night. I think that six months of anticipation helped out a lot as we opened with lines around the block and several sell out shows in those first few months.


Gavin: The venue itself doesn't look like your average all-ages place or your normal concert dive. What kind of planning went into the overall look and vibe of the place?

Corey: Atmosphere was very important to me. I was able to incorporate some of my design elements into venues in the past but always held back because it wasn't mine. With Velour I was finally able to design a venue that fully reflected my vision. I wanted to create a building that was as interesting as the band on stage. I also liked the challenge of making a big room cozy, and making the band and crowd feel at home... At least my twisted interpretation of home.

Gavin: Considering Muse Music is just a few doors up and ABG's is essentially around the corner, does it feel like there's a competition between venues, or do you tend to support each other?

Corey: No, definitely not any competition between the venues. ABG's is it's own world and we coexist very well with Muse Music. It's actually pretty surprising how little cross over we have with bands and we both support each other as much as we can. I actually support them almost every night by buying one of their great sandwiches.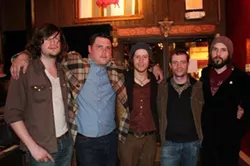 Gavin: I read an interview long ago where you said it may not do financially well because of the lack of alcohol sales, but would make up for it with the crowds who don't go to bar venues. Looking at it now a few years later, how would you rate that decision?

Corey: Let's just say I knew what I was getting myself into. Our crowds are never going to equal the loss of alcohol sales which makes me even prouder that we've been able to stay in business this long without that extra income. My intent was to open a venue where music was the focus instead of being background music to a noisy bar, and as long as we are still in business I'm happy with that decision.

Gavin: How has it been for you seeing acts like Fictionist, Joshua James, Neon Trees and Issac Russell kinda grow up in your venue and go onto better things state and nation wide?

Corey: In Isaac's case that is a literal statement. Isaac started sitting in with his brother Spencer when he was a five foot tall thirteen year old, now he's a towering nineteen year old signed to Columbia records and touring the country. I'm very close to all of these artists and have watched them all grow from fledgling musicians into the amazing artists they currently are. The bands I work with are like family to me and I'm glad the the rest of the world is starting to pay attention to the talent I get to see every night.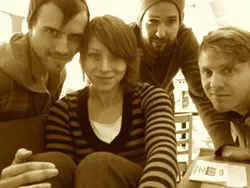 Gavin: This year will mark the%uFFFDtwentieth%uFFFDyear you've been involved with the Utah music scene. What are your thoughts on being here that long and having the tremendous impact you've created?

Corey: Thank you. I feel very privileged to have worked with all the amazing bands and and people that have been in my life for the last twenty years. It's hard to imagine that it has been that long until I realize that some of the new bands popping up feature my friend's kids...

Gavin: It also marks Velour's fifth year open. How do you feel about its success and what have you got in store for the celebration?

Corey: It's definitely not been the easiest five years of my life but it's hard to not feel fulfilled when Velour bands are now selling platinum singles, playing major festivals, and on every major late night talk show. It's a stressful business but I feel prouder than ever about what I do for living. Our actual anniversary shows are the 13th-15th but the entire month is stacked with all-star lineups to celebrate the anniversary.


Gavin: Looking at the venue as it is, are there any plans to expand or bring in new events or specialty nights, or are you mainly sticking to things as they are now?

Corey: We feel good about what we are doing but are always looking to raise the bar. This year we are looking to redo our entire website, make an effort to bring in higher profile touring artists, and are putting a huge emphasis on creating awareness about Velour and the major things that are happening for our bands. Of course we will also continue to feature cool specialty shows such as Cowboys & Indies, Slumber Party, Valentines Masquerades, Halloween shows etc, as well as creating other cool events to showcase local talent.

Gavin: Moving onto local stuff, what are your thoughts on the Utah music scene, both good and bad?

Corey: I could talk about this topic for hours but that would be too much information for this. It's obviously an exciting time for a lot of Utah bands right now and the scene is quickly expanding. I have a list of over 150 bands in Utah Valley alone. The bad might be the lack of exposure the local music scene gets, especially Provo's. Isaac Russell's family was recently in a record store in California that was displaying his record on the wall. Next to it was a sign that read "another amazing artist from Provo, Utah". I sometimes think that Utah bands get more respect regionally than in our own state.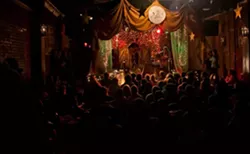 Gavin: Is there anything you believe could be done to make it more prominent?

Corey: Just creating more awareness about what is happening and getting the media outlets on board. I want the whole community to feel pride in what is happening and to get behind the scene like they would a thriving sports team or how Seattle was in the 90's. I think bands like Neon Trees should be on the front page of the paper receiving the key to the city. Instead, when they played Jay Leno they got a tiny paragraph on the back page, without a picture, that read Neon Trees playing "Tonight".

Gavin: Who are some of your favorite musicians coming up at the moment, and who do you believe people should be checking out?

Corey: This is another question that I could give you a very lengthy answer but will try and refrain. My current favorite artist is Scott Shepard and his band Book On Tapeworm. His voice is angelic and he is writing the most beautiful lyrics and melodies of anyone around right now. They are recording right now. I'm also very impressed with Jay William Henderson's (former Band of Annuals front man) solo stuff. As far as local bands making waves on the national scene, I'd have to mention Neon Trees, Joshua James, Isaac Russell, Fictionist, and Imagine Dragons. Also worth mentioning Desert Noises, The Devil Whale, Parlor Hawk, Shark Speed, Norther, etc.... I could go on and on.


Gavin: What's your opinion on the current airplay on community radio and how its affects local musicians?

Corey: Radio play is huge! I got involved in the music scene in the '90s when X96 was very supportive of the local scene and actually started playing a select few on their normal rotation. That exposure helped Clover go from a good local band to one that was getting more requests than bands like Pearl Jam at the time. It also helped their fan base skyrocket. Unfortunately most radio stations were bought by corporations and wouldn't be able to do that now. That makes community radio even more important. I think KRCL does a great job with supporting locals.

Gavin: Along the same lines, what are your thoughts on local labels and the role they play helping out the music scene?

Corey: I think local labels are great because they add advice, structure and expectations for bands. I try and do the same thing with Velour. I'm not going to discount the artists that just want to play free house shows, because there is definitely a place for that, but if you want to tour, and put out studio quality albums, there is an aspect of business involved. I deal a lot with Northplatte records and their bands all have great work ethic.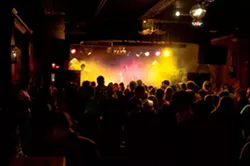 Gavin: What's your take on the amount of press and coverage that local papers and zines give to our music scene, and is there anything you wish they'd change?

Corey: I think I answered this already. Yes, I wish local papers and zines were more aware and supportive of the scene.

Gavin: Considering how we've grown over the past few years, do you believe we'll become a dominant music scene in the years to come, or will we always remain a hidden gem to the nation?

Corey:%uFFFD%uFFFDThe key is creating awareness and community support. More awareness creates more attendance, which creates more national exposure, which creates more label signings, which then motivates the next young band to take it more seriously etc. We use this method within Velour, but for the Utah scene to be fully recognized we need more community pride and support. Provo and Salt Lake.


Gavin: What can we expect from yourself and Velour over the rest of the year?

Corey:%uFFFD%uFFFDThe word of the day is obviously awareness... of Velour and all of the music scene. I just want to raise the bar again. New website, sound equipment upgrades, better touring acts, better promotional material etc. Should be an exciting year.

Gavin: Aside the obvious, is there anything you'd like to plug or promote?

Corey: I'm also very proud of The Occidental Saloon videos I'm involved with and that you wrote about recently. We started The Occidental Saloon as another way to legitimize and bring attention to local talent. They are all live performances on location. The Neon Trees video actually broke a million views recently and is helping send traffic to other great local acts.



| | | | |
| --- | --- | --- | --- |
| Follow Gavin's Underground: | | | |