Hello to all you music loving, anniversary celebrating, Provo trekking Velour enthusiasts. I'll be honest, its kinda hard to think about what to write about after the anniversary post. Thought maybe we'd discuss more unemployment woes, but fuck that, I'm tired of talking about how much the job market sucks and how its crappy being unemployed at the moment. You don't need to hear my woes on a monthly basis, that's not why you read this. So unless something awesome comes about, we won't discuss it any further. We're going to move on and talk about events and random local entertainment news like this bi-weekly post was intended to cover. In lieu of the 337 Memorial Wall not being updated due to the cold, here's some random art from downtown.


--- Since I brought it up already, very briefly, Velour's final night of celebration is tonight. Fictionist will take the stage as the final performers of the three-night extravaganza. If you're smart you'll demand they play material from their Good Morning Maxfield days. Along side them will be Sunflow, Battle School and Boots To The Moon. Below are a few shots courtesy of Elyse Hawks's Facebook page of last night's showcase.


But if Velour isn't quite your taste, then just a short trip away you can find Freq Out! The Party Committee down in Provo have organized this all night hip-hop and urban culture bash with DJ's and breakdancing competitions.Our friends at Urban Media Lab will be on hand to cover the event, and all they ask in return is you dress in neon. $5 for the first half of the night, $7 for the entire evening, at the old Loft location on Center Street.


Speaking of hip-hop, our friends over at Uprok have got a major project underway and they need your help! The Uprok TV crew and filming a brand new Utah Hip-Hop Documentary. The plan being to cover areas that other documentaries didn't focus on too well, and are currently looking for any photos or footage of Blastin' Productions Hip Hop Shop from 92-94, BP Records from 95-98, Funksion from every location and material from Uprok you may have.Not to mention any DJ, Emcee, Bboy, and Graffiti material from same era that include pictures, videos, flyers, club ads, news clips and more. If you can help them out, email your stuff to uprokrecords@gmail.com, or their mailing address care of Uprok TV: 370 South State Street; SLC, UT %uFFFD84111.


Concert wise, coming up this Tuesday before the bullshit insanity that is Sundance takes over Park City, The House of Blues would like to throw us a locals only bash. Rockfish Record Company will be bringing in The Wayne Hoskins Band for a night of free music and cheap drinks, showing off the new Main Street venue before it becomes packed wall-to-wall during the ten day festival. Head on up and check it out before Ashton Kutcher or some other annoying ex-TV star comes to puke on its floor.


Gallery Stroll will hit this Friday, but in the wake of it are a couple underground art displays on the side. The first being the night off with Copper Palate Press. John Andrews will be showing off his work for a one-night-only engagement at the shop. If you haven't checked out his material before, this is one you really need to show up to. The second a few days later over at The Hive Gallery where they'll be showing off a video gallery called Dance-Dance. Randomly playing videos from local and national videographers for you to check out. Because of all the equipment, this one will be a changing exhibition. $10 normally, but $5 if you're a student. Seeing some of the names on the list and teh concepts they have planned... it might be worth the price. Especially for filmmakers.%uFFFD


Incidentally, and we should mention this since it is film season here and it gets so little attention, The X-Dance festival will be playing during the rest of the festivals (with the exception of Tromadance, who isn't coming again). Essentially, you know what the X-Games are, right? Well take that and put it in movie form. The bright side is that this one will mainly take over downtown SLC and only runs four days. I'd recommend checking it out if these kind of films suit your fancy.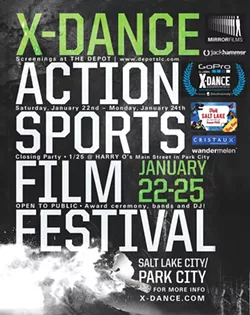 As for the blog... we're going to do what we do every year at this time.. avoid Sundance like its cancer. We'll explain more in a few weeks when we're knee-deep in it. Meanwhile we'll visit Gallery Stroll, hit up a local concert, chat about a new street magazine, hit up a couple of local shops for decor and fashion, and get chatting about roller derby again. At least that's the plan for now, as always we'll see what happens.



| | | | |
| --- | --- | --- | --- |
| Follow Gavin's Underground: | | | |