The emerging amount of writing and poetic talent, not just in the heart of Salt Lake City but around the state, has grown so significantly in recent years that its becoming harder for critics to ignore. Granted, most of those critics are the writers and poets themselves nitpicking over what constitutes writing and poetry, what kind of angle they're approaching it from, whether or not it even belongs in the major consciousness to begin with, and if the talent of new can truly match the talent of old. ...You know, the same old shit that's apparently been argued since the late '70s. And as that debate continues, new forums are opening up for old and new to showcase their talents and fuel the fire.


--- The newest publication to hit the streets, did just that in a literal sense, as New Graffiti started making it's way around every traffic light and lamppost around the downtown area as a publicly displayed one-sheet zine focused on a particular piece of art and works written by some of Utah's well versed and yet unknown writers. Calling only a few coffee shops home for free public consumption beyond a daily walk, yet instantly capturing the attention of the writing and poetry communities overnight, the publication has already taken in more submissions than originally planned with more issues yet to be released. I got a chance to chat with the three minds behind New Graffiti to chat about their careers, the publication itself, thoughts on the respective scenes and a few some other material to promote.

Darren Edwards, Elizabeth Benson & Ashley Christensen


http://newgraffitipublishing.com/

Gavin: Hey guys! First off, tell us a bit about yourselves.

Darren: My name is Darren, I like to write and listen to 90's punk. I won't bore you with more now, but you can go to my website if you're interested.

Elizabeth: I'm Elizabeth; my street name is Ebeth. I grew up in small-town Pennsylvania and went to public school with Amish kids. I moved to SLC after high school to attend the University of Utah and almost ten years later, I'm still in Utah. Never thought that would happen. In addition to working at the Nora Eccles Harrison Museum of Art in Logan, I moonlight as an English instructor at Utah State University and an online communications instructor for the University of Phoenix.

Gavin: How did each of you take an interest in literature and writing, and what were some early inspirations that influenced you?

Ashley: Although I have loved reading since grade school, I think I first really fell in love with both literature and writing in eleventh grade. Not only was it at this point that I realized I could actually write, but it was the first time I made it through several classics with nothing but the love of the author's words pushing me forward.

Elizabeth: I've been reading and writing for as long as I can remember. I grew up in a house full of books, my dad and sisters read constantly, so I guess it was inevitable. I knew things were serious though when I took a book to Kira Bowersox's volleyball party in eighth grade. Good prose won out over popularity from then on. Authors from whom I've learned the most/return to again and again are Jane Austen, Madeleine L'Engle, Thomas Kenneally, Walt Whitman, Mark Doty, and Tim O'Brien.

Darren: My first interest and my first inspiration in writing was my third grade teacher Ross Durant. He took the time to notice that I had a passion for writing and really encouraged it. I've had a number of teachers that have helped develop both my love of writing and my ability as a writer: Laurel Shelley, Star Coulbrooke, Chris Cokinos, and Jennifer Sinor. Likewise, there are a number of writers who had big influences on my style as a writer: Annie Dillard, Mark Doty, Ted Kooser, and some local writers like Michael Sowder and the late Ken Brewer.


Gavin: All three of you went to Utah State over a stint for your respective degrees. What made you decide on USU, and what was their program like for each of you?

Darren: USU has a great English program, fantastic faculty, a supportive community of creative writers, and more opportunities for growth as a writer than I knew what to do with. I was a horrible student in high school and didn't originally plan on going to college, but once I came around to the idea I never considered anyplace other than USU. It's was the only place I wanted to go for school.

Elizabeth: I originally applied to USU because after college I was stuck in a secretarial job that was sucking my will to live and I had in-state tuition. Since the minute I began my master's degree at USU in 2007, I have been shocked at how lucky I was to stumble into such an extraordinary writing program. I owe my current understanding of and love for creative nonfiction due to the amazing faculty there. Through the writing program, I was challenged and encouraged and supported every step of the way. Even after graduating, I still benefit from the connections and associations I formed during my time at USU.

Gavin: Starting with you Darren, you taught at USU after you received your degree, and now you teach down at Dixie State. What made you decide to jump into education?

Darren: At first, it was just a way to pay for graduate school. I didn't really want to teach; my mom was a teacher, both of my sisters went to school to become teachers, my brother in law is a teacher; I didn't want to follow suit. Once I started teaching everything changed. I loved helping people learn, loved sharing something I was passionate about with others. Now, it's what I want to do for the rest of my life.

Elizabeth: When I was working on my major coursework in English at the University of Utah, I would come home every day from lectures and repeat everything I had learned to my roommates. I guess I was teaching before I was ever officially a teacher. There's something so thrilling about sharing writing experiences with students--especially students who are on the cusp of something huge, who are trying to figure out who they are and how they perceive the world. I can't get enough of it.

Gavin: You've also been involved with publications like Isotope, Camas and Irreantum, not to mention continuing your own poetry works. How is it for you pushing your own works on the side?

Darren: That's one of the great things about New Graffiti, it's not about me. A lot of being a writer is about you, your writing, what submissions you have out to journals, finding places where you can share your work. There is a good bit of necessary self promotion. New Graffiti gives me a chance to focus on getting other artists work out in public. It's also a rare chance for me to collaborate with other writers/artists, and I really enjoy that.

Elizabeth: I was recently talking to Darren about the differences in our approach to writing. Darren is prolific--he constantly pushes himself to have something in the works, something out to journals. I work on a piece for months at a time and at the end, I'm completely exhausted. Then I hibernate. A lot. The nice thing to do in the meantime is to work on other projects like Isotope or now, on New Graffiti. Being around great writing is a perfect way to collect ideas, techniques, and motivation in my off times.


Gavin: Elizabeth, you're currently the Assistant Curator of Education at the Nora Eccles Harrison Museum. How did you come into that job and what is it like for you working up there?

Elizabeth: My online teaching gig wasn't really paying the rent, and I originally applied for a staff assistant position at the art museum just to get some health insurance, for once. Plus, I thought it would be totally metal to work in an art museum. In my interview, I apparently waxed poetic about the museum's education programs, not knowing that they were thinking about adding another education position. I was in the right place at the right time, I guess. I spend my days helping USU instructors teach their course material through museum objects and keeping the eager, yet snot-covered hands of public school children off of paintings. This past week we helped third graders learn about geometry through Ann Preston's sculpture, Passacaglia. A few weeks ago I was up in a cherry picker, dusting off Arlo Acton's kinetic sculpture Moon Shot that houses a vial of the artist's semen, e.g. I have the greatest job ever.

Gavin: You also create crafts on the side under the name Thread Zeppelin. What made you decide to pursue that as a minor business?

Elizabeth: I've been sewing on and off for several years now but when I finished my thesis in 2009, I started sewing like a fiend. I would sew for ten hours straight some days, not even stopping to eat. I think it had something to do with focusing on my hands for once, instead of my words. To keep up my productivity, I started signing up for local arts markets. After a while, I had a big enough inventory to set up an etsy shop. Business has been fairly decent, but I've been feeling a shift lately. I seem to be emerging from my latest hibernation from writing, so Thread Zeppelin has been neglected as of late.

Gavin: Ashley, you also went down the teaching route for a High School in the Nebo district. What made you decide to go into education, and how is it for you teaching on that level?

Ashley: I had always wanted to be a teacher, and although there was this moment after starting my job in the fall of 2009 where I thought, "What have I gotten myself into?" I have yet to regret my decision. There definitely are hard moments, but all the good moments make teaching high school more than worth it.

Gavin: When did the three of you all meet each other and eventually become friends?

Ashley: I met Darren in our creative non-fiction class at USU. I would never have guessed that copy editing random poems and papers over the years for Darren would one day turn into him asking me to do it on quite a regular basis for free for New Graffiti Publishing. But again, I have no regrets. Watching his ideas evolve and get noticed has definitely made working with him worth it.

Darren: We all met in Logan while going to USU. I met Ashley as an undergrad and she's been patient enough to tolerate me as friend since then. Elizabeth and I met our first day of grad school when she dumped a plate of crumbs onto my lap. It's been magic ever since.

Elizabeth: Darren and I both started our mater's degree at USU in 2007. He recently reminded me how, upon our first meeting, I accidentally brushed all of my lunch crumbs directly into his lap. We've been friends ever since. I met Ashley on Guy Fawkes Day when Darren invited some of us from the English department to burn an effigy up at Second Dam. Ashley and I quickly bonded over our love of mocking Darren.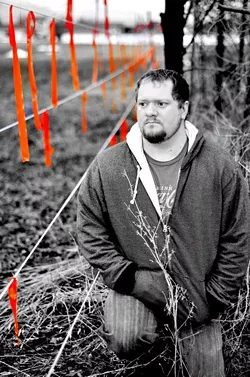 Gavin: How did the idea for New Graffiti come about?

Elizabeth: New Graffiti is entirely Darren's baby. One day he moved to Provo and suddenly, he started writing slam poetry and making websites and publications. I'm still a little in awe of the way he is killing it.

Darren: I'd done some work publishing broadsides before. When I was in Logan I had the opportunity to work on some of the broadsides for Helicon West—a twice monthly reading series. In fact, I'd just moved from Logan to Provo and I was missing the creative community that I'd had up there. One night I was feeling particularly creatively frustrated, when—while reading a copy of Poets & Writers—I found an article about a journal that was half an online publication and half a broadside. I got really excited and started building New Graffiti: Literature On The Streets that same night. I liked the idea of a subversive journal that threw art/literature in the public's face, made them acknowledge it, kind of like real graffiti does. That's an aspect I look for in the submissions we receive too, I want work that makes the reader acknowledge it. That's really where the idea came from, out of a need. I loved working with Helicon West, and Isotope, and I wanted to put the experience I'd gained with them to good use.

Gavin: What made you decide to publish it monthly as opposed to weekly, and why post around the city on the streets rather than distribution at local businesses?

Darren: The monthly thing is really just quality control. With the limited amount of time we have available to work on New Graffiti (we all have full time jobs and other outside obligations) there just isn't enough time to do anything, of the caliber we're shooting for, on a more regular basis. Also, I like the idea of highlighting one artist and one writer for a whole month; it's a chance to really try and get them out there and noticed. I don't think we could do that as well in less time. I actually love the idea of having stacks of new graffiti in coffee shops, just sitting there free for anyone to take. The problem is, again, time. Well, the problem is time and money. Every cost for new graffiti comes out of my torn denim pockets. That's one of the reasons we created the "Downloadable" page on the website. I'd love to have a bunch of coffee shops who downloaded new graffiti, printed a stack of each new issue and left them out for people. I'd love to mention these coffee shops or other establishments as sponsors on our website, but that just isn't happening, not yet.

Elizabeth:  Monthly publication works better for our individual schedules; we need to time to review submissions, edit submissions if necessary, and collaborate with writers on edits. Sure, we could glut the state with weekly publications, but I think this would adversely affect the quality of what we publish. I also think it's nice to wait for things these days, to remember anticipation. As far as distributing to local business, I can only speak for Logan. Here, New Graffiti is at True Aggie Café, Café Ibis and Citrus and Sage. We would love to have it distributed by more businesses, but with only three busy people to make those connections, our exposure has been somewhat limited so far.


Gavin: You also publish everything on the website for those who can't find it. With it being on the internet, why choose to publish it for the street?

Elizabeth: New Graffiti was always meant to be an "on the street" publication. Online publications can garner great readership if readers know what they are looking for or somehow stumble upon it. Our goal is to get it into the community under the noses of those people who aren't the typical readers of literary journals. Literature shouldn't be hidden; it should be on your windshield, on the telephone pole as you stop to cross the street. It should arrest you in the middle of the boring minutiae of every day life and connect you to something larger.

Darren: Three reasons really: First, there are a ridiculous amount of online journals right now, some of them are fantastic—places I'd love to have my own writing published—and some are… well, not so fantastic. Anyone can open a blogging account, call themselves a journal, and then do a crap job with it. I don't think that's fair to the writers they're publishing. I think adding a print component shows dedication; I think it buys a little credibility. Second, one of the big ideas that pushed me to create new graffiti was this idea of subversive art. If we were just online then the possible audience for our writers/artists would be much smaller. By tacking each issue to telephone poles, and sliding them under windshield wipers, we're reaching out to an audience that isn't looking for us, or even art and literature in general. Third, as much as I enjoy getting a poem or essay published online, there is just something extra nice about getting one published in print. It's nice, as a writer, to hold your tangibly published work in your hands, to have a copy you can give to someone. I wanted our writers and artist to get that.

Gavin: What's the submission process like, and how is it for you deciding what will finally print?

Darren: We've recently made changes to our submission period. We've gone from accepting submissions once a month to being open for them twice a year. I'm thrilled about this change. I think it will make the process run much better. As for rejections? I hate them. I hate getting them. I hated sending them when I worked at Isotope, and I hate it even more now that I don't have the mask of other editors to hide behind. But, it's a part of the process. However, while the act of rejecting someone is really hard, sometimes the decision can be really easy. We're looking for high quality, well crafted work that manages to grab the reader and make them think. Not every poem or story out there can do that. It might sound elitist, but we have to hold ourselves and the work we publish to a high standard. It wouldn't be fair to our readers or our past contributors to do otherwise.

Elizabeth:  Darren reviews all submissions first and has final say about what to publish. As assistant editor, I weigh in on submissions and, if necessary, suggest any edits that might tighten up the piece. We do see some pieces that have great bones, but aren't quite there yet. Then, Darren and I usually have a hair-pulling phone call where we debate what to do. Our goal is for New Graffiti to publish quality work by local writers who hone their craft. It's hard to reject anyone, but it's very important for us to set a standard.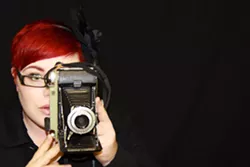 Gavin: What was the public reaction been like, and how was it for you three to see it spread?

Elizabeth: Public reaction has been very positive and rather fast. I'm still a little shocked that we caught the eye of Gavin's Underground after only three issues. Our success is entirely due to Darren's passion for the work and the graciousness of those contributors, friends, and followers who promote us.

Darren: It's been great. We're only on our fifth issue and we've already heard some great feedback: emails, posts to the website, word of mouth. My favorites are when someone asks about an artist or writer we published because they want to see more of that persons work, or even hire them to do some work—that's been the biggest payoff.

Gavin: Now that you've got some issues behind you, are there any plans to expand the format or add anything, or will you be sticking to how it is for now?

Darren: The broadsides, New Graffiti: Literature On The Streets, aren't ever going to change all that much. The biggest change will be sometime this year when we start accepting work from artists/writers from outside of Utah. We're making the move to try and expand our audience beyond the state. Even with that move, we're still dedicated to getting local artist/writers out there and as such, we'll have two issue a year that are dedicated to Utah artists/writers. My hope is that this will give those individuals some national attention. As for New Graffiti Publishing, I'm hoping to expand what it does beyond broadsides. I've just finished registering it as a publishing company with the state of Utah, and I'm hoping to have the first book published by New Graffiti Publishing out by this time next year.

Gavin: Going local for a bit, what is your take on our local writing community, both good and bad?

Elizabeth: In Logan, there is a wonderful local writing community. In addition to formal writing programs at USU, there are also several writing groups that meet in coffee shops throughout Cache Valley--some for poetry, some for fiction, some for nonfiction. Everyone in these groups is incredibly supportive and generous with their feedback; any writing successes are shared here. We also have a bi-monthly open mic/featured readers series called Helicon West headed up by the lovely Star Coulbrooke.

Darren: Utah is loaded with crazy good artists and brilliant writers. I've bounced all around this state—literally from Logan to Saint George—and everywhere I've been there are artistic people honing their craft. And everyone's friendly, it's not a cutthroat competitive scene.


Gavin: Is there anything you believe could be done to make it more prominent?

Darren: I think there are a lot of things that have already been done that we're not finished seeing the benefits from yet. I'm still learning a lot about the arts side of the scene, but you can see the growth that people like Michael Dimitri and the Salt City Indi Arts organization have caused to happen in the Slam Poetry scene. That type of thing is happening all over: In Logan you've got Star Coulbrooke and crew running the Helicon West open mic/featured readers series; down here in Saint George Chelsi Linderman and I have started a similar program called Storm The Mic. Honestly, I'm pretty sure that there is an open mic ever night of the week in SLC thanks to people like Jesse Parent, Michael Dimitri, and Karen Kristensen. I know I'm leaving a lot of people off that list, but there's not enough time to name them all and, sadly, there are whole bunches of them that I haven't had the privilege of meeting yet.

Elizabeth: Over the past three years, I've seen our Helicon West audience grow by leaps and bounds. This is, no doubt, thanks to the efforts of Star Coulbrooke and her crew of volunteers who get the word out. In addition, through yearly events such as USU Beat. "Slam. Uncensored." and others, we've had some tremendous spoken word artists come through Logan such as Anis Mojgani, Buddy Wakefield, Derek Brown, Andrea Gibson, Robby Q. Telfer, and Mike McGee. These particular artists appeal to large audiences and have really opened up a new scene of slam poetry in the valley. I think as long as we have dedicated writers who promote and support these events, the writing community will continue to flourish.

Gavin: Who are some of your favorite local writers that you believe people should be checking out?

Elizabeth: Well, if we've published them in New Graffiti, then we think their writing is worthy of your attention. Some local writers who inspire me include poets Star Coulbrooke, Michael Sowder and Darren Edwards; essayists Chris Cokinos and Russ Beck; memoirist Jennifer Sinor; and my favorite local fiction writer, Chadd VanZanten. I've literally never read anything he brought to a writing group that I didn't feel should already be in print.

Darren: Many of them we've already talked about: Star Coulbrooke whose first book of poetry is coming out soon, and Jesse Parent who just took second at the Individual World Poetry Slam. Obviously anyone that we've published or have forthcoming; though, I want to draw some special attention to Chadd VanZanten, that man has a tremendous amount of short fiction that people should be reading. Then there are poets like Cody Winger, Josh McGillis, Shanan Ballam, Susan Nyikos, and essayists like Russ Beck and John Gilmore.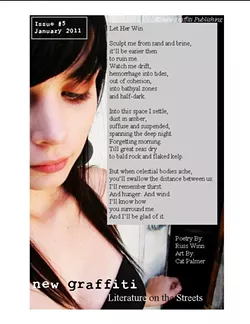 Gavin: What advice would you have for up-and-coming writers on how to get their work noticed?

Darren: First, make your work as good as it can be. Read everything good that you can get your hands on and write all of the time. Then, as uncomfortable as it is, you have to self promote a lot because when you're starting out no one is going to do it for you. Try and forget about rejection as much as you can and just submit your writing without fear. NewPages.com is a great source of information about independent publishers and journals that people can send stuff to for consideration.

Elizabeth: Coming from academia, I still think the end-all-be-all is publication. Submit your work to journals that you respect. Submit often. Submit despite rejection. Each publication has its own style so find the ones that publish what you like to read and write and chances are you'll fit in there. Above all, produce work that is worthy of notice. I definitely believe that everyone should have a voice and be able to put their writing out into the world. But I also believe that good writing is damn hard work. There are amazing writers out there producing tremendous work. Work hard enough to be considered a colleague.

Gavin: What are your thoughts on localized zines and the work they do to push underground writing to the public?

Elizabeth: Honestly, I haven't seen any zines up here in Northern Utah; I'd definitely be interested to see if anyone's producing any in these parts.

Gavin: What can we expect from all of you and New Graffiti the rest of the year?

Darren: A bunch of beautiful broadsides featuring amazing artists, and the announcement of New Graffiti Publishing's first book.

Elizabeth: We'll keep teaching and publishing amazing work from artists around the state and hopefully produce more writing of our own.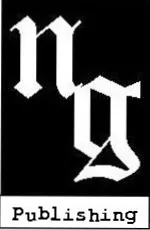 Gavin: Aside the obvious, is there anything you'd like to plug or promote?

Elizabeth: If you're in Logan, come to Helicon West on the second and fourth Thursday of every month at the True Aggie Café at 7PM. Also, come check out the Nora Eccles Harrison Museum of Art. We showcase modern and contemporary art from the American West and are currently exhibiting Beat artist Wallace Berman's Semina publication including the Cameron drawing that led to Berman's arrest at the Ferus Gallery in 1957. In the fall we'll be opening our comic/pop art show, so stay tuned for that as well. Thanks!

Darren: If you're in Logan go to Helicon West every other Thursday at the True Aggie Cafe, if you're in SLC go to the "Put Your Mouth Where The Word Is" poetry slam on the last Monday of every month at Mo's Neighborhood Bar & Grill, and then check out the list of open mics available in SLC on the Open Mic Facebook page. If you're in Saint George, go to Storm The Mic every Thursday at 7PM, located at 25 Main, or the open mic at The Bean Scene Monday's at 8PM.



| | | | |
| --- | --- | --- | --- |
| Follow Gavin's Underground: | | | |