I saw a lot of Malarkey at Sundance last night -- Brian Malarkey, that is. He's the Top Chef celebrity chef and owner of the new Searsucker restaurant in San Diego, who kicked off the first night of Chefdance in Park City at the Sundance Film Festival. --- Chefdance founder Kenny Griswold was in attendance, along with 250 or so invited guests, and I was lucky enough to be one of them.
The evening kicked off with top-notch cocktails featuring Belvedere vodka from San Diego's Snake Oil Cocktail Co. The Belvedere "Aromatique" was outstanding: bruised basil syrup, fresh-pressed lemon, house-made perfume of tuberose, frankincense and myrrh (I'm not kidding) and, of course, Belvedere.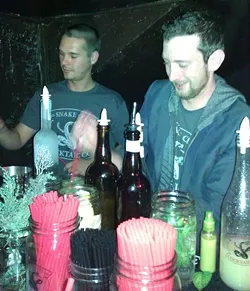 Belvedere vanilla Bartlet
Once seated, the wine began flowing and an army of servers and chefs sprung into action. Indeed, it takes a small army to feed and serve 250 diners, all simultaneously -- one seating. Each year at Chefdance the downstairs of Harry-O's is turned into a full-blown restaurant, complete with a temporary kitchen that is larger than that of most permanent restaurants. The food for Chefdance is supplied by Utah's own Nicholas & Company, which this year includes no less than 60 pounds of foie gras.
While Brian Malarkey was last night's celebrated chef, it takes, as I said, a large number of chefs, prep people and servers to get the job done. Amazingly, many are volunteers -- like one of our excellent servers, Nicole, who normally works in Park City as a nanny. If I had ten servers as good as Nicole, I could open my own restaurant. Students from the Salt Lake Art Institute culinary program also pitch in, as do many others, like Nicholas & Company chef Mike Nook. Frankly, I've rarely had better service, even in a regular restaurant. It's an amazing thing to watch come together.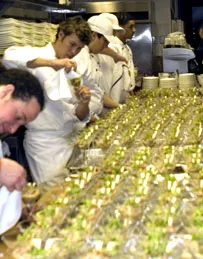 I was duly impressed with Chef Malarkey's menu, which kicked off with albacore crudo with lemon, truffles, fried shallots and mizuna.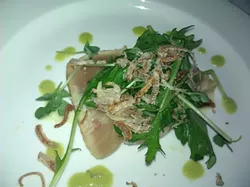 Seared scallop with pork confit cube and prosciutto-wrapped sweetbreads with brown butter-pear chutney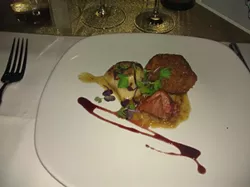 New Zealand pink grouper, duck-infused white bean croquette and braised kale with foie gras emulsion
Vanilla bean panna cotta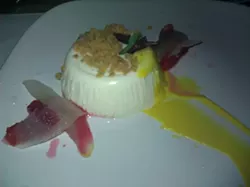 Malarkey and my missus.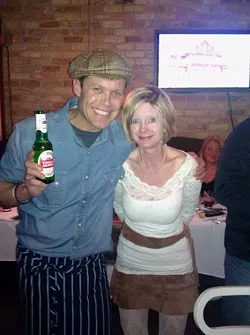 Chefdance continues through Tuesday, January 25.