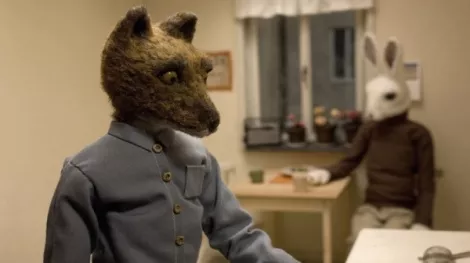 My favorite piece included in the 2011 Sundance Animation Showcase is Niki Lindroth von Bahr's Tord och Tord.---
Like most Sundance cartoons, Tord och Tord is thoughtful, existential and fraught with angst -- the Sundance Film Festival would sooner eat dirt than allow a traditionally funny 'toon into its Showcase. Still, the film contains some delightful, humorous moments that Lindroth von Bahr somehow managed to sneak past the selection committee.
It's about two guys named Tord, one of whom is (I think) a wolf, while the other is a white rabbit. The narrative begins like one of Laurie Anderson's "I came home today ..." stories, when Tord (the wolf) mistakenly walks into the wrong apartment and meets his new neighbor, Tord (the rabbit). The two develop a congenial relationship, often meeting for coffee and communicating with each other via code written on misdelivered envelopes.
Lindroth von Bahr's plush animals are beautifully constructed and stiffly articulated. This does limit the characters' expressive range, but not in the frustrating way of, say, a Rankin-Bass puppetoon. She does not push beyond her characters' capabilities -- there is no need to. The armatures are confined to very deliberate movements, bringing a heartbreakingly mannered personality to her characters. This sense of formality is reinforced by the flat-affect delivery of the narration, as well as the film's atmospheric soundtrack.
It's erudite, moody, slightly tragic and highly recommended.