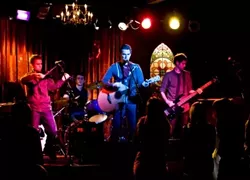 We've got three new local releases out this week with release shows to boot! --- Kicking things off tonight over at the Urban Lounge we'll see the split release between Virgin Sophia and VCR5 from ExUmbrella Records. ...I wish I had more on this but I couldn't locate any sample tracks. But you know these two and the work they do as far as techno goes, so you can probably guess this split will be an interesting selection of their latest. Yeah, I know, that sounds generic, but what else am I supposed to say over something I've never heard? I couldn't even find proper album title, just the disc below as far as album art goes. In any case the evening looks to be badass performance wise as these two will be playing with 6335 and the Rotten Musicians. Just $6 starting at 10PM.

Then tomorrow night sees two more, starting at Kilby Court with the latest full-length from
Double Or Nothing
. We haven't heard a lot from these guys since 2009, which after double checking was the last time they properly updated their Facebook and MySpace pages, promising a new EP and to request them anytime on X96... I'm sure they'll take that request right away. But it looks like they spent most of 2010 working on this brand new album,
Silhouettes Fade
. While sticking to their half acoustic-half rock mentality with the high vocals, there's a bit of Jars Of Clay feeling in this one. Not so much on the religious end, more to the sound and tone. I'd tell you to buy it at a store but as the only good picture I could find of the album says below, you can only purchase them at their shows. C
elebrating the release with them will be
Hello Sky!
,
Clay Summers
and
Cody Rigby
. $8 starting at 7PM.
Meanwhile over at The Wooshed will be the full-length release from
Fleetwood
. The West Valley City hip-hopper has been playing around town and getting a buzz going over his work for nearly a year, finally getting everything together for this big release.
Dream Big
sounds fresh and polished, some pretty good work went into this one making it one hell of big debut for the man. Not much on the sampling end as most of the album is original beats and rhymes. Its at least worth a listen. Joining in the party will be
GeorgeLife
and
fIZZY fORM
, plus more to be named. Just $5 starting at 10PM.
Head out, love music, buy local!