For those of you who don't pay attention to local comic book news, last summer saw one of the biggest caravans of Utah-based talent make their way to the San Diego Comic Con. Sixteen different artists and writers, some first timers penning and coloring their first collaborations for a single issue and a chance to become noticed, others being longtime favorites with an extensive portfolio of titles and other works showcase with the promise of more to come. Many of those attending received frequent exposure and gained some national following from industry figures to fans looking for something different.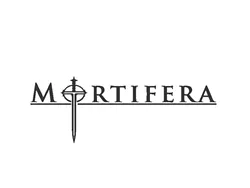 One of the localized books that made their way out was Mortifera, a story based around two siblings in knighthood (Catherine and Ethan Gregor) charged with the task of demon hunting while working with a demon named Durin, in search for the dreaded Kanisus who is bringing more demons back to the earth. Currently only three issues in, the book has been a hit online and gaining popularity everyday. I got a chance to chat with the creative duo behind the book, writer Stephan Frost and artist Sarah Partington, about their partnership and the book, as well as their thoughts on the industry and a few other topics.

Stephan Frost & Sarah Partington


http://www.mortifera.net/

Gavin: Hey guys, first off, tell us a little bit about yourselves.

Stephan: I'm a demon enthusiast from Southern California. I work as the Associate Producer of Game Design for a video game company. I also love metal. Surprise!

Sarah: Not a whole lot to tell really. Born in Utah back in 1900's, moved to Orange County last year, read a lot, wish I had time to read more, cuss like a scurvy infested man of the sea and am a bit of a nerd but then aren't we all about one thing or another.

Gavin: How did each of you first get interested in comics, and what were some of your favorite titles growing up?

Stephan: I grew up wearing Batman pj's, so the indoctrination started pretty young. I loved Batman and Spider-Man as a kid. When I was in junior high I followed McFarlene from Spider-Man to Spawn and that got me into more of the graphic novel end of the spectrum.

Sarah: I was, and still am, a cartoon junkie so comics always had a huge appeal to me. Unfortunately, where I grew up, there weren't a whole lot of comic shops floating around so it wasn't until I was in my teens that I was finally able to start buying them. I remember saving up my lunch money and blowing it all on comics. Books were way more of a necessity than food, (probably not the best of habits) and unfortunately it's one that's carried over into adulthood. I was lucky enough to score a job at a comic book store. I read just about everything Marvel I could get my hands on. However the titles I loved the most (and will even now dig out and reread) were Kabuki and Johnny the Homicidal Maniac. I loved them! Black and white, morbid and gritty. I couldn't get enough.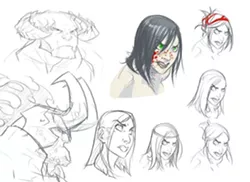 Gavin: Stephan, your day-job is working as a video game designer. How did you break into that field?

Stephan: Disney contacted me for a production assistant position because I had interned at G4TV previously. They gave me a great opportunity and I jumped on it, I'm still very grateful to Stephanie, Glenn and Peter for giving me a shot.

Gavin: You've worked with Disney Interactive, Sensory Sweep and Wayforward, you're currently at Carbine Studios. What was it like going from company to company and having a personal touch on several games?

Stephan: It is great to work in a creative environment. I thrive on it. Working with like-minded individuals is amazing. Going from place to place is always a great learning experience, especially for identifying new methodologies for creative endeavors. I am also very lucky to be in the position I am in, and I don't take it for granted in the slightest. Being part of a project that thousands will experience still makes me smile.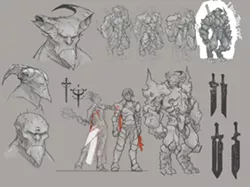 Gavin: Sarah, you received your associates in animation at SLCC. What made you choose their program and what was it like for you there?

Sarah: I was poor. I couldn't afford a university and I didn't want to dig myself into financial debt with student loans. Thankfully, I lucked out and SLCC had an animation program. I suppose my experience was the same as anyones. I had some fantastic teachers and a few that were... not so fantastic. I met a bunch talented people and try to keep in touch with them. Albeit, poorly.

Gavin: You also broke into video gaming early on. What was it like for you getting in on the animation side and putting your spin on the artwork of games?

Sarah: A school buddy who worked at Sensory Sweep drooped my portfolio off and I somehow ended up with a job. I felt like I didn't know where the hell to go and I was just waiting for someone to notice. But I think everyone feels like that at some point. Hell, I still wonder how it is I get to do what I do for a living. I love being a part of the whole creative process, as cheesy as it sounds. Especially being surrounded by people who are constantly making me think "Wow, that is cool as hell! Where did they come up with that? How they pull it off?" They are a constant inspiration. With games I also have the opportunity to jump from one style/genre/subject to another, very quickly. I get to flex a variety of artistic muscles. It's challenging. But if it wasn't, why bother doing it?


Gavin: When did the two of you meet up and eventually become friends?

Stephan: We met at Sensory Sweep Studios. Sarah was doing concept art and we began to talk about various subjects. I found out that Sarah generally didn't like people, which is a quality we share. We would hang out and talk comics, movies, games etc.

Sarah: Stephan was a Designer and I was a concept artist at the time. I just remember anytime we had meeting about one new project or another, and Stephan walked in, I knew it was going to be something I could really have fun with. His projects tended to be dark, evil and leaned toward chunky bloody goodness. (If the ideas didn't wade all the way into said bloody goodness.) Even back then, he preferred to leave things wide open for our artistic interpretation. It was great having the opportunity to go as far out there as we could with an idea, then seeing where different artists took things.

Gavin: How did the idea for Mortifera come about, and what made you decide to do it as a comic?

Stephan: I've always had an obsession with history and demons. I also listen to quite a bit of metal. Mix the three and that's where Mortifera came from really. I wanted to do it as a comic because it is different than most of the subject matter out there. I pitched the idea to Sarah, and luckily, she liked it.

Sarah: I'm just the lucky schmuck who got asked to come along for the ride. There was no way was I gong to turn down a chance to draw stuff like this. Mortifera is my creative happy place.


Gavin: What was the process like in developing the comic, both story and animation wise?

Stephan: First, I listen to copious amounts of Slayer . I then picture events that would fit with the music, write some dialogue and then proceed to throw all of it away. Eventually I get something regarding a story with dialogue, then Sarah makes it look awesome.

Sarah: Stephan lets me take the script and run whatever way I want with it. I read through it a few times and break the content down in to separate pages, then sketch out some rough thumbnails. Once I have everything planed out and feeling like it flows well from page to page, I jump on the full size "inked" (thank you Photoshop) pages. When the entire issue is completely inked I move on to colors. Things will change around all along the way and I eventually have to force myself to stop touching a page but I try to keep the process simple as possible.

Gavin: What was the reception like to the first issue and what motivated you to keep producing it rather than simply doing a one-shot?

Stephan: The reception has been quite positive. I knew that this had to be a full story from the get-go, so it was never a thought that it would only be one issue. There is some crazy, dark, funny and ultimately brutal stuff that happens in this story. I can't wait to get out to the masses.

Sarah: Honestly my biggest motivation was to just read the story and try to bring it to life visually. Sure I want people to like it so much that they contemplate selling their first born, or at the very least, skip out on lunch so they can pick up a copy. But in reality I'm a selfish jerk who just wants to read a sweet ass story and hopefully do it proper justice by translating it to comic format.


Gavin: This past summer you were a part of San Diego Comic Con and sold issues to the public. What was that experience like for both of you?

Stephan: It was fantastic! Geeking-out with people about demons fighting undead knights in a castle on the Irish coast is always good conversation. Generally, everyone is in a good mood anyway, and loves talking about the same things we talk about regularly. Like minded anti-social people converging in one place. It makes perfect sense.

Sarah: I was nervous, excited and sometimes vaguely disturbed. But that's Comic Con for you. Seriously though it was great. I all to easily forget how huge and complex the industry is and to get to be apart of that creative mess is worth it.

Gavin: That last issue you've created was #3 last year. What plans do you have in store for the title now, and are there any other comic book projects in the works?

Stephan: We plan to keep making books and getting them out there. It's a series with a story arch that ends. Until that last book is put out, we'll keep working on it. I am also working on another project called Augustine but that is still in preproduction with another artist.

Sarah: Slowly but surly working on issue #4 now and more to follow.


Gavin: Moving onto national stuff, what is your take on the the comic book industry as it stands right now, both good and bad?

Stephan: I look at the comic book industry similarly to the indie music industry. You need to work hard to get your name out and push the intellectual property yourself, before someone will back you in any sort of way. There are also publishers that will put out your work, but want to own an equal percentage in the I.P. ownership, on top of sales percentages. But they will also do the marketing, distribution etc. It's a business at the end of the day, so it just means creators need to decide how much of their work can be sold. It's a tough choice. There have also been jumps in creator owned content with publishers. I think it's great that creators can put out their own stories without a marketing department telling you how to craft your work. Digital printing has also become far more affordable allowing people to get their works out into the world. The downside of this though, is you have a large amount of people that saturate the market.

Sarah: No comment.

Gavin: Who are some artists and writers you believe people should check out?

Stephan:  Artist Chuck BB, he did a book called Black Metal that Oni put out, and it's awesome. Artist Michael O'Hare, he is finishing a book called Flak Riot which debuted with Image a few years back. Writer John Layman, he did Chew which Image put out which is funny and disgusting if you haven't read it. And you can't go wrong with Garth Ennis from The Boys and Preacher.

Sarah: Ah Hell, I where to start? Off the top of my head a few of my personal favorites are Sean Gordon Murphy, Dustin Nguyen, Sanford Greene, Ryan Ottley, Chris Bachalo, Yuji Iwahara, and Tessa Stone. There are way more but we don't have all day so check these out If you haven't already.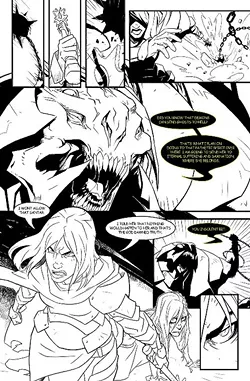 Gavin: What would you say are some of the best series in print at the moment?

Stephan: It depends on my mood but The Walking Dead, Deadpool and Batman Incorporated.

Sarah: Hah, I'm so shamefully behind on my comic reading its pitiful. Usually I don't get a chance to read anything unless someone shoves a copy in my hands. Of those I'm loving Y: The Last Man and Joe The Barbarian. Amazing writing and just breathtaking artwork!

Gavin: What are your thoughts on digital publishing and how some books are now going strictly to that format?

Stephan: It is something that Sarah and I have discussed at length. I think it's an interesting and ultimately inexpensive medium. I believe (like the music industry) when you go digital, you lose some of the collector nostalgia. I also like supporting my local comic store. Such as "Comics, Toons and Toys" in Tustin, California!

Sarah: Not really a surprise there, it was kind of inevitable. Personally as a consumer, I'm not a big fan, nothing beats the smell of ink on paper and the feel of a book in your hands. It seems though that people spend more and more time on computers and they are going to do whatever is more convenient and cost effective for them. That's just the way it goes I guess.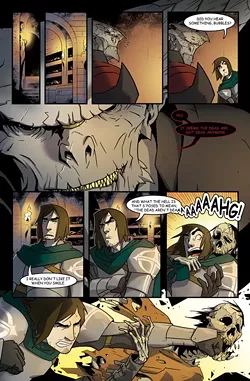 Gavin: Where do you see the state of comics over the next couple of years?

Stephan: I certainly hope that digital sales don't eat into the book market, although that's where I see it going. As for story telling, I hope comics continue the tradition of creating content that don't rip off everything from other works of fiction. I have yet to be let down in my 28 years of existence.

Sarah: No idea. I just go with the flow and support my favorites whenever I can by consuming their creative genius and pimping it out to everyone I know.

Gavin: What can we expect from both of you and Mortifera over the rest of the year?

Stephan: The first story arch completed and more in the works.

Sarah: More issues chock full of demony killing goodness!


Gavin: Is there anything you'd like to plug or promote?

Stephan: "The Pillage Cast" is a great nerd based Podcast that elitist nerd enthusiasts should check out, and of course our website, Mortifera.net!

Sarah: A few of my chums have books floating around, both digitally and in print. Check out Strangler Brothers illustrated by Melinda Davidson and the web comic Beatrice illustrated by Jeffery Thomas.



| | | | |
| --- | --- | --- | --- |
| Follow Gavin's Underground: | | | |