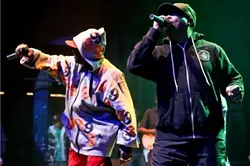 If the fans on hand at The Depot Friday night had any thoughts that pioneering hip-hoppers Public Enemy are too old to throw it down proper, the crew led by Chuck D and Flava Flav dispelled that notion in style.---
Indeed, Public Enemy outlasted many of the fans that had filled The Depot hours earlier when opener Chali 2Na took the stage at 8:45 a.m.; Chuck, Flava and their extensive PE family--Professor Griff, the S1W dancers and a full live band--didn't hit the stage til after 12:30 a.m., and ending up having to rush through a bunch of tunes in what Chuck D called the band's "hurry-up offense" to finish their set by 2 a.m.
Even with the rush job that cost the audience some songs ("By the Time I Get to Arizona" was started, then immediately stopped in favor of set-closing "Fight The Power," for example), it was a rock-solid shows by a group that's been one of the best live hip-hop shows for a quarter-century.
Credit for that obviously goes to the most recognizable men out front, the dynamic Chuck D and manic hype-man Flava Flav, who showcased his skills on both bass guitar and drums in addition to leading several call-and-response sessions with the crowd and emphasizing Chuck's lyrics with his patented "Ya, booooy" and percussive grunts.
From the opening "Brothers Gonna Work It Out" to the closing "Fight The Power," Public Enemy focused most of their set on their two best albums, It Takes a Nation of Millions to Hold Us Bac and Fear of a Black Planet. Flava Flav's first moment in the spotlight came early; "911 Is a Joke" was the second song of the night. But he was hard to miss throughout, decked out in a bright red shirt and baseball camp after he ditched his hoodie. Chuck was in a black t-shirt and black "P" baseball cap, his muscular arms emphatically empasizing his lines as he delivered some of the best hip-hop ever created.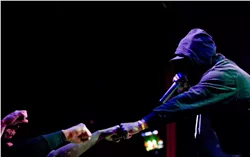 "Bring the Noise" went straight into the excellent "Don't Believe the Hype," a song that inspired Chuck D to offer respect to the days of "Stockton to Malone," and to recently departed long-time Utah Jazz coach Jerry Sloan. "Cold Lampin with Flava" and "Black Steel in the Hour of Chaos" closed down the early part of the show, with DJ Lord then leading the group into an impromptu jam sampling Nirvana's "Smells Like Teen Spirit." They even welcomed local rapper Mark Dago of NUMBS on stage to throw down a verse or two.
After that rather lengthy workout for the band, Chuck D and Flava Flav led the show through a blaze of classics, racing the clock to try and fit in all they could before closing time. "Shut 'Em Down," "Can't Truss It," "Terminator X to the Edge of Panic" (dedicated to the group's long-time original DJ) and "Fight the Power" left both band and audience spent. (All photos by Erik Daenitz)