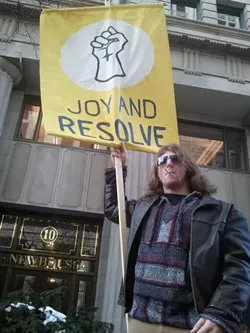 Protesters gathered at Salt Lake City's Pioneer Park this morning before marching through the city's streets to the U.S. District Court house where climate change activist Tim DeChristopher is facing trial and prison.---
As of this writing, hundreds are gathered on Salt Lake City's Exchange Place across the street from the court house, including actor Daryl Hannah; Peter Yarrow from Peter, Paul and Mary; Utah's Ken Sanders, a legendary activist and owner of Ken Sanders Rare Books. Today is Day 1 of DeChrisopher's trial though opening statements are not expected until tomorrow.
Marchers sang solidarity songs like "If I a Bell," "We Shall Overcome," "This Little Light of Mine," and "This Land is Your Land." Messages on signs included, "What's with stopping the illegal sale of public land?" "Hero not criminal," and "Climate Justice is Social Justice." See photo slide show below.

DeChristopher is on trial for disrupting a federal mineral lease auction organized in the waning days of the George W. Bush administration that critics called rushed and corrupt. Some of the land was immediately adjacent to Arches National Park; much of it has substantial wilderness qualities. As "Bidder 70," a name supporters now call him, DeChristopher increased the bid on the rights to mine oil and gas on many parcels and even outbid all others in several occasions. He purchased leases worth $1.7 million but could not pay. He faces up to 10 years in prison if convicted.
Read City Weekly's cover story on DeChristpher

City Weekly will be covering the trial and related demonstrations this week.
Check back to CityWeekly.net/NewsBlog for live and ongoing coverage.
Photos by Jesse Fruhwirth and Erik Daenitz
Follow Me: