Say what you will for the modernization of printed materials, there's still a place in the hearts of many for the traditional printing press. Miles behind the innovations of typewriters, computers and the dominate force that is Photoshop, standard presses pale in comparison to today's formats. But when first created and utilized to print bibles and important documentation, the operation of moveable type revolutionized the world and even became an artform itself with variations on lettering and styles. Most presses that you see in use today are strictly for display or educational purposes... Except for this one shop here in Utah.


--- Smart & Wiley started up on a corner shop in Indiana by a couple of college kids fascinated with wood and metal printing. Shortly after graduating the two moved to Salt Lake City for dayjobs, but brought along their presses and inks to start up a printing business, overlooking Main Street in the heart of downtown. Since that time the two have been featured printers at Craft Lake City and have gotten their various creations across the city. We got a chance to chat with the elusive duo behind the small print company, David Wolske and Lauren Huber, about their careers and starting up S&W, the process behind making their works, plus their thoughts on the local craft and art scenes.

David Wolske & Lauren Huber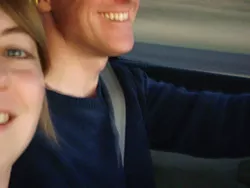 http://www.smartandwiley.com/

Gavin: Hey Lauren and David, first thing, tell us a little bit about yourselves.

David: By day Lauren is Marketing Coordinator for FFKR Architects, and I'm Creative Director for the Book Arts Program at the J. Willard Marriott Library, The University of Utah. At night and on weekends, we are artists, graphic and product designers, and letterpress printers. In 2010, after years of working separately, we started Smart & Wiley as a creative outlet for designing and printing cards, notebooks, posters, and art prints inspired by our collection of 19th and 20th century wood and metal type, borders, ornaments, and printing presses. Most of our work is letterpress printed from hand-set wood and metal type.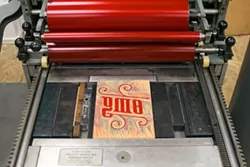 Gavin: What first got you interested in art and what were some of your early inspirations?

Lauren: I've been drawn to the visual since I can remember. The graphic nature of comic strips with their combination of text, stylized drawing, and short narrative appealed to me as a kid. I wanted to be a cartoonist or animator growing up. I've also always had an interest in pattern, applied art, and the process of making. Starting in elementary school I used to camp out in the Arts & Crafts section of my home town's public library and comb through art and craft how-to books, taking notes and making photocopies. I've been a nerd for a long time. Go libraries!

David: Like many designers, my earliest inspirations were cartoons, music packaging, book covers, and movie posters. As cheesy as it sounds, I was also encouraged and inspired by my parents, brothers, and a few really great teachers.

Gavin: The two of you both attended and met at Indiana University. What made you decide on that college and what was their program like for you both?

Lauren: I went through undergrad and grad school at IU. The variety of class offerings appealed to me as an undergrad and Bloomington, Indiana is a great town. Grad school at IU was great. Though my focus was graphic design, I was able to take courses and interact with students/faculty from other art disciplines, like when I went to Japan with the Photo Dept. for a month! I also taught classes as an assistant instructor (which paid for me to take classes) and did freelance design work for the IU School of Fine Arts and several artists.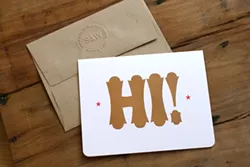 David: One of the little known secrets about the Graphic Design program at Indiana University, Bloomington is the incredible letterpress shop and jaw-dropping wood type collection. Having access to that kind of facility is a rare opportunity and I chose to go to graduate school at IU so I could take advantage of that print shop. It was an added bonus that the Fine Arts faculty at IU Bloomington are tremendously talented, dedicated to teaching, and good human beings.

Gavin: When did the two of you officially meet up and eventually become friends?

Lauren: David was the teaching assistant for my first undergraduate Typography class at Indiana University. We didn't talk much or hang out until I started grad school and he was in the design department as visiting faculty. We started dating my second year of the graduate program.

David: I convinced Lauren to check out Salt Lake City after she finished graduate school, then got lucky when she agreed to marry me last November.

Gavin: What influenced you to open up a print shop? And what specifically drew you to the older woodworks lettering style?

Lauren: We both love paper, type, and design and were looking for a regular outlet for personal creative work. We've always given each other feedback on work and discussed ideas for new projects. David has mad letterpress printing skills and mine are rapidly improving with every project and D's feedback. We decided to combine forces with Smart & Wiley. David's passion is wood type, but I tend to work more with metal type. The scale and detail appeal to me and the type forms are really beautiful when locked up on press. We both love vintage ephemera like posters, calling cards, advertisements, packaging, and antique printing specimen books from about.

David: My first exposure to letterpress printing and wood type was in Indianapolis at an exhibit of posters and prints from Jim Sherraden and Hatch Show Print. The colors, textures, and scale of the prints created a visceral experience that was lacking in my work as a web designer. I made up my mind that night to go to graduate school and become a letterpress artist.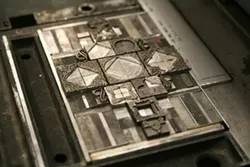 Gavin: After you were both finished with college, what brought on the decision to move to Utah? And what was the change like for you both?

David: Right after graduate school I taught Graphic Design for a couple of years at Indiana University. Then I moved to Chicago and did freelance commercial design while teaching letterpress printing at Columbia College Chicago's Center for Book and Paper Arts. While in Chicago, I happened to see a job opening posted at the Book Arts Program. The job description—they needed a designer who could also letterpress print—was pretty much tailor made for me so I applied and crossed my fingers. From the moment I set foot in Salt Lake City and saw the incredible Book Arts Studio, I pretty much knew this was the place for me.

Lauren: After finishing school, I moved to Utah to be with David. The pace of life in Utah seems pretty similar to my experience in Indiana and it's pretty easy to get around, so that aspect hasn't been much of an adjustment. Many of the changes have been good... SLC is much bike-friendlier than most places in Indiana, more public transportation options, supportive arts scene, and mountains!

Gavin: When setting up the new studio in town, how did you come across the space above Sam Weller's? And where the did the name Smart & Wiley come from?

David: A few months after moving to SLC, I participated in a papermaking workshop hosted by Rob and Georgia Buchert, proprietors of Tryst Press, in Provo. One of the other participants in the workshop was Ethan Ensign who runs Scrub Oak Bindery. Ethan was looking for someone to share his book binding and book repair studio above Sam Weller's so I paid him a visit. He had done an amazing job renovating the space and I couldn't pass up the opportunity to work above a bookstore and a coffee shop.

Lauren: It was a conscious decision not to include the word "press" in our name. Smart & Wiley is the street intersection where David's first letterpress shop was located in Indianapolis. It's a little ambiguous and cheeky and seemed like a very appropriate name for our studio.


Gavin: What's the process that goes into creating your works, from initial concept to final press?

Lauren: Once we have an idea, we sketch out possibilities and start defining the parameters that will dictate how the final printed piece will look. We choose paper based on texture, color (we use a lot of colored papers), and the size limitations of our presses. We spend time looking through our fonts and blocks, perusing color swatches. After selecting typefaces and mixing ink, we set the type one letter block at a time. One color of ink is added to the press, then each piece of paper in the edition goes through the press once for each color. For example, if a design has six colors, each print (every piece of paper) goes through the press six times.

Gavin: Considering the traditional fashion everything you do is printed in, how difficult is it to get the process correct, and how much of it becomes trial and error?

David: The experimental part of what we do is not that much different from any other artist. We'll always struggle with getting just the right color and creating a balanced composition. Setting type by hand and printing one color at a time definitely requires patience, but we love being able to slow down and think through the process of making an idea tangible. The challenges we encounter are often due to the age of our wood blocks and the fact that if a press stops working, we can't just search the internet or make a phone call to find someone to come fix it; we have to be our own press mechanics.


Gavin: You officially made you big debut over the summer at Craft Lake City. What was that event like for you, and what did you think of the other designers and artists involved?

Lauren: I think it was a really great event and there was a nice variety of art and craft represented. The weather and turnout were excellent. We're hoping to participate again this year.

David: I agree—I was seriously impressed by the level of organization, the quality of the vendors and performers, and pleasantly surprised with the crowds.

Gavin: What was the public response like to the works you had on display, and were there any odd requests that came your way for work?

Lauren: Overall, we got a good response to our booth and the work. I can't think of any particularly odd requests.

David: Nothing really odd, though I did get a couple of requests for a print in a different size, or in a different color. These are common and innocent questions. Once I explain that our time and labor intensive process is basically the same as that used by Gutenberg in the 15th Century, people seem to understand that we don't have different colors or sizes hiding in the back room. Because we don't use much representational imagery—our work tends toward the literary and abstract—I'm always a little nervous about how people will respond to what we make. I was thrilled that most of the Craft Lake City visitors responded very enthusiastically. We decorated our booth with some vintage wood and metal type in an effort to give everything context, but we still had people that (understandably) didn't realize that our work is not printed on a desktop printer attached to a computer.


Gavin: Do you have any plans to expand beyond what you're doing now, or are you good with what you've got going on?

Lauren: I'd like to be making more work and documenting it better. It's definitely a challenge to work full time and run a print studio with a Web presence on the side.

David: We definitely have plans for world domination, but we're pacing ourselves.

Gavin: Going a bit local, what's your take on our local craft scene, both good and bad?

Lauren: It seems like there are an increasing number of opportunities to show and sell work in and around SLC. The community is very supportive.

David: The culture in this city is infused with a strong DIY ethic. There are so many talented and genuinely supportive locals making great art, crafts, music, prose, and poetry. As far as I'm concerned SLC is the place to be.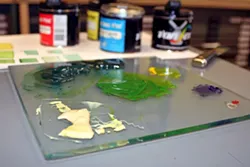 Gavin: Is there anything you believe could be done to make it more prominent?

Lauren: Individuals taking advantage of the Web to get the word out and share images of their work with a wider audience can't hurt.

David: I believe that if we all keep at it—making great work—supporting each other's successes, the audience will find us.

Gavin: Who are some other print artists and crafters you believe people should be checking out?

Lauren: I love Marian Bantjes. Though not necessarily a print artist or crafter, I like how Hella Jongerius experiments with materials and deconstructs traditional craft materials and processes to create contemporary design products. Locally, I enjoy work I've seen from Ryan Perkins, Whitney Shaw, and Mary Toscano, to name a few.

David: I can't speak highly enough about Laura Decker, Shidasha Holmstead, Mike Marcinek, Marnie Powers-Torrey, Claire Taylor, Becky Thomas, Emily Tipps, and Mary Toscano, my coworkers at the Book Arts Program. I dare someone to find a more talented bunch of people in one place. I'm also a big fan of locals Trent Call, Spencer Charles, Dan Christofferson, Stefanie Dykes, David Habben, Stephanie Leitch, Ryan Perkins, Whitney Shaw, and Sri Whipple. Outside of SLC, Xavier Antin (London), Jeff Canham (San Francisco), Sonnenzimmer (Chicago), Barb Tetenbaum (Portland), and Martin Venezky (San Francisco) blow my mind and make me want to work harder.


Gavin: While we're kinda on the topic, what are you thoughts on the local art scene and the work coming out of it at the moment?

Lauren: I was pleasantly surprised with the local art scene when I moved to Salt Lake. The artists here seem to be very supportive of each other and the scene isn't really competitive as it tends to be in other cities. I'm amazed at the number of artists here that can really draw.

David: The local art scene is so strong. I'm impressed and inspired every time we do Gallery Stroll.

Gavin: What can we expect from you both, and Smart & Wiley over the rest of the year?

David: You can expect Smart & Wiley to put more good into the world in 2011.

Lauren: We're collaborating on a print show at Alchemy Coffee this June and will be participating in the Alt Press Fest at City Library this summer. We're hoping to have a lot of new products in time for this year's Craft Lake City, including plenty of paper goods and a few home goods.


Gavin: Aside the obvious, is there anything you'd like to promote or plug?

Lauren: I'm plugging David's awesome blog. He's spent over a year documenting our type collection and sharing it on a daily basis.

David: Come take a class or workshop at the Book Arts Program, you won't regret it.



| | | | |
| --- | --- | --- | --- |
| Follow Gavin's Underground: | | | |