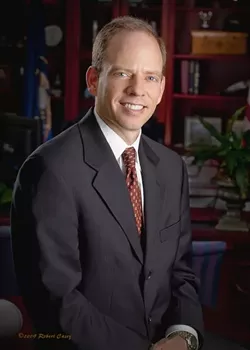 The Utah Attorney General's office today announced they could not find substantial evidence of fraud to charge anyone involved in the Envision Ogden scandal--most notably Mayor Matthew Godfrey--and the case is now closed.---
For all the background on the case, read City Weekly's Nov. 9 article on Godfrey's most notorious campaign finance scandal.
As reported on Standard.net:
"The focus of the investigation has been whether Envision Ogden improperly solicited contributions for local economic development projects which illegally ended up in the hands of political candidates," Scott W. Reed, criminal justice division chief for the attorney general's Office said in a prepared statement. "We did not find sufficient evidence of fraud or criminal intent on the part of Envision Ogden or its principal members to justify bringing felony charges for communications fraud or money laundering. Our investigation is now closed."
Ogden professor Dan Schroeder was the most tenacious gadfly on the issue. It was his public records request that confirmed the Attorney General's office was taking a second look at the case. He has this to say about the decision:
Today's decision by the Utah Attorney General's Office is disappointing but hardly surprising.




Let's first remember that this is the same office that declined to prosecute Rick Koerber, a well-connected businessman who was later indicted by federal authorities for running a $100 million Ponzi scheme. ... This is the same office that put its investigation on hold for a year and a half, perhaps hoping that it would be less newsworthy by the time they released their decision.




The lesson here is that if you're well connected in Utah, you can commit fraud and nobody will come after you for it. If you're the mayor of Ogden, you can use your office to solicit contributions for a bogus, unregistered organization that will then use the money to help your campaign. If you're running for city council and you're a friend of the mayor, you can launder your campaign contributions to conceal their source.




But what if you're not well connected? Suppose that I had attempted to do these same things. Suppose I had called all the major businesses in town and asked them to contribute thousands of dollars to an unregistered organization. They would have reported me to the state and I would have been prosecuted for violating the Charitable Solicitations Act. If I had fraudulently hidden the fact that this organization was really a political action committee, I would have been charged with a felony. If I had then laundered the money before passing it on to city council candidates, I could easily have gone to prison.




It's sad to live in a place where laws apply to some of us but not others.
Godfrey declined interview requests made by City Weekly, but responded to sample questions sent to his office. I told his secretary they were samples of the sort of questions I would ask him in a telephone interview, as per her request. I soon received responses to those sample questions but never was granted an interview. 
I sent an e-mail to Godfrey's office today asking for his comments. If he responds, I'll update the post. 

Follow Me: