If you've lived in Utah for more than a few years then you're probably aware of the The Road Home homeless shelter and the annual fundraising drives held around the holidays to benefit those in need. But what isn't highlighted is that their organization needs help year-round, both financially and in goods and services for those who find themselves working through one of the worst times in their lives. Its that kind of need and outreach for public support that inspired the event we'll be talking about today.


--- Submerged In Art started last year as a one-night only event featuring some of Utah's finest up-and-coming artists, donating their works to raise funds for the worthy cause. Giving members of the community a chance to both help out and take home an exclusive piece of artwork. Last year's event raised over $4,000 and almost assuredly guaranteed its return this year, starting at 6PM tonight at 2275 South Highland Drive (above The Tap Room) and going until last call downstairs. I got a chance to chat with the event's founder, filmmaker Iosua Tai Taeoalii, about himself and the plans for tonight, along with some thoughts on local art. All with photos from last year's event.

Iosua Tai Taeoalii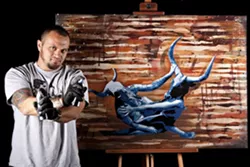 http://www.submergedinart.com/

Gavin: Hey Iousa! First thing, tell us a little bit about yourself.

Iosua: Evaluation of self is such an awkward thing... but here I go... I have a beckoning passion for creation and I exert all of my being into it whether it be of importance, like a commercial piece for a client or whether it be something simple, like the landscape of my yard. I'm easily agitated and, quite honestly, a nightmare to be around if I've been creatively stagnate for a long period of time. A certain amount of neurosis runs in the family genes and it shows it's ugly face when I'm at my most creative, but I try and use it as a tool rather than a handicap. That said, I'm a simple guy, with usually silent opinions, a passion for filmmaking and a strong dedication to my family.


Gavin: What first got you interested in filmmaking, and what were some of your early influences?

Iosua: When I was ten years old, at a sleepover party, we watched "The Texas Chainsaw Massacre 2" and followed that appetizer up with George Romero's "Day Of The Dead" entrée. The following morning I had my mom drive me over to The Costume Closet to buy fake blood, latex and anything else related, cause I knew that I wanted to be a special F/X artist like Tom Savini. In the following years, armed with a prepubescent angst and a HI-8 video camera, I started making short horror movies with the neighborhood kids. So my early influences were people like Tobe Hooper, Wes Craven, Clive Barker and George A. Romero. It wasn't until I saw "Pulp Fiction" for the first time that I realized I had to make movies. I saw that movie sixteen times in the theater and that was it, that was what I was gonna do with my life... Make movies. Fortunately my parents were supportive of the ambiguous dream and the summer after I graduated high school, they flipped the bill for me to start film classes at the U.

Gavin: What made you choose the U for your degree and what was their program like for you?

Iosua: I'm a mamma's boy and didn't want to stray to far from family, so the U was the obvious choice for me and at that time I remember it being a solid program, which it probably still is. Just to verify though, I never got my degree. My second year in, a professor sort of hinted to me that I should consider dropping out. I felt like I knew what I needed to know about movie making and I got the sense that he knew I had aspirations of shooting a feature. So I think his suggestion was, rather than spend my money on college, I could spend it on a movie. So at eighteen, I dropped out and shot my first feature. A fantastic decision too, cause the absolute best way to learn how to make a movie is to MAKE ONE.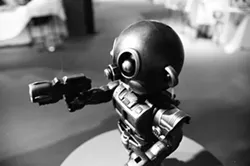 Gavin: Almost immediately out of high school you started a production company called Weird Chief Pictures. What made you want to start your own so quickly?

Iosua: I was infatuated with Quentin Tarantino. Seeing "A-Band-Apart" at the first of all his movies, I just thought that was what you do. I was really just being a copycat. Quick thing about the name of my company. I don't consider myself to be weird and don't necessarily even like the word "weird", but in high school, while experimenting with things like LSD and Dramamine, I'd deviate and while we'd be trippin', my friend, Dewey, would always call me the Weird Chief. Well, he died when we were seventeen and so when I was thinking of a name for my company, that just seemed right, in honor of Dewey. Worked out too, cause it's a name not easily forgotten.

Gavin: Since starting the company you've made several films. What has it been like for you creating full-length movies, and has it gotten easier over time or is it always a challenge?

Iosua: The process of making a film, features particularly, is much like the process of raising children. If you've never done either then I don't know any other way to describe it to you. But for those who have raised children, you know that around every corner is a new challenge and the only surprises are when there are no surprises. I will tell you this, I am most passionate about making movies. Every aspect of the filmmaking process works for me mentally. And, no, it really never gets easier. If it ever got easy for me then I'd know that I'm doing something wrong. When something becomes easy for you, it just means you're not pushing yourself creatively.


Gavin: You've also created a few local television series, including the long lost "3.2 Percent". What made you want to branch into television, and what was that like compared to filmmaking?

Iosua: Oh yes, the long lost "3.2 Percent". I loved making that show and often times wish I was still doing it, especially when I'm at a cool event in Utah, cause I imagine "3.2" covering it. That was a fun show to do and I learned a lot about this land of Zion and the people who exist here. I never really wanted to go into television, but again, it was something new, and at that time it seemed like an adventure I wanted to involve myself in. I learned quickly that television was not for me.

Gavin: Since then you've also become an artist, mainly working with spraypaint and acrylics, but also focusing on photography. What made you want to jump into art after film?

Iosua: Well, I've actually always used art as a way of paying the bills, with tattooing friends and painting commissioned pieces here and there, but making independent movies isn't always the most lucrative business, especially when you're doing most of the financing yourself. I found I was spending more money then I was making. Around the time I gave the axe to "3.2 Percent" I was facing a foreclosure and a pile of unpaid bills. So to do the honorable thing, I made arrangements to start a new job tying rebar. I hadn't worked a real job for 5-6 years, so this was a big deal. The Sunday night before my first day of the dreaded construction life, I was scrambling trying to figure a way to avoid it. A few days prior, I had painted a picture of Miles Davis for my wife Adrienne for her birthday and without her knowledge, I decided to list it on eBay. Just to see if there'd be interest in it. In less than an hour, the painting sold. So after apologizing to Adrienne, I painted a few more and those sold. As you can imagine, I killed the construction gig and started painting pop art and selling it on eBay. Pop art was really happening at the time and there was such a demand for my work that I had my wife quit her job and pick up the can. Luckily she herself is an artist, so we were both painting like, thirty pieces a week. That was six years ago, and since that day, my wife and I have literally sold thousands of paintings all across the world. We've got paintings in Israel, Hong Kong, Africa, Cyprus, Vietnam, Chad, Jordan, South Korea, Japan, Italy, France, Germany, Sweden, Switzerland, Denmark, Iraq, Jerusalem, all over the UK and holy shit, on and on and we even have pieces in all fifty states. So the painting is paying the bills right now, but I can tell you this, I'm itching to shoot a movie and I've got a fantastic one on the burner. Expect to see a big picture from me in a year or two.


Gavin: With the various artforms you've done, why did you choose to take on so many rather than stick with one and master it?

Iosua: That's how I continue to push myself and keep things fresh. I've really done it all and each medium has it's own certain charm for me. Like a cage fighter, I'd rather be well trained in multiple fighting styles than mastered in just one. Talk to Matt Hughes 'bout that.

Gavin: Where did the idea come from to start up Submerged In Art?

Iosua: I have a lot of idle time in the winter, so I had been stagnate for a while, and as my wife jokingly says, I was feeling a lack of attention. I had an urge to do something huge... something creative... something different. We were driving through the SLC and I saw an empty building and thought "that'd be a great place for an art show", and just like that, the wheels were turning. Here's the thing, I've never felt comfortable laying claim to the title of an artist. "Engineer" works for me, so with that mindset I've never fit into any kind of art scene, but I do have a sincere yearning for my work to be appreciated in my home town. I'd been getting so much attention worldwide, and yet, on my own stomping grounds I felt neglected and so did many of my other suburbanite art friends. Our scene involves mortgages and children, so being part of any hip scene doesn't currently work for many of us. So last year's show was a way for me to help my friends show their work in an environment that they didn't really have the opportunity to do. Having it be a charitable event for the Road Home just made sense.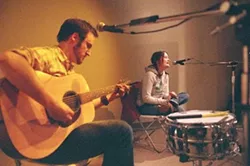 Gavin: With all the charities and organizations in town, what influenced you to specifically focus on The Road Home and the work they do?

Iosua: There are many struggling artists out there on the brink of being homeless themselves and with that in mind I had the idea to see if there were any artists that were clients of the Road Home who would like to display their work. Then the idea naturally grew to having the show be a charity event for The Road Home. Last year we featured Josh Sloan who was a seventeen year-old artist who was at the Road Home with his family at the time. Of what we did that night, as far as the money that was raised and the amount of people that were in attendance, seeing Josh sell his work and noticing a new sense of hope and inspiration in him is what gave me the best feeling. This year we'll be featuring two artists from the Road Home and I'm excited to see their work and hope that we're able to double the funds that we raised last year.

Gavin: Last year the event raised $4,000 by night's end. Did you know then you'd be bringing it back or was it kinda in-the-air at that point?

Iosua: It originally was just gonna be a one time thing, but the energy at that show was incredible and I received so much positive feedback that it was a quick realization that Submerged In Art was gonna make a return. I sincerely hope for it to eventually become a staple event in Utah. Right now it's a one night only show, which I like, cause of the exclusivity of it, but in the future years to come we may expand it to a three day show, and maybe even later a month long show.


Gavin: What made you choose the old Sit N' Sleep building on Highland for the location?

Iosua: Sugar House is such a cool area, especially right there on Highland, and it's a damn shame they tore that whole corner down to just have a big, ugly empty space. It makes no sense to me. I remember when I was growin' up, that area seemed like the hippest place to be. It was always so packed with weirdos, beatniks, and all the kind of people I wanted to hang with when I grew up, then in a blink of an eye, there's a big pit there with nothing. Makes me sick... Anyway, I digress... Sugar House just feels right to me. So naturally when my wife and I were scouting locations, we drove through Sugar House and the Sit N' Sleep building was the first vacant building we saw and I knew right then that was gonna be the place. The added benefit of having a bar downstairs is awesome. Last year we weren't able to obtain a liquor license so we pumped all the guests up with energy drinks and coffee. It's always nice to have some sort of social lubricant at an art sow. So having The Tap Room downstairs is perfect and with a $3 donation to the Submerged In Art show, you'll be provided with a drink ticket that can be redeemed at the Tap Room for one beer. Valid that night only and until supplies last.

Gavin: What was it like getting The Tap Room involved with the event and using their place?

Iosua: When I told Dennis, The Tap Room owner, about our operation and that we wanted to do it upstairs, he was incredibly helpful in contacting the landlord, who by the way donated the space for the night. So to thank Dennis for his assistance I decided, rather than pursuing a liquor license for the event, that we'd just send our guests to drink his beer.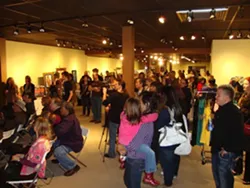 Gavin: What was the process like in getting artists, many of them brand new to the art scene and very experimental, on board to contribute?

Iosua: Artists are hit up all the time to donate pieces to charity events that are used to raise money and they always do, but with the Submerged show, the artwork is a means to get people to gather, the prizes donated by local businesses are the means to raise the money. Each artist will also donate a portion of their sales from the night and they are encouraged to donate a work from their collection to a silent auction, where all the proceeds go to the Road Home. Nine times out of ten, when you ask an artist to participate in an event like this, it's an enthusiastic "YES". I also brought back a lot of the artists from last years show and then added six more. Submerged started out as a way to show the artists who don't always get the Utah praise, the underrated and often overlooked artists and I'd like to try to keep it that way, even with myself. In the future, If ever at any point I feel like I've over-saturated Salt Lake with my work or that I've become too popular, I'll pull myself from the Submerged show.

Gavin: For a quick rundown, who do you have on display this year, and what other events have you got planned?

Iosua: Myself, my wife Adrienne Taeoalii, Troy Henderson and his wife Trisha Henderson, Brian Gerber, Adam J. Woolsey, Mason Fetzer, Adrian Prazen, Kali Mellus, Sonya Evans, Veronica Perez, Kat Martin, Darrell Driver, Sandy Parsons, Alex Boynton, BERG and even the Craft Sabbath co-op. Some of those names you've heard, and a lot of them you've never heard and I like it that way. We also have DJ Sayo spinnin' for the night, and some gorilla-style poetry from world renowned poets, Jean Howard and Jesse Parent alongside some members of the Utah Slam team. There will also be music performances by Brian Bingham and The Precinct. All in all, a recipe for a good time.


Gavin: Are you planning any last minute additions or surprises, or are things pretty well set at this point?

Iosua: I did have a last minute addition. I invited a talented local artist Daniel Overstreet to design a painting for the show and he painted this incredible 4x8 painting that will go up for auction the night of the show. As far as surprises go there really are none at this time, but I will say, if you're going to attend the show, keep your eye out for the monkey!

Gavin: Going local for a bit, what's your take on the local art scene, both good and bad?

Iosua: Good and bad...  On the plus side, Utah has a tremendous amount of quality, innovative artists, but on the negative, I personally feel like there are not enough desirous art collectors to support the magnitude of artists existing here. It's like a social mixer with a gender ratio of 90/10. I've been all across the U.S. selling my work and I've seen those cities spewing of arts and culture. Cities like Chicago, or even Denver, they have thriving art districts that spread for miles and miles. I don't feel like we have that kind of place here. We have "Gateways" and "Districts" where money is being spent hand over fist. There's not a large centralized location here for the arts and It seems too thinly spread out to me. With exception to the Utah Arts Festival, where I've done very well selling my work. In fact, it's the best art event that I do, and I exhibit in over thirty shows a year from San Francisco to Florida. Don't get me wrong, I've always been an advocate for the Utah art scene, but I just feel like there's a lethargic support for the arts here. For example, if we were doing this Submerged In Art show in New York or Los Angeles, there'd be this anticipation that some prestigious curator would see the show and want to pick up some of the artists to continue in their gallery, but here, it's like, "Wow, that show was awesome", then that's it. It's like working a dead end job with no path to promotion. Unfortunately, I don't know the remedy and I think it's just the way it'll always be in this state.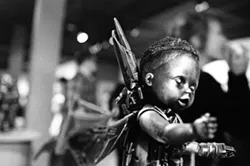 Gavin: Is there anything you believe could be done to make it more prominent?

Iosua: I wish, but I think that's in the hands of the community and the majority population.

Gavin: Moving onto the Road Home, what's your opinion on the work they've tried to do over the years and the impact they've made on the community?

Iosua: This year alone they've restored over 365 families to a stable home through their Rapid Rehousing program. That's an incredible and inspiring feat. I believe it's never a bad thing to want to help out the less fortunate. It's easy to overlook the unfavorable things in our existence, but miraculously enough, it's just as easy to look and to do something about it, and in fact, I believe it to be more fulfilling.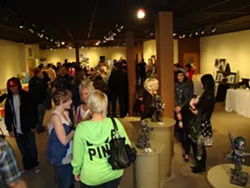 Gavin: Beyond this event, what are some things people can do to help out their organization?

Iosua: Be a part of the solution. Stay informed. Become a volunteer. They also have an easy donation process at their website, where you can also make an ongoing pledge and learn about their community events, which serve as a great way to raise funds and awareness. They are always in need of toiletries, blankets and clothing and you can donate those items at their downtown facility located on 210 South Rio Grande Street (455 West). There are restrictions to what items can be donated so just go to their website for a list of those.

Gavin: What can we expect from you over the rest of the year?

Iosua: Dunno yet. However, I did just sell my last feature film called "Darkroom" to a distribution company and that should be available on DVD and digital download in the next six months or so. And I'll also be starting a new movie hopefully sooner than later.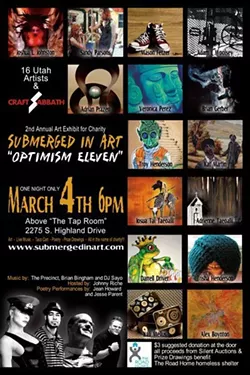 Gavin: Aside from the event, is there anything you'd like to promote or plug?

Iosua: My website, and support your local artists, instead of buying a piece of art from a chain retailer or any kind of "Mart", consider going to an art festival or street fair, or the Gallery Stroll and purchase some work that comes from someones heart. You'll be surprised how inexpensive it can be and you'll also have a more interesting story to tell about the piece you have hanging on your wall. Thanks for the interview!



| | | | |
| --- | --- | --- | --- |
| Follow Gavin's Underground: | | | |