Salt Lake native Anne Zimmerman will be appearing at King's English book shop on Saturday, March 19th at 7 PM to discuss and sign her book An Extravagant Hunger: The Passionate Years of M.F.K. Fisher. ---
In An Extravagant Hunger, Zimmerman traces Fisher's own appetites — both professional and private — through painstaking research and her private papers and correspondence.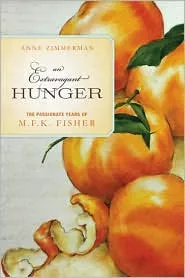 Publisher's Weekly says about An Extravagant Hunger, "Zimmerman explores the privileged yet emotionally turbulent world of the pioneering American food writer Mary Frances Kennedy Fisher. In her sympathetic yet critical biography of the life behind Fisher's celebrated writings, Zimmerman finds a passionate woman defined by 'lifelong hungers.' Using access to Fisher's private letters and with help from the family, Zimmerman paints Fisher's emotions and discoveries that she realized in those moments where her personality and adventurous palette intersect."
Says Zimmerman of M.F.K. Fisher, "Her desire for food, for love and for attention of any kind, was relentless. Food helped her understand the world."
I've read much of M.F.K. Fisher's works and Zimmerman's book delivers insights into the woman that single-handedly invented serious American food writing that are new, fresh and engaging.