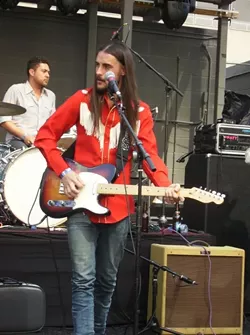 Much like the Sundance Film Festival, everyone you talk to at SXSW has the "inside scoop" or knows about some awesome "secret show." And, again like Sundance, most of them are full of shit.---
That's not to say there aren't plenty of those "secret shows" going on, but getting solid information about them is tricky unless you know someone directly involved.
I stumbled into one by accident Thursday, having brow-beaten the Meat Puppets publicist before the festival started to find out where the band—one of my Top 5 all-time faves, and regular visitors to SLC—would be playing this year. With that list in hand, I showed up for an afternoon soiree at La Zona Rosa to find out that it was a Rolling Stone magazine-sponsored event, complete with free beer and tequila, and that the party was kept a secret from almost everybody, even though you just needed a festival badge to get in.
At least, that's what some local Austinite told me as we waited for the band to play. He waxed on about how lucky I was to have found this particular party—"I'm from here and I didn't know about it! And I know every show!"—how the band was going to play two hours (wrong), how the list of songs taped to guitarist/singer Curt Kirkwood's amp was the set list (wrong again, it was a list of possible songs).
Regardless, the hour the Meat Puppets DID play was a treat, and included drawn-out, extended takes of "Touchdown King," "Up on the Sun," "Comin' Down" and "Plateau." Toward set's end, Kirkwood told his two bandmates, "We have 12 minutes left. Let's make it real slow and stupid." And with that, we got a stellar, super-sized version of "Lake of Fire."
From there, I bounced to the Austin Music Hall, where the Village Voice party had one of my must-see bands playing shortly after Meat Puppets ended. Alas, Wild Flag and I will have to meet another day, as the party had already reached capacity. After grumbling with some fellow folks denied at the door, I decided to take in one of the free community concerts SXSW throws for the people of Austin each year at the city's Auditorium Shores Stage, a nice little amphitheater across the river south of downtown.
The Strokes were the headliner, and delivered a generally uninspired set. Most of the band at least appeared to be trying, but singer Julian Casablancas' laconic, don't-give-a-shit schtick has gotten pretty old over the past decade. There were moments when the show nearly took flight, particularly on older songs like "Someday" and "New York City Cops," but the opening "What Ever Happened?" kicked off the show with a dull thud, new song "Under Cover of Darkness" came off as more a Strokes tribute than incisive addition to the band's catalog, and "Take It or Leave It" basically inspired me to leave early and try to beat the crowd (and it was a serious crowd—probably 40,000 or so, ala a big Twilight Concert Series gig in SLC. Complete with insane beer lines.) I had been underwhelmed by the two acts who played before The Strokes, Luke Rathbone and Twin Shadow, but in retrospect, they were far more entertaining than the headliner. And the massive fireworks show launched from boats in the river behind the stage during the show-closing "Last Nite" wasn't enough to save this gig.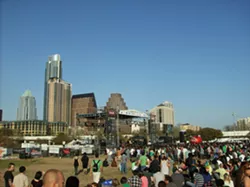 The rest of the night was dominated by changing schedules and one frustrated dude (that would be me). I went from the Strokes back to La Zona Rosa, where Pittsburgh hip-hopper Wiz Khalifa was supposed to be about to start, followed by Lupe Fiasco Cee-lo Green. Once I got there, though, I found out Lupe and Cee-lo had cancelled, and Wiz Khalifi had been pushed back two hours. So I watched a young Atlanta rapper named Donnis for a spell, then made my way to a St. Patrick's Day street party to close down the night.
Band of the day I never miss, no matter when and where they're playing: Meat Puppets, duh.
Artist I've always wanted to see and made a point of seeing Thursday: Well, it WAS gonna be Cee-lo
New discovery of the day: Robert Ellis and the Boys, playing a New West Records day party. The young quintet was decked to the nines in Western attire, had a wicked pedal-steel player, and a lead guitarist who melted my face off with a solo on a cover of "Still Crazy After All These Years." And leader Ellis has a great voice to boot. The band's next album, Photograph, comes out this July.
Culinary highlight of the day: some of the best damn carne asada tacos I've ever had, from a street vendor. Of course, those came after that free tequila show, so I can't really be trusted, either.