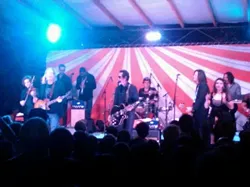 Sometimes, when faced with an array of winning options, it's best to go native.---
That's what I did Friday night at SXSW. After a day full of party-hopping and listening to some of the best of the young bands at the festival, I headed to the famed South Congress area, where Alejandro Escovedo headlined a raging free show in a parking lot, and where the Continental Club offered a night of old school twang and garage rock.
Escovedo is sort of the patron saint of South Congress; he hosts a party at the Continental Club on the closing Sunday of SXSW every year, and he woodsheds new material there weekly when he's not on tour. His most recent album—Street Songs of Love, one of my Top 10 of 2010—is full of tales from the characters populating this neighborhood a mile or two south of where Hipster Nation was running around seeing more traditional showcases.
Judging by the crowd at his gig Friday night, Escovedo will have no shortage of crazy characters to draw from when it comes to penning his next opus. The natives were restless, and hilarious, as they welcomed a hometown hero with a drunken scene of stoned, drunk Texans ready to sing along with nearly every word, especially when Escovedo dropped covers of the Rolling Stones ("Miss You, "Beast of Burden") into his set.
Unlike recent visits to SLC, when Escovedo traveled with just a three-man backing band, Friday's show featured the full Sensitive Orchestra: A couple horn players, cello and violin, keyboards and a couple of lovely backup singers. The two-hour show flew by, with excellent takes on "Anchor," "This Bed is Getting Crowded," "Castanets" and "Always a Friend" among the numerous highlights.
After Escovedo's show, I headed across the street to the Continental Club, an Austin mainstay, where the bill featured the quirky pop-folk of Steve Poltz, whose songs ranged from hilarious to merely funny. One was a post-divorce anthem called "I Want My Fucking House Back." Another was about a character who wanted to die in the same room as Eddie Vedder, so much did he love the Pearl Jam singer. And Poltz announced, "This is one of my favorite old folk songs" in introducing his cover of The Replacements' "Androgynous."
Poltz was followed by local faves the Mother Truckers, who deal in country-influenced rock and seemed utterly disposable to me. But I stuck it out in order to see The Fleshtones, one of America's pioneering garage-rock bands who took influences of the '50s and '60s to make some of the best music of the '80s, before the garage-rock revival really took off more than a decade later. Led by Peter Zaremba (who some might remember as long-lost MTV series I.R.S.'s The Cutting Edge, the band had the sweaty club doing The Twist, the Pony and any number of long-dead dance moves well past 2 a.m.
Friday afternoon featured trips to The Onion A.V. Club party, where Wye Oak, An Horse and Ted Leo all delivered worthy sets under a sweltering tent at The Mowhawk. A quick trip to the Brooklyn Vegan party down the block at Swandive proved a bit of a washout; the crowd gathered to hear Deertick, Old 97s and Middle Brother was so packed in, there was no moving, whether to get a beer, hit a bathroom or just to get the hell out of there. Thankfully, Wye Oak (playing SLC April 1) arrived to play indoors at the same multi-room venue, so I was able to escape the mash of dudes dying for Deertick.
Band I'd always wanted to see but never had: The Fleshtones
Artist I never miss, no matter where or when he plays: Alejandro Escovedo
Best new discovery: I hadn't seen Wye Oak live before, and they were excellent, although the singer's voice was toast by the second set I saw of theirs Friday. Lord knows how she got through her evening Merge Records showcase.
Culinary highlight of the day: Guero's Taco Bar on South Congress, where tacos, enchiladas and margaritas were a perfect post-show fuel stop between Escovedo and the Continental Club.