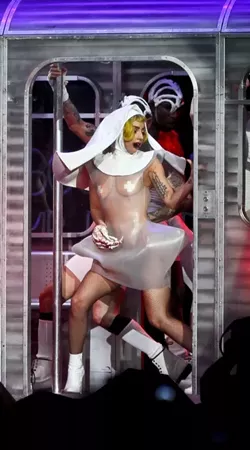 Dressed like she was ready to have her loins anointed in some bizarre Temple Ceremony on Venus, Lady Gaga belted "Born This Way" and all her hits from the heart of Zion Saturday.---
It's her undoubtedly pro-gay stance that, I thought, might get her more of a protesting push back from some members of our community, but all was calm outside the Energy Solutions Arena aside from concert excitement.

A very Ken or He-Man looking Jake Shears--if you're into to muscles, he'll make you melt--led the opening act: Scissor Sisters. They were good, except Shears wasn't even trying to use his famous falsetto in songs like "Filthy Gorgeous." I suppose Shears was hoping the glean off his boobs would distract you enough so that you wouldn't notice; at least, his six-song strip tease would suggest as much. For my money, I liked the old scrawny Shears whose falsetto pricked your eardrum, not the brawny Shears who's trying tease your prick so you don't notice that's not singing very well.
Overall, though, Scissor Sisters were quite good. I mean, Energy Solutions and similar sports arenas sound pretty bad no matter whatcha do. Scaling back on the vocal gymnastics and amping up the Moulin Rouge-style bawdy one-piece-at-a-time strip tease was fun, visual, and, hmm..., stimulating, at least for some. I saw Scissor Sisters perform for maybe 300 at Liquid Joe's way back in 2004 and it was fun to see how far they've come to playing packed stadiums with the reigning ruler of pop.