Hello to all you jabroni beating, pie eating, trailblazing, eyebrow-raising, elbow-dropping, crowd popping, people's champ entheusiests! ...Wrestlemania is coming up and The Rock is back so its actually watchable as opposed to how it was two months ago. Its sad, I'm not even thirty yet and I'm already bitching about something that's not like the good ol' days. And of all things, it's about pro-wrestling. But then all I need to do is click over to YouTube and watch old clips of slow matches in the 80's and the extra loooooong promos of the 90's and think... what good ol' days?!? Only a handful of those moments are noteworthy. But you (probably) don't want to hear me talk about pro-wrestling, you want local entertainment, so let's get to it. Before we dive in let's take a look at the latest addition to the 337 Memorial Wall.


--- I mentioned this two weeks ago and as this goes up you only have one more day to check it out. Poor Yorick Studios is having their open house this weekend. A chance for you to head in and look at all of the work they have on hand from the resident artists. Today's viewing goes from 1-5PM. If you can't make it out, here are over 200 pictures I took of what's on display for you to check out in this gallery. Or maybe you'll just kick yourself for not going?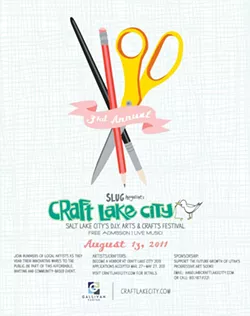 While we're on the subject of artwork, let's move into the world of craft for a second. Starting Monday morning
SLUG Magazine
will start taking submissions for artists and performers for the 3
rd
Annual Craft Lake City. Set to be hold in the Gallavan Center again this August, though it's unknown what the design will look like this year with all the construction underway. (Incidentally, have you see what it looks like now? What the fuck are they doing to the place?!?) Click over to
this link here
tomorrow for the application.

Speaking of stuff to apply for, musicians, this past week the call was sent out for the Brown Bag Concert Series. For those of you unaware, this series takes local musicians and puts them throughout the city during the lunch hour for special daytime concerts (as seen below). The location changes every week from business areas to public parks and other random locations, giving the city a sampling of local talent and free music. Click on
this link here
to download the form and apply for the series.
Going into events, if you enjoyed the batshit insanity that was the Geek Show/Mediocre Show collision, then you might just enjoy Geek Show Movie Night. Once again taking over Brewvies for a double-screening, absolutely free. This month they pay tribuet to April Fool's Day and take on sketch comedy with Mr. Show influenced "Run Ronnie Run" and the Kids In The Hall's "Brain Candy". First film starts at 5PM, plus drink specials to be created.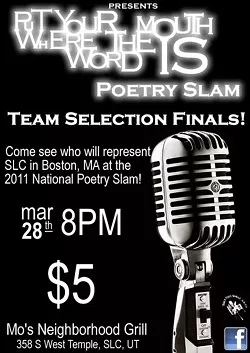 Then this Monday we'll see the finals of the
Salt City Indie Arts
' Slam competition. "Put Your Mouth Where The Word Is" will take place at Mo's Bar & Grill, where the talent involved will be competing to be on the official SLC Slam team that goes to national competition in Boston this year. The lineup is a rogues gallerys local perforemers including Adam Love, Brian Gray, DeAnn Emett, Jesse Parent, Willy Palomo, Levi Rogers, Darren Edwards, Rebeca Mae, Cody Winger and Ryan Joseph Carter. Go check it out.
Meanwhile if poetry isn't your taste, Dr. Sketchy has returned this week on Monday night to Bar Deluxe. Bringing back his Anri-Art School and The Slippery Kittens, class will be in sessions from 8-11PM for a night of drawing, drinks and dames. Plenty of dames. Just $10 for this one.
On Tuesday the Salt Lake Shit Show returns to Bar Deluxe. After a successful run last month they're bringing it back for who the hell knows what. Literally. All are welcome to bring their talents, whether you be musician, comedian, poet, or whatever other kind of performer you may be. Contact Bennett at sweetsaltrecords@yahoo.com to join in. Show kicks off at 9PM. (Ignore the date below, they didn't get a new poster.)
The finally you'll read about this all over the website and probably in this week's issue, so I'll only briefly remind you that
Craft Sabbath
will be next Sunday from 1-5PM, taking over the Main Library's promenade with the finest in local crafts. And as an added bonus, we should be seeing the grand re-opening of SLCitizen, which we talked about last month. This one should be interesting.

As for the blog... coming up in the next few weeks we'll hit theatre again, chat it up with a dance company, check out a film festival, explore an online gallery, chat with a print artist and we've a got local concert on the bill. At least that's the plan for the next few weeks, its already in the air as I write this, so we'll see what happens...