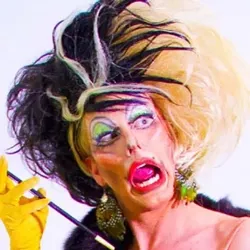 That too-hot fembot Principessa Kennedy will host Fur is a Drag Saturday, an anti-fur fashion show that will raise money for People for the Ethical Treatment of Animals, or PETA.---
Miss City Weekly 2010, Drew Landerman, will perform, as well as Gorgeous Jared Gomez, Larayn Clegg, Dexter Thomas, Natasha Lexington. Systeen Chappelle will cohost the event with Princess Kennedy. DJ Justin Strange will be at the turntables.
It's all going down at the new Metro Bar (the old Cafe Orbit).

From the invite:
It goes without saying that there's no kind way to rip the skin of any animals' back! In fact fur farming is deemed so cruel that it is actually banned in the UK and many other countries and outsourced to countries where animal welfare laws are practically non-existent.

...

We're asking that anybody who owns any furs to BRING OUT YOUR DEAD and DONATE your furs. Everyone who donates their furs will get into the party for free, and all donations go to clothe the homeless, keep women and children in war torn areas of the world warm, and used as bedding for rescued animals
Fur is a DRAG! PETA's anti-fur fashion show
Saturday April 2, 7 p.m.
Metro Bar
540 West 200 South, SLC
For more information or confirm attendance, click here.


Follow Me: