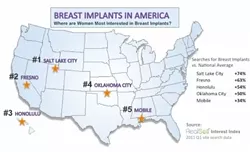 First we found out Utahns are No. 1 for online porn subscriptions (we'll assume that's the men) but now the Beehive (we'll assume ladies) are No. 1 for seeking information about breast implants, according to cosmetic surgery information Web site Real Self.com.---
Residents of the Salt Lake City metropolitan area were more likely than any others to search for information about breast implants on Real Self during the last months of 2010 and beginning of 2011, says Real Self's blog editor Makenzie Greenblatt.
"Salt Lake City had consistently higher amounts of searches for breast implants than other cities," Greenblatt says.
According to the data that includes more than 10 million searches, Greenblatt says, Salt Lake City's rate of searching for information about breast implants is 74 percent higher than the national average.

According to Real Self's blog:

The top 5 cities interested in breast implants are:

Salt Lake City ( 74% vs. National Average)
Fresno, CA ( 63%)
Honolulu, HI ( 54%)
Oklahoma City ( 50%)
Mobile, AL ( 34%)

Where are women less interested in bust enhancement? Much of the East shows fewer searches for breast implants. Led by Columbia, South Carolina (-42% vs. National Average), Westchester/Fairfield Counties (-35%), Baltimore (-30%), Boston (-27%) and Washington, DC (-26%).
Real Self is not sharing any theories that explain why some cities search for various procedures and Real Self has never done a data analysis quite like this before (though they plan on doing more in the future). "We are going to put it out to some of our doctors in Salt Lake City," Greenblatt says.

I wondered if Utah's high fertility rate--and the droopy post-breast-feeding breasts that our misogynistic society seems to judge negatively--might explain Salt Lake City's top rank. "Mommy makeovers is what they call that," Greenblatt says, stating there might be something to the fertility/breast implant link.
Are you surprised? Were you surprised when Utah was No. 1 for online porn subscriptions?
Maybe I'm being sexist for assuming it's women doing the breast implant searches. Maybe it's misogynistic male partners searching on their ladies' behalfs? I dunno.
What's your theory?

Follow Me: