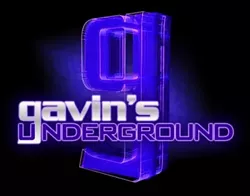 The last time we chatted with designer Anna West, her career was going in a very different direction than where it is today. Back in September 2009 she was simply one of the main organizers behind the SLC Fashion Stroll, working at an advertizing firm while putting together her own creations on the side. Since that time she's expanded her creative wardrobe, taken a hand in Craft Sabbath and become an outspoken voice for the "but local" movement. ...Oh, and she started up this one blog...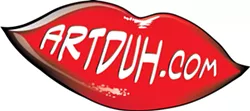 --- ArtDuh.com kicked in a year ago as an outlet for West to write about what interested her in the local art scene. From traditional to experimental, crafts to furniture, galleries to personalities, West takes a personal look at what she finds interesting around the Wasatch Front and puts her own commentary (along with Todd Powelson's occasional interests) on what people should be checking out. I got a chance to chat with West herself about the website and plans for the one-year celebration being held at The Hive Gallery this Saturday, plus thoughts on the local art scene today.

Anna West (with Todd Powelson)


http://www.artduh.com

Gavin: Hey Anna! First off, how have things been since the last interview?

Anna: Easy, breezy, beautiful and busy!

Gavin: How did the idea originally come about to start up and art blog?

Anna: It was originally Todd's idea, he thought I'd have fun blogging because I like to write and be busy and involved. I told him "no way" and the next day it was the only thing I wanted to do. I was on a mission from there out.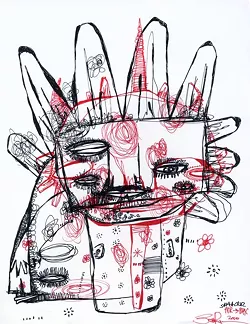 Gavin: For the name, how did you end up deciding on ArtDuh, as well as the balloon art?

Anna: The name was a funny project – we knew it had to have a fantastic name. We worked on it for about two months and had nothing but arguments. Then we went to see Todd's parents. Todd's mom was showing me some paintings from when Todd was much younger, like junior high and high school age. Todd's dad came in the room and started turning them upside down saying, "Son, I don't get it, why doesn't it go this way?" A couple of hours later we were laughing with a couple of our best friends about dad's inability to comprehend Todd's work, and I said, "Dad, its art, duh!" And that was it. We knew our blogs name would be forever connected to dad's inability to understand any piece of abstract art, ever. "It's art, duh" was exactly what we had to say to the world. It's catchy, accessible, communicates a lot with just a few words and, well, duh, it's friendly and outgoing, like me. I'll let Todd tell you about the art – that's all him, "The balloons just come out in my artwork from time to time. They got wedged into my mind and imagination somehow. I blame E.E. Cummings and his poem In Just. I read that poem a long long time ago and his goat-footed balloonman somehow inspired a lot of artwork and ideas, and the balloons just kinda float onto the page sometimes for no real reason." For more info on Todd's art for the blog, visit this page.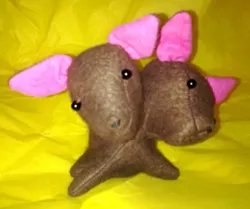 Gavin: What were the first few months like for you and getting the hang of topical blogging?

Anna: The first few months of the blog I had a lot of questions for the master blogger – my friend Gavin. Then I found my own voice and rhythm, and now the blogs just flow. I think I've found a way to offer something to SLC that it didn't already have covered in other media outlets – by going more in depth with crafts and girly stuff. I also don't see a lot of my style of fashion or ceramics in other media outlets, so I'd say we've found our niche. Still, it's always the silliest posts that get the most attention.

Gavin: What motivated you to include your man Todd into the mix? And what has he brought to the writing that you don't normally cover yourself?

Anna: I love to do projects – and every time I do a project, Todders ends up doing the project, too. At first Todd wasn't so sure he wanted to write a lot, he's the trained artist on the team and he thought he'd enjoy making the posters and creating our collateral items, like buttons and stickers. But he had a lot of fun on the first couple of posts he wrote and decided he wanted to blog every week. I love reading Todd's posts because I really like his writing style. He does a lot of art history lessons that I enjoy. Since I don't have the book-learnin' he does in the arts, it's a great way for me to get educated. Most recently he wrote a blog about Chuck Close, a portrait artist who had a disease that made human faces unrecognizable to him, hence his fascination with portraits.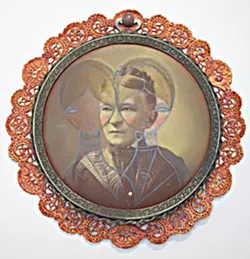 Gavin: What's the process like for you in choosing what to write about?

Anna: Oh boy – I don't know how we choose. I guess we just usually pick art that we think is cool and then write about that. I love to write so often if someone makes something cool but doesn't have a good story to go along with it, I'm not as excited about their project. Todd is more likely just to post a photo of a beautiful piece. I love it when people come to us with ideas and say, "hey I'm a screen printer check it out" or "I'm hosting an event." That just makes me feel legit. Todd and I have totally opposite processes. I tend to plan things out weeks or even a month ahead, interview people and collect information. I think about it for a while and then by the time I sit down to write I usually know what I want to say. Todd on the other hand doesn't plan ahead at all, and then he spends more time when he sits down to write. It's a personality difference; I'm freakish about planning ahead.

Gavin: You're coming up on a year of doing the blog. What are your thoughts on making it this far where many others would have given up by now?

Anna: Wow, I never thought about giving up. I am looking to reinvent things a little bit in year two. I'm not sure exactly but I might bring my students in as guest authors. I think they would feel very important being on a blog, and it would give the whole process the fresh flavor it needs.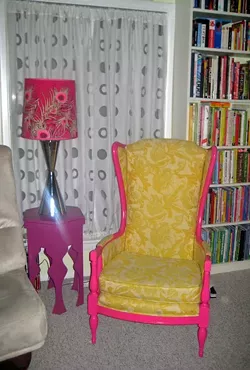 Gavin: As part of that milestone you're throwing an anniversary exhibition at The Hive Gallery. Tell us about it and who you'll have on display.

Anna: The show is headlined by Powelson's cubist oil paintings and marker drawings, along with intergalacticly famous artists Jesse Reno, Veronica DeJesus and Zach Medler. Reno, who paints symbols like shamans, totem animals and Native American figures, using a manic method that resembles performance art, might be the most well-known of the group. The self-taught artist teaches workshops and has held art exhibits in Mexico as well as all over the U.S. We were touched by the child-like art of Veronica DeJesus while visiting San Francisco in 2009. Her drawings of Big Gulps and cheeseburgers will be plentiful and affordable at the show. Her books containing memorial drawings of the dead, including the likes of Gary Coleman and Bea Arthur, will also be offered for sale. Zach Medler is a ceramics artist in Indiana. He is shipping functional pottery that has been lino- printed with the SLC skyline to the Art Duh show as well.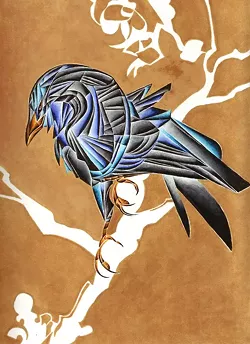 Anna: We are also super duper duper stoked to host local artists including Teresa Flowers, Colt Bowden, Angela Brown, Dave Borba, Justin Wheatley, Dallas Russell, Matt Monson, Giuliana Serena, Melanie McGee Evans, Portia Early, Heidi Gress, Peter Moosman, Rachel Hayes, Shawna Powelson, Jonathan Baker and Tonya Vistaunet. Crafts from the Craft Sabbath Co-op will also be for sale. April 23rd is the DuhLiteFul opening party from 6-10PM. Entertainment will be bitchin' with Kelly Greenwood's folk music and performances by Transfusion Hype and Blue Lotus Dance Companies. Our sponsors SLUG, Local First, UtahFM, inQuo, In and City Weekly will work the crowd with free swag. My students from Youth City's Ottinger Hall will offer art patrons information about the artists as docents. We also just found out that Zach Medler, ceramics artist from Indiana is flying in for the show. We are so pumped –the goal of the show was to bring outside talent in, network with it, and hope that they would take back a little of our local talent with them in their mind, heart and suitcase... GOAL ATTAINED! Come out opening night and visit with Zach while he's here. May 20th is "It's Gallery Stroll, Duh", and we'll be out that night too, from 6-10PM, with "street dancers" (okay, well, hall dancers), and a renewed focus on fashion, with outfits by Jordan Halversen and Cory Bushman.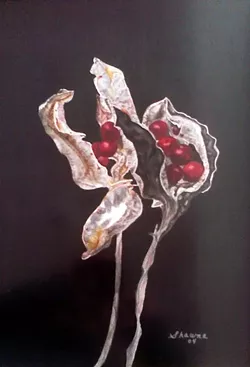 Gavin: Going local, what are your thoughts on our art scene, both good and bad?

Anna: We are hoping our show will make a splash in the local scene. That's why we're inviting local and non-local talent to converge, we are hoping they will mate and have a love child - a less insular Salt Lake City art scene. We are hoping that as a result of our show a little more talent will break down the walls of Zion and visit us here, and of course, we are really hoping more of our artists are invited to show out of the land of Deseret after mingling with the likes of Jesse, Zach and Veronica.

Gavin: Is there anything you believe could be done to make it more prominent?

Anna: Having just been in Santa Fe, where there is art in front of every building, on every square of sidewalk and even on every brochure and billboard we saw, YES, we can make the local scene more prominent. We hope to do that with our show and our blog. We know we have regular readers in Indiana, the Bay area and Hollywood. We are hoping some of this exposure will start to impact our local artists more directly. Of course that's not enough and that's why we are stoked to work with our sponsors – especially our media sponsors – SLUG, In, City Weekly and UtahFM, they have a lot of influence over what people see and hear around here, and we want them to see, hear, eat, drink and think art.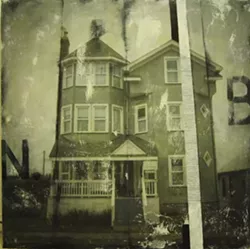 Gavin: What do you think of Gallery Stroll as a whole and how it's doing today?

Anna: I like it. I often find myself wishing it were a little more art-focused and a little less retail, but I like.

Gavin: While we're on the topic, how do you feel about the galleries we have in Utah and the work they do to promote local artists?

Anna: I'm excited about some of the newer, less traditional galleries that have opened up in the last couple of years. The Hive is doing a great job with exciting events and creative art-selling techniques. However, a lot of our local galleries are pretty old-school. They don't seem open to new media or digital techniques. And I'm still grieving the closure of Palmer's.


Gavin: What's your take on the rise of the craft movement in Utah and the works coming out of it?

Anna: I guess, I'd say I was a crafter when crafting wasn't cool. Well, I'm a traditional crafter, and I've been involved in old-fashioned crafts far longer than I've been involved in the art scene. So I think it's cute to call it the "rise" of crafts, since it's been a way of life for cultures for hundreds of years. But I do love how suddenly it's "cool" to craft. We have some awesome crafts that are traditional to the pioneer people of Utah, and for me the more traditional, the better. I took my first and second classes at Pioneer Craft House this year, and I loved it, it's the real deal: hand dying fiber, making paper, binding books. And they have a lot of specialized ethnic craft classes. I'm still looking for a girlfriend to hit the broomstick lace class with me, Wednesday nights.

Gavin: With Arts Fest, Beehive Bazaar and Craft Lake City coming up, what's your opinion on the festivals we have in town and the effort they put forth to showcase localized artists?

Anna: I love the local festivals! They kick ass! I'm in both Craft Sabbath and Craft Lake City, get your ass out and spend some money supporting these hard working artists!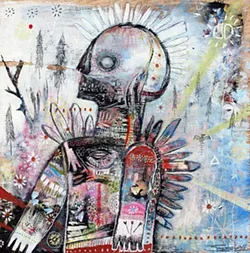 Gavin: Since you're involved with covering art from a writing standpoint, what's your take on the effort local publications and broadcasters put forth to highlight the art scene?

Anna: Honestly, I don't think it's anywhere near enough. The alternative pubs do a great job, but the mainstream media only covers artists who have a gimmick. Well, I take that back, the Tribune is very supportive with their local art section. However, this year brought the utter annihilation of the arts sections in one of our daily papers. Why is it that, whenever people are looking to cut costs, the cut the things that give life meaning – art, culture, fashion, food and dance?

Gavin: What can we expect from you and the blog over the rest of this year?

Anna: For 2011 we added a couple of monthly features – cooking and architecture. I am on a bit of a one-woman mission to teach Generations X and Y how to cook. I swear, can't believe how few of my friends have this basic skill. The cooking posts have been very popular. We've really enjoyed profiling old Utah buildings and you'll see more of that this year. I think after the ArtDuh show I might switch up the format a little bit and give the content a new attitude, but I haven't totally figured out how I'm going to do that yet.


Gavin: Aside the obvious, is there anything you'd like to plug or promote?

Anna: DuhLiteFul opening party April 23rd and "It's Gallery Stroll, Duh" on May 20th. Please worship our sponsors and entertainers as well. And don't forget to high five the docents and buy some goddamned art!



| | | | |
| --- | --- | --- | --- |
| Follow Gavin's Underground: | | | |