As April dwindles down and May is starting to look a little light in releases, we look at the last few albums of the month and shows this weekend. --- We'll start with one quietly released earlier this month by the group Blinded By Truth. The short version of their history is that they've been around since '06, but didn't really break out until '08 when they started appearing on compilation releases and getting mild airplay on X96's old "Live & Local" show. It looks like they spent most of 2010 putting together their debut album, The Only Road, and released it out in early April. Listening to it, the switching of dual lead singers reminds me of Linkin Park, with a punk-metal tone. Might be worth checking out.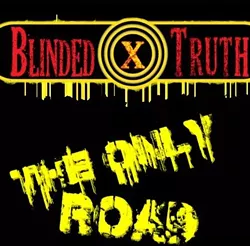 Next up is the latest, or should we say debut release, from the group
Westerlies
. The band was formerly known as Casanova Frankenstein up until late March when out of the blue they decided to change their band name and "rechristen" themselves with a new EP and release show. The group (seen above, credit to their Facebook) were actually kinda active in Provo for the first half of 2010 until an abrupt hiatus, then reformed this past February to finish up this release. ...I wish I could tell you more about them besides the fact that they have a pop-blusey sound, but they really haven't been talking much since the name change. We don't even have a title or art for the EP, so... surprise album night! I can tell you they're playing their release show tonight at Velour along with
Beau Stephenson
,
Les Sages
and Jordan Rudd's new project called Where Are You. $5 starting at 8PM.
And then tomorrow night brings us the brand new release from
Blackhounds
! We chatted with the group for the blog back in November last year,
click here
if you'd like to check it out since we won't rehash much here. But the last time we officially saw a release from the group was their debut EP,
Hold On For Dear Life
. It showed awesome promise from the indie hard rockers and the live shows complimented it well. The group spent a lot of 2010 and some of early parts of this year putting together their official full-length
Rot N' Roll
, and a superb job they did. This is probably one of the best sounding albums we've had all year, clean and crisp, and enough appeal to get fans from folk and country to alternative and near-metal to dig it. Definitely worth checking out. You can catch them Saturday at Kilby Court along with
Dirty Blonde
and
Reviver
. $6 starting at around 7PM. And as a bonus, bottle opener key chains.
Head out, love music, buy local!