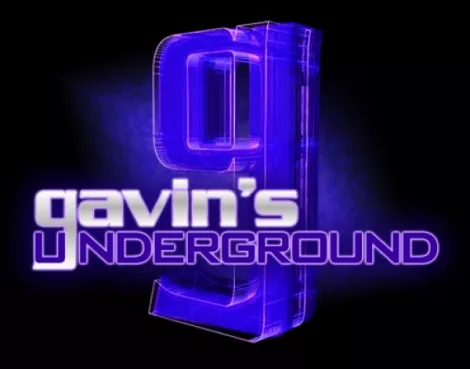 You can tell the 10-11 theatre season is coming to a close when the mainstay productions start barreling out onto the stage. For the past couple of years Plan-B Theatre has lead the charge with it's final showcase And The Banned Slammed On, bringing together two of it's most popular features into one extraordinary production and fan appreciative event. But with the the company closing out its 20th anniversary, they decided to do something a little extra special this time around.


--- Going back a bit to their roots, Plan-B presents SLAM. The original event that kicked it all off. To read a little more about the event itself you can check out our A&E listing over here, but for this blog we'll be chatting with all five of the writers who starting tomorrow will be spending 24 hours creating five brand new plays for the one-night only event.

Matthew Ivan Bennett, Kathleen Cahill, Julie Jensen, Jenifer Nii & Eric Samuelsen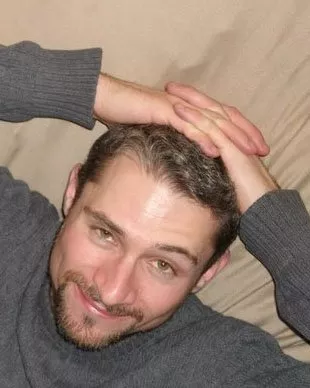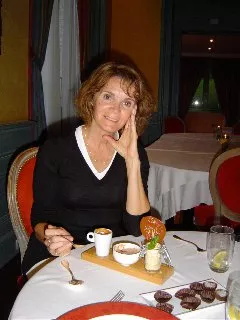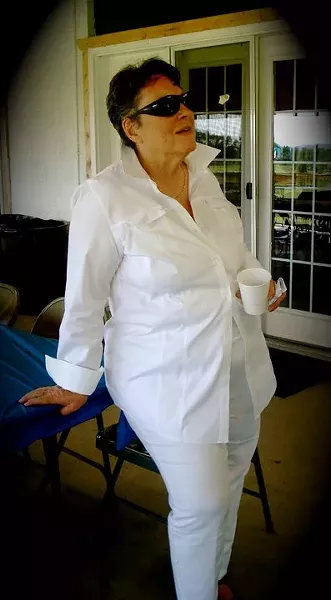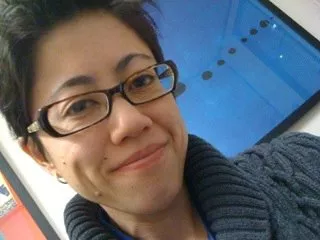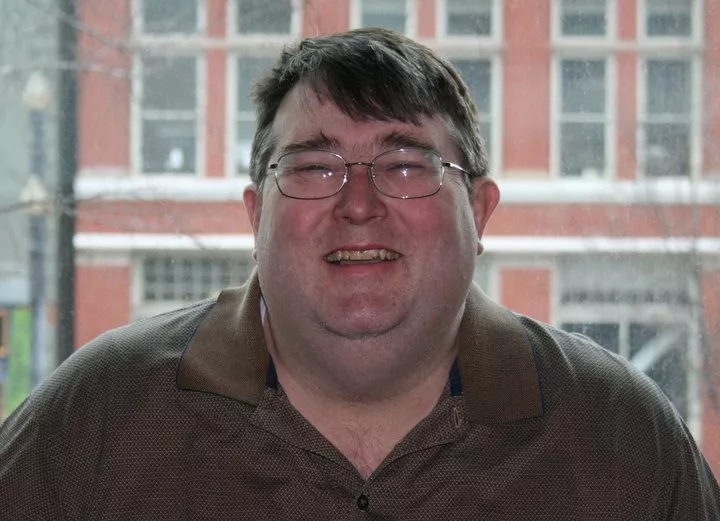 http://www.planbtheatre.org/

Gavin: Hey everyone! For those who don't remember, tell us a little bit about yourselves.

Matthew: I once wanted to change my middle name from "Ivan" to "Evan," but a girl I liked talked me out of it by informing that "Evan" was sissy's name. ...When I was about ten, I flooded a farmer's field by mistake. ...When I was 32, I purposefully punched myself in the balls. At 33, I'm still emotionally recovering from that.

Katheleen: I'm Kathleen Cahill. I moved to SLC in 2006.

Julie: I'm a playwright, have been for all my life, which is quite a long time. I've written more than thirty plays, all of which have been produced, including in London, New York, and throughout this country. I've been connected with Salt Lake Acting Company for more than a dozen years. This season, Plan-B produced She Was My Brother, and this will be my third SLAM.

Jenifer: I'm a hermit. There are really only two things that can get me to leave the house. Theatre and animal rescue work.

Eric: I'm a middle-aged playwriting teacher, living in Provo, originally from Indiana. Mormon, married, with four kids. Also a baseball fan, a lover of indie rock music, a cinephile and a pretty good chef.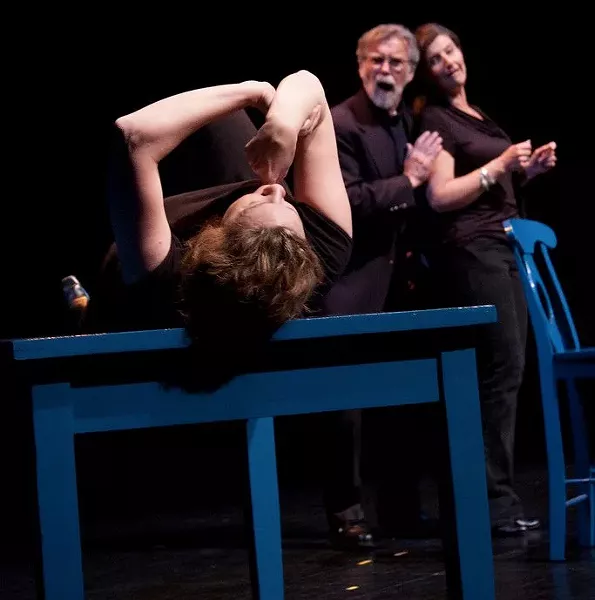 Gavin: What interested each of you in theatre and what specifically drew you to writing?

Matthew: I think everyone starts out interested in theatre and a few us never stop being interested. I got interested in it because it's fun. My brothers and I used to perform in front of flashlights in the dark. We'd shake them back and forth really fast for a strobe-effect and laugh our heads off. I was brought to writing by a few different factors: the smell of books, my penchant for talking to myself, and my curiosity about why stories are so powerful when they're (mostly) just imaginary.

Katheleen: I've been writing all my life. I grew up near New York City; the happiest times of my childhood were spent sitting in a theatre, watching a Broadway show. (Tickets were MUCH cheaper then.)

Julie: I became a playwright when I realized that unlike with acting, no one could stop you from practicing your craft.

Jenifer: I love the intimacy of the experience. I also love words.

Eric: My father's an opera singer, and so I was exposed to opera when I was just a little kid. I loved it. I can't sing well enough to do opera, so theatre became my next great passion. Initially, I turned to writing because I couldn't act or design or anything, but I also couldn't imagine life without theatre being at the center of it. And it turned out I loved writing plays, I had stories I wanted to tell and characters I wanted to explore.


Gavin: What was the first official play you penned, and what was the experience like? Was it produced and, if so, what was it like seeing it produced?

Matthew: I guess the first "official" play was Tequila WeedMonkey, a one-act I wrote in high school about how sad my girlfriend would be ten years later that she broke up with me. It wasn't produced, but it was read by my drama class with uncomfortable grins.

Katheleen: I think the first official play I write was a children's play called Werner & The Magic Boots. It was produced on the radio for a show called "The Spider's Web." I remember sitting in the control room watching the actors and feeling like I was dreaming.

Julie: I assume you're not talking about the eighth grade health play or all the high school assemblies I wrote. I didn't seem to have trouble doing any of them. The first real play I wrote, however, made me sick. I couldn't watch it. So I went outside and smoked cigarettes, walked around frantically, hoped I would get mugged, and tried not to throw up.

Jenifer: My first "official" play was a horrible mess of a thing, but an absolute rush to write. It was never produced, thank heaven.

Eric: When I was in high school, I wrote a skit about how horrible cafeteria was. My friends all thought it was hilarious, but no one produced it. When I was in college, I wrote a short play called A Girl Who Blushes, which was produced at BYU and won an award.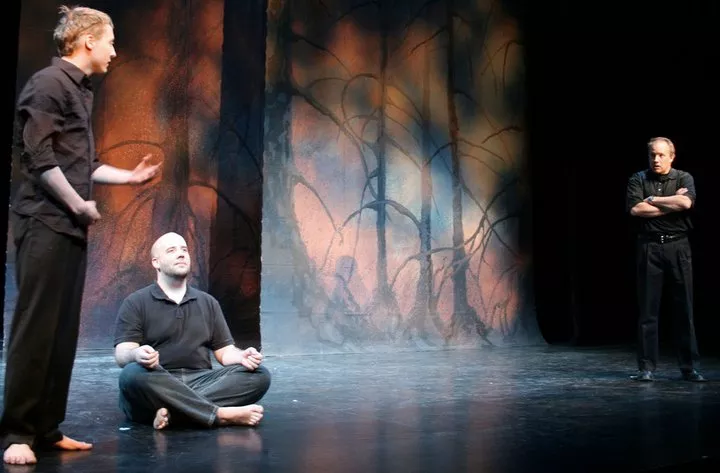 Gavin: Over the years have you found it harder or easier to come up with material and finalize it into script?

Matthew: Coming up with material has always been easy. What's hard is knowing whether that material is meant to be a sketch, a one-act, a full play, or maybe a movie or novel. Right now I'm in a period where I'm realizing I can finish plays more easily if I keep it simple.

Katheleen: It's always hard and it's always easy.

Julie: It still takes me fifteen minutes to come up with a good idea and another three years to write it.

Jenifer: I think that some people are blessed with ideas. Lots of ideas, interesting and creative and inspiring. I am not one. The process quickens dramatically for me once I'm able to get past that pesky "what's it about" stage.

Eric: The only difference is that as I've gotten older, it's physically more difficult to sit at my computer. But coming up with material's the easy part.

Gavin: When did each of you first come across Plan-B Theatre?

Matthew: I heard about them as a high school student, actually -- but never saw their plays until later.

Katheleen: I taught at the U and I met Jerry there. I remember I loved the name of his theatre, "Plan-B."

Julie: When Plan-B did their production of The Laramie Project, I kept wondering why SLAC had not done that play. I've admired and respected Plan-B ever since, particularly their interest in and devotion to new work by local writers.

Jenifer: Several years ago. I was taken aback by the company's commitment to new work, especially that by local writers. A company like Plan-B is rare and, in my opinion, priceless.

Eric: I saw a notice for the first SLAM event. They needed one more writer, and asked for ten-minute plays as an audition. I had one I'd just written (Kiss), and sent it to them, and they liked it enough to put me in SLAM.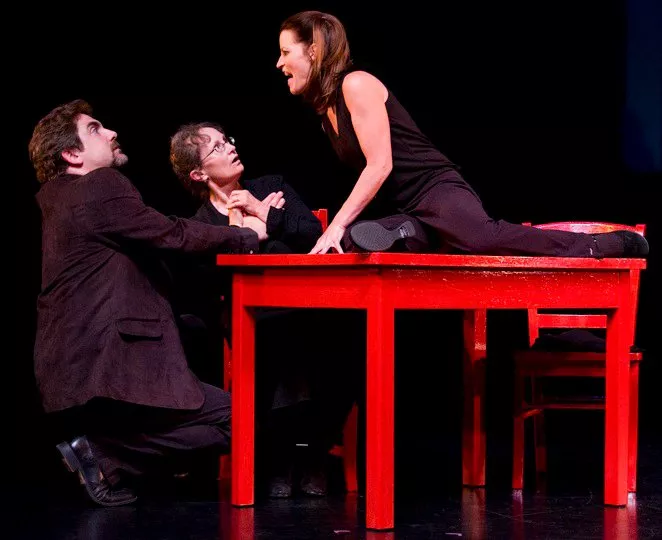 Gavin: How did you formally become involved with the company and start writing plays for it?

Matthew: I sent Jerry a script of mine called Easy, about a man-whore who finally loves in fall. (I didn't know at the time about a much more sophisticated script called Alfie.) Jerry liked my dialogue so he let me submit again.

Katheleen: Jerry asked me to write for SLAM.

Julie: See my previous answer.

Jenifer: Jerry Rapier called me to ask to read a play I had written and then called me with an idea for a project that became Wallace, which was produced in 2010. I am crazy lucky.

Eric: Through SLAM. After my first SLAM experience, Jerry asked if I would be interested in expanding my short play to full-length. I did, and Plan-B produced it. Miasma.

Gavin: To date, what's your favorite Plan-B production that you wrote, and which is your favorite that you didn't write?

Matthew: Mesa Verde. Hands down. My favorite I didn't write is a tie between Gutenberg! The Musical! and The Trick Part.

Katheleen: I have only written for SLAM.

Julie: Well, of course, my favorite play of mine was She Was My Brother. My favorite SLAM play was the one I wrote for last year's SLAM, Nuts (renamed The Brown Shoes), which by the way, has been published and subsequently produced twice in this country and once in Australia. My favorite play, not my own, was Exposed by Mary Dickson.

Jenifer: I've only written one (Wallace) and a couple of SLAM pieces. I'm definitely the newbie. One I didn't write? I loved Facing East.

Eric: My favorite that I wrote was either Borderlands or Amerigo. I love them both inordinately. One I didn't write? I loved Mesa Verde.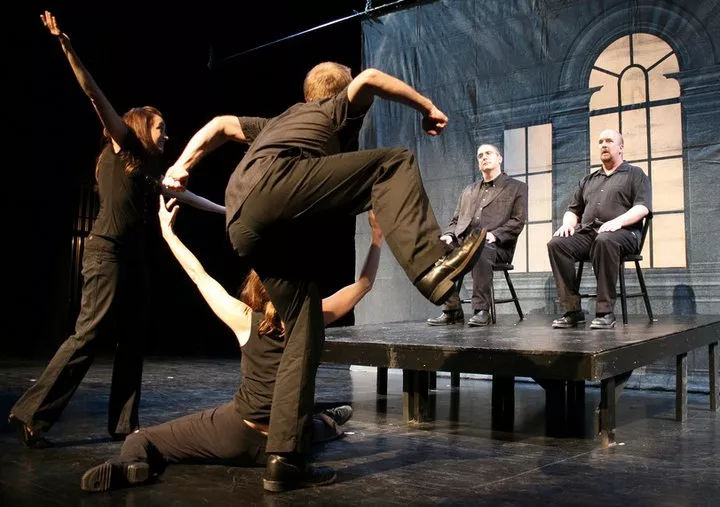 Gavin: What have your experiences been like writing for SLAM, both creating your own works and seeing what others have written?

Matthew: The experience is... pretty much always a razor-thin line between sleep-deprived overconfidence and blind anxiety. Watching what the others write, direct, and act is a gut-wrenching joy. You sit there and you try to beam them the energy of calm, knowing that they're all so high-strung, but you can hardly muster a memory of being calm once in your life. SLAM is like an island in your theatrical life where the laws of physics are all radically strange and you only get rescued at 9PM, after it's all over.

Katheleen: SLAM is fun because it's impossible, and there's no waiting involved and there's a big finale at the end. It's a trip.

Julie: It's always scary as hell, then it's an exhausted pleasure to see how it all comes out.

Jenifer: Terrifying, terrifying, terrifying. Deliriously, fantastically terrifying.

Eric: SLAM is completely terrifying. I love it, because the experience is so intense. But you never know whether your play's any good, if the cast gets it, if the production's going to be worth watching. I sit there, like all the other playwrights, and we say the same prayer: "Please, God, let mine not suck the most." You just don't want to be embarrassed. And then you see the work of the other writers, and usually it's so great you just think--man, I am so outclassed.

Gavin: What's the usual process for each of you when creating a new SLAM piece?

Matthew: I try to keep it simple... unless, of course, I decide to write a complicated, meta-theatrical treatise on the memes of Western civilization. Either way, my "process" is deciding from looking at the actors' pictures how they're all related. I try to turn my title into a theme.

Katheleen: Panic... a little less panic... more panic... the panic subsides.... and returns... and then I'm so exhausted I'm beyond feeling anything, and it's morning.

Julie: You have to worry a lot about what subject you'll get or what restrictions will be imposed. Then you go to the meeting and find out what you've been worrying about for so long. Afterward, you go home and sit down, get a pot of coffee, and pray something will all come together by the sunrise.

Jenifer: Panic, drink caffeine. Try to get some kind of mental picture of the concept I'm given to write about, as well as the strengths of the cast and set. Then more panic and caffeine.

Eric: I live in Provo, and so when I get my title, I've got that hour drive home to think about it. That hour is tremendously important to me; I usually have my entire play outlined in my mind by the time I come home. The thing about SLAM is, you don't have time for second thoughts. You just go with the first idea that pops into your head, and hope you can make it work. Then after the first draft, which I usually have done by about 3-4AM, I nap for a couple of hours. My wife gets up in time to read what I've written, and I usually have time to incorporate her suggestions into one final draft. Honestly, the hardest part is getting the length right. I've written sixteen pages, and I have to cut a third of it.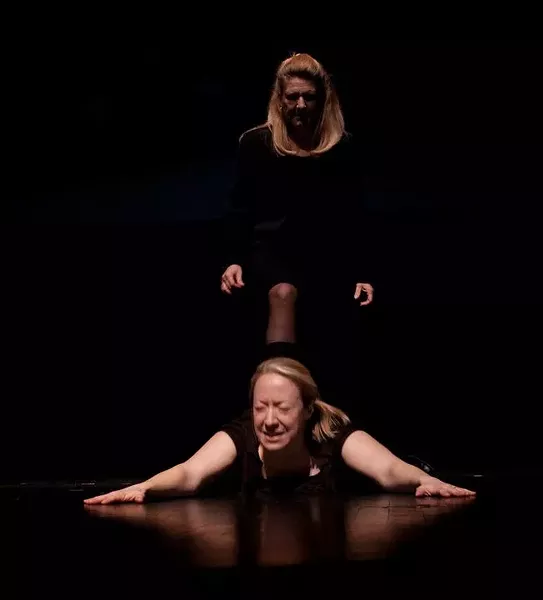 Gavin: Does it ever feel like a competition between each other in trying to create the best of the night?

Matthew: I have felt competition, but every year 99% of my worry is about having written something unlearnable.

Katheleen: I feel the competition is only with myself. If somebody can come up with something great, I say hooray for them.

Julie: I don't feel like that. I just hope we all make some sense.

Jenifer: Absolutely not. I'm too worried about creating poopycrap. There are actors and directors and Plan-B people who are going to be working their hind ends off to make something out of whatever I come up with, and an audience that deserves to be entertained. (Or at least not annoyed or bored.) I'm too freaked out about creating something worth their time.

Eric: It's not really a competition. You don't think "well, mine was second best" or anything like that. You do watch the other plays and think "dang, that was great. Mine's not that good." What I never have done is watch someone else's play and think 'well, that wasn't very good.' I think everyone else is brilliant, and I'm the slacker.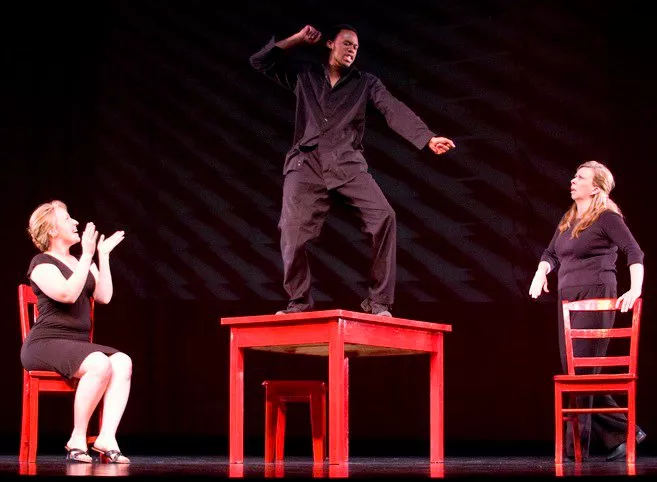 Gavin: With all the versions of this you've each done, what's been your favorite piece, and why?

Matthew: Right now I feel like saying Terms of Use, because it came off flawlessly and did exactly what I wanted it to do: make a bunch of people laugh about how silly it is to be uptight about naked breasts.

Katheleen: I guess the first time was the most fun because I had no idea what to expect, of myself, or the actors, or of Plan-B.

Julie: Nuts is my favorite. It used the furniture well. A couple of chairs were shoes. Also it was about fascism, which I think is worth writing about.

Jenifer: My first year, there was a sort of "noir" thing I did (Pomp & Circumstance) which was fun to write. And seeing Carleton Bluford up on a table dancing was a-maz-ing.

Eric: Probably the one I wrote this last winter for the Student SLAM. I thought the set sort of looked like the Donkey Kong video game, and came up with something about Super Mario Brothers that I thought was pretty funny. And the kids did a great job with it, as did the director.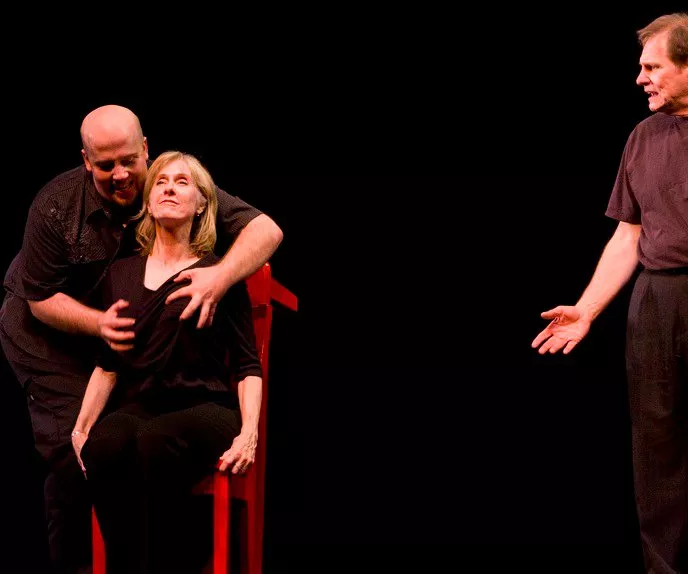 Gavin: What are your thoughts going into this before the material is given to you?

Matthew: Um... usually I'm concerned with whether it's going to be a comedy or a drama. I can't know until I get the title, but the mood you're in matters a lot to whether you're going to do one or the other. So I try to keep myself in a neutral mood, which is sometimes hard, because I might have had a bad day or week. I just try to be a clean slate.

Katheleen: I try to bribe the muses.

Julie: Worry, trepidation, terror.

Jenifer: Panic. Insecurity. An absolute certainty that I will block.

Eric: I try to keep my mind as blank as possible. I've learned that SLAM is completely impossible to prepare for. Really a go with the flow experience.

Gavin: As this theatre season draws to a close, what can we expect from each of you when things pick back up in the fall?

Matthew: What will be will be.

Katheleen: I have a new play next season at SLAC, a comedy called Course 86B In The Catalogue.

Julie: I'll be at work, because I'm always at work. But I ain't talking about it. It's at the point now that I can't do that. I could blow it away talking about it.

Jenifer: Have I mentioned how lucky I am? Plan-B has included my adaptation of Hawthorn's The Scarlet Letter in its 2011-2012 season.

Eric: I've got a new play, Half Asleep, that I'm working on with Plan-B. Hoping for a reading this fall.


Gavin: Aside from the obvious, is there anything you'd like to promote or plug?

Matthew: Yes. I'd like to use this opportunity to promote dandelions. They're not weeds! Stop killing them, you bastards. They're nutritious, and I argue, pulchritudinous. You can continue your slaughter, if you wish, but I promise you they'll be back. They always come back. Why? They're smarter than we are. Make your peace already.

Katheleen: See my last answer.

Julie: I'd like to plug Salt Lake theatre which is doing so much new work, especially by local writers. We really are in the middle of a renaissance here. And that's amazing.

Jenifer: Plan-B. I want to promote Plan-B Theatre Company. One of the bravest, most innovative creative organizations in the country. Support Plan-B!

Eric: Everyone go see Plan-B's revival of Guternberg! The Musical! in June. Funniest show ever.



| | | | |
| --- | --- | --- | --- |
| Follow Gavin's Underground: | | | |