Hello to all you money donating, body dancing, SL,UT chanting, rock abiding, walk helping fundraiser enthusiasts. Last night was a badass show over at Bar Deluxe, briefly mentioned in the local releases post on Friday, a short fundraiser to help out Camden Chamberlain's daughter to walk again. A lot of you guys turned out and helped out, which was awesome. It was really cool to see all that turned out, many of them former highlighted names on this blog, for a night of music that didn't stop until 2AM. (And many thanks to those featured names for the talk and the drinks!) Our community is really caring sometimes. Now, before I undo that sentiment by throwing my opinion around on something, let's take a look at the latest addition to the 337 Memorial Wall.


--- If you're a fan of the "Radio From Hell" show you may have noticed a change in the way you get their podcast, and its made a lot people pissed! Simmons Media's management, in a move to "encourage" live listening, have ordered that the show push the release of each day's podcast by 24 hours, making RFH the only podcasted morning show in the state not released the day of broadcast starting this past Monday. (A "great" choice considering the the news of Bin Laden on Sunday night.) ...And that's when the show's Facebook blew up with outrage. See, while this may not be a big deal to those listening live (or non-fans of the show), there's a large portion of the audience both local and abroad who do not listen live. Whether it be a sleep schedule or because of work or any other number of issues that keep them away from a radio or online tuner. A trend radio stations across the country have noticed, and are taking advantage of with their own daily podcasts. But because RFH has been #1 in the ratings for several months now, the show's management apparently decided to get greedy and make the number bigger by every means necessary.


Now while we could examine how ratings are important and how advertisers expect certain things and how its vital to stay on top... truth is, fans do not care. For fans, there's only two important things about this. First, the show is topical. Beyond the humor and various idiosyncrasies of the cast and its producer, the show is a local source of news and community information on various levels. For people who just cannot listen live, that podcast is their way of staying informed and up-to-date with everyone else. But when you're delayed by a day, you're not topical; and when you're not topical, you become irrelevant. No one wanted to hear the show's "opinuendo" about Bin Laden on Tuesday at 10AM, they wanted to know Monday as soon as they personally could. All delaying the show did was force those listeners to find another live show or podcast, and for some, they may not come back. And second... it demonstrates how little management cares about listeners as a whole. All they're focused on is getting you to turn the dial on at 6AM to pop their numbers up, and there's a great argument to be made for that... in 1999. We don't live in a "ratings based" world anymore, we live in an "on demand" world. There's a reason why most primetime shows can be found on Comcast two hours after they air. They want my rating as quickly as possible, even if it only counts as 10% of a whole viewer when I watch it. It all goes in the same bucket when selling ads and proving dominance and influence. But%uFFFDSimmons refuses to do this and is remaining focused solely on terrestrial hits, and doing this to their own product only shows what kind of out-of-touch dinosaurs are running that building and how quickly they need to be hit with a comet of retirement. Now if only there were a way to slam them with complaint emails until this gets fixed...%uFFFD


Moving on, some of you local musicians might want to check out a new venue in Utah County. The Grove Theater in Pleasant Grove. Formerly known as The Grove Event Center, the place got a quick makeover late last year and has become another all ages venue for those who just can't quite make it to places like Velour. And what's more, they're booking bands like crazy these days. If you're a band looking to play a big room and don't mind the fact that your shows would start at 7PM, hit up their website and get yourselves booked.


Delving into events, this Monday over at The Urban Lounge will be Art Night. Yes, that's right, Urban Lounge becomes a gallery for one night starting at 9:30PM, with a bar at the ready while you look over some of Utah's underground and rising artists in the community. We're not just talking visual art either, there will be an array of performance art including poets, musicians and dancers on hand to entertain you from the stage. The growing list of participants includes Joel Brown, Michael Dimitri, Jessi Carrier, DeAnne Emett, Aaron Peterson, Stephen Chai & Terrance Warburton, Brian Grey, Sam Hansen & Alex Ortega, Flora Bernard, Ashley Anderson, Emerson Andrews & Crew, Cori Redstone, Matt Delporto, Portia Early and Aaron Ernst. Best part yet: $1 admission. You should definitely head over and see what's on the rise. While we don't have a full idea of what will be on display, here's a random sampling from Cori Redstone.


Next up, The Grand Theatre will be presenting their production of Urine Town. The show will close out their 2011-2012 season, which is odd since we haven't even hit 2012 yet. I'd love tot ell you more about this show, but every time for the past couple of years we've tried to contact anyone in charge of The Grand, no one replies. Hell, we've gotten to the point of getting crew members to nudge them, but they don't seem to respond. Maybe they don't like us? In any case, if you're a theatre lover, its probably worth checking out based off the title alone.


But if you're not into that, this Wednesday over at Bar Deluxe, KRCL will host the first annual SLC Beat Battle! Now this kind of event has been a long time coming. Even though they may not totally be in the spotlight all the time, Utah has one hell of a hip-hop and rap community. Some of whom I've personally witnessed them verbally slay visiting artists on the mic. It's about damn time someone threw an event like this. Though to be honest, I have no idea how this is going to play out, whether its 1-on-1 or everyone gets a random shot at the mic. All we do know is that there are ten people competing for four spots in the finals (set to happen on May 19th). If you're any kind of fan of the genre, you'll get your ass there, especially since the audience will help decide the final four. The show is free before 10:30PM, then admission is $5.


Going back to art for a moment, FRESH near 9th & 9th will be having their own art display titled The Mayhem Show. A simple three artist showcase you can check out throughout May and part of June throughout the shop. The display will feature jeweler Marina Atherton, as well as a couple of our old friends, graphic designer Dave Laub and FurTurtle's own Travis Bone. The official kickoff for this display will be on Friday from 6-9PM.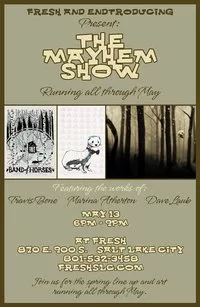 And then to wrap this up, a little something off the beaten path for is... an actual city event. Celebrate The City. I literally have no idea what to really tell you about this event, it popped up not more than a day ago over all the social networks, and beyond the flyer below I have no real inside details to the events. My best guess with Chevron attached to the flyer, they're taking joy that they've cleaned up the park as best they can. But it might still be fun to dress up like a character from "Mad Men" and get out with the city. Go check it out.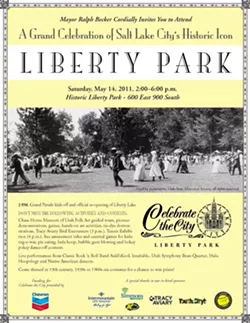 As for the blog... over the next couple weeks we'll hit up a live show from the weekend, check out a local sports league, look at a new book from a local writer and blogger, see the work by a creative duo, read over the latest zine and hit up the first of many festivals on the way this year. At least that's the plan, its already changed twice today alone. As always, we'll see what happens.



| | | | |
| --- | --- | --- | --- |
| Follow Gavin's Underground: | | | |