Whether you be a rising musician or an artist looking to promote or a filmmaker in need of a poster, everyone in entertainment needs help with their look. --- Every day in Utah there's a new project starting somewhere, and when the realization of that project becomes reality, those behind the creation sometimes need a little help. Which is where the duo we're talking with today come into play.


Hankie Frankie started out as a way for the couple of Andrew Shaw and Mary Toscano to promote their own artwork, music and other various projects by utilizing each other's talents. But shortly after their works got local exposure, their talents became a must have and the duo started getting requests from bands and other organizations, making them one of the biggest secret weapons for many to get their work noticed. Today we chat with the two about forming Hankie Frankie and the process behind their work, plus thoughts on a couple other things.


Mary Toscano & Andrew Shaw
http://www.hankiefrankie.com/
Gavin:
Hey Mary and Andrew. First thing, tell us a bit about yourselves.


Mary:
I grew up in Salt Lake City. I received a BFA from the University of Utah, where I now work at the Book Arts Program. I make drawings, prints, paper sculptures, and collaborative works with Cara Despain.


Andrew:
I grew up in Lincoln, Nebraska, and moved to Salt Lake City after getting my undergrad degree at the University of Nebraska. Go Big Red! I work in the Communications department at the Salt Lake City Public Library and spend a lot of my free time working on music and design projects.

Gavin:
How did the two of you first meet and end up becoming friends and eventually marry?


Andrew:
We met at a backyard barbecue party of a friend. The next night, we had our first date -- the rodeo at the Utah State Fair, a perfect soil from which the flowers of love grow. We've been married for two-and-a-half years and love living, working, and playing in downtown Salt Lake City.


Mary:
I was going to say we were never friends. We went straight from "Hi, nice to meet you!" to dating. But that's splitting hairs.


Gavin:
What is it like for you both being creative minds working on your own projects and seeing each other's work?


Andrew:
Mary has introduced me to the world of art in ways I was never exposed in the past. She's helped me think about my music and other work more critically and to infuse it with stronger conceptual foundations than I did in the past. Being together with someone who is always working and thinking creatively, and sharing a studio and life with someone who is so talented, is constantly inspiring. We're both creative in different mediums, so our thoughts and minds influence what each other does without fostering competition or creating derivative works from each other.


Mary:
Andrew and I rarely work in the studio together, but because our space is so small we are always surrounded by each other's work. I can tell when Andrew has been puttering about in the studio, and it motivates me to work, too. Its funny because when I work I'm really quiet and am pretty much stationed at my drawing board, but my work takes up SO much space. Whereas, Andrew's work area is kind of cramped in a corner of the studio, but his sound art fills up the entire house, vibrating the floors. It's incredible.

Gavin:
Where did the concept of Hankie Frankie come from? And where did you get the name for it?


Mary:
Hankie Frankie started as simply a place for our various work (music, art, design) to live. But as our commercial work has expanded, we've decided to focus the "Hankie Frankie" brand on the commercial work (music production, graphic design, art production for commercial purposes) and to separate our individual artistic pursuits (my personal artwork, Andrew's personal music projects) away from Hankie Frankie. So Hf is becoming the commercial side of our work. Hankie Frankie gets its name from a conversation we had about baby names we like. Since we don't have children, our projects get a lot of our attention and care and are our "babies." We also think it's funny that it sounds like "hanky panky."


Gavin:
So what is the difference between "Hankie Frankie projects" and your "individual artistic pursuits"?


Andrew:
This is really the difference between "design" and "art." In design, we are presented with a problem or project and asked to come up with a solution that clearly communicates an answer or elicits intentional emotional/psychological responses. For example, business cards we designed for a law office were designed to represent the lawyers as professional, knowledgeable, and sophisticated. Art, on the other hand, is intended to elicit responses that create conversations or make the viewer ask questions about the work, about a concept, or about the world they live in. What we do for Hankie Frankie falls firmly on the "design" end of that spectrum, whereas the music and visual art we create falls along the "art" side of the spectrum. Pop, folk, and rock music projects (like The Platte) end up falling somewhere in the middle -- intending to elicit a more specific response -- whereas my sonic art and Mary's visual art pursuits intend to be more vague and engage the listener/viewer to develop their own perceptions, narratives, and conclusions.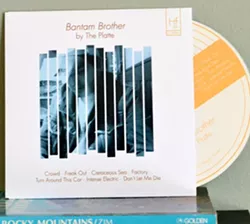 Gavin:
Tell us about some of the Hankie Frankie projects you've worked on? How do you combine ideas and mesh styles?


Mary:
We've worked together on album art for local musicians (The Poorwills, Cathy Foy), design of e-book covers, business cards, greeting cards, and other design items. Andrew is more of the "music wing" of Hf, producing last year's recordings by Cathy Foy (Future Of The Ghost) and Trever Hadley (Band Of Annuals). I've recently picked up book-binding work for local artist Jim Williams.


Andrew:
Our personal design aesthetics, keeping in mind that these are different than our artistic aesthetics, are very similar -- we are both inspired by the book cover design of the 1960s and 1970s and historical letterpress printing styles, like the "artistic printing" style of the turn of the century. Mary finds influence in biological science, and I enjoy learning about modern tech and economic trends, and Hankie Frankie's style shows off much of this diverse influence.


Gavin:
With the different types of design projects, which do you like working on the most?


Andrew:
It's hard to say I like one type of project over another. Book cover and album cover design is very similar, and album cover art is so intertwined with the music it represents that it's hard to separate the two. I personally just love the creative process: being presented with a project, talking about a concept with Mary and the client, developing some ideas, and ultimately executing. Each step is challenging, exciting, and fulfilling. Seeing a project come together, often after weeks or months of discussions and iterations, is very satisfying.


Mary:
I love when a project gives us the opportunity to make something by hand. Andrew and I do most of the design work on the computer. Not something I relish; I'm much better with a pencil and a pair of scissors. So Andrew gave me a digital drawing tablet for Christmas to make it easier to incorporate my drawing skills into our designs. But I still prefer to make things by hand. I really like it when we have an opportunity to letterpress print something, like we did for the Poorwills' coaster.

Gavin:
What's the usual process for you when working on a new project, from concept to final product?


Andrew:
We haven't made it a science yet, but, in general: A
. Define the problem/project. For example: The Poorwills want to put out a record. We wanted to do a full design collection that would work on album art, poster design, t-shirt design, koozie design, drink coaster design, and more. B. Brainstorm possible solutions. For the Poorwills, we developed three very different concepts, brought them to the band who provided some feedback about what they liked and didn't like, then came back with a final concept that we could all focus on. C. Develop initial design. We hunkered down and banged out the basic elements of the design -- bird, moth, corner-fill -- and developed an initial layout for the album and coaster designs. D. Go through iterations with the client. The Poorwills provide feedback, we make changes. Then more feedback and more changes. Eventually we found the sweet spot. E. Flesh out the full project, piece by piece, critique by critique, approval by approval. F. Celebrate.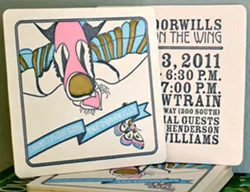 Gavin:
Since you work in various areas of design and art, how did your roster of projects grow? What projects does Hankie Frankie have on the horizon?


Mary:
Like so many others, we really have a "do it yourself" mentality, so when we need something designed to accompany one of our other projects (album covers, art exhibition collateral), we have mostly done it on our own. Although David Wolske designed and printed a gorgeous handbill for "Into the White," an art exhibition Mary and Cara Despain did at Kayo Gallery last spring. The more we designed for ourselves, the more we were asked to design for others. Our clients have all been pretty close to home, for family members or good friends, but it's provided a good experience with a forgiving client. We see what we do as supporting the people we love and we have "real" jobs to pay our bills, so we've charged little to nothing for the work. We'd love to see the operation continue to expand to other bands, authors, artists, etc., but we're happy to just go with the flow. We don't have any big Hankie Frankie projects on the horizon, but we'd love to talk with anyone interested in working with us.

Gavin:
What do you think of the surge of artists and designers throughout Utah and the work coming out of the state?


Mary:
We love seeing all the work that's being made in Salt Lake City and around Utah. We have a really talented group of artists and creatives in our community, many of whom we're proud to call friends, and we feel like we're inundated with influence and inspiration. Myself, in particular, work with incredibly talented people every day at the U of U Book Arts Program, many of whom have also been interviewed for this blog, and seeing the work they produce pushes her to create more and better work herself. We love visiting the Alt Press Fest, Gallery Stroll, Craft Lake City, Salt Lake Art Center, Utah Museum of Fine Art, Central Utah Art Center, and the other many venues and events for contemporary arts and crafts in Utah. Salt Lake City is a great place to live for people like us who love music, design, and art.


Gavin:
What can we expect from Hankie Frankie over the rest of the year? What can we expect to see from you each individually?


Andrew:
Although we're not real sure what Hankie Frankie will encounter over the next year, we're each working on our own art and music projects. Mary's work will be on exhibit at Nox Contemporary in November and at the Gallery at Library Square (Main Library) next spring. She's also working on new installations with long-time collaborator Cara Despain. I'm working on a new music project, thinking about what should come next from The Platte, and has some sonic art projects in mind, as well. He'll be playing at Urban Lounge on June 26th with Keppie Coutts from L.A., and Kilby Court on August 8th with Salt Lake's The 321s.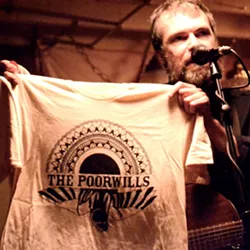 Gavin:
Is there anything else you'd like to promote or plug?


Andrew:
We're working on a redesign of our little website to help better show off the work we've been doing. Hopefully it will be live by the time you read this. We'd also love to have more Hankie Frankie fans on Facebook, and more time to share our thoughts, work, and influences on there. We're also still looking for a biological engineer to help us with a concept we came up with on our first date at the Utah State Fair -- the poopless pocket bunny. We think they'd be really popular.



| | | | |
| --- | --- | --- | --- |
| Follow Gavin's Underground: | | | |