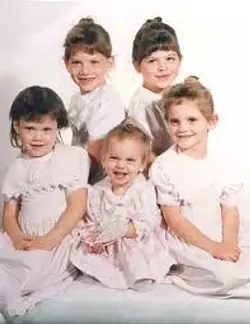 Last Friday Dennis Lingmann was convicted by a jury of conspiring to murder a teen he sexually abused and her family. The verdict marked the end of a second criminal justice saga for the MacGregor family, while the third act, a civil lawsuit, waits in the wings.---
What links the first saga to the second, the MacGregors argue, is that injustice at the root of the first helped create the situation that led to the second series of trials. In turn Lingmann's prosecution for murder-to-hire led to arguably further state-driven injustice for a key witness. 

Sandy-based Alona and Matt MacGregor and their five daughters were featured in a CW February 2009 cover story called "Hear My Plea." It told how developmentally delayed Kareena MacGregor—an alleged victim of sexual abuse by two brothers in her LDS ward, children of a police officer—gave birth to what she told the authorities was a still-born baby. Kareena MacGregor did not know she was pregnant, but, rather than go after her abusers, the state charged the 15-year-old with murder.
Initially she pled guilty, then spent years fighting to have her plea withdrawn because she had not understood Third District Court judge Denise Lindberg's instructions in the run-up to her plea. Finally, after six years, the Utah Supreme Court ruled in Kareena MacGregor's favor and allowed her to withdraw the plea. Judge Andrew Valdez later dismissed the case.

Toward the end of Kareena's legal struggles, Dennis Lingmann, then in his mid-40s, worked for the MacGregors at their industrial materials research business in South Salt Lake. "He made himself indispensable," Alona MacGregor recalls. He was also worming his way into the affections of their youngest daughter. Because of the MacGregor family's ongoing fight with the court system and prosecutors from the District Attorney's office to prove Kareena innocent, Lingmann's soon-to-be victim had suffered at school and was being home-schooled instead at the offices. There, the 14-year-old was a ripe target for Lingmann.
"We were absolutely devastated when we found out," Alona MacGregor says. "I couldn't understand why I wouldn't have felt, perceived that something was amiss." But while she blames herself, she says "the state has got to hold some culpability. If the state had not gone after Kareena, [the victim] would have been at school where she belonged rather than in the office where Dennis had access to her."
When the victim was 18, she told her parents about Lingmann's abuse. Lingmann was subsequently sentenced to up to 40 years in jail for having sex with the 14-year-old. While in jail, Lingmann became friends with "Rich," and plotted with the Puerto Rican native to murder not only Lingmann's victim but also the rest of the MacGregor family for $18,000.
"Rich" wrote a letter to the DA's office about Lingmann's wish to hire him. "Rich" then wore a wire in jail and got the goods on his cellmate's murderous intentions. But "Rich," whose wife and children live in New York, is a drug addict with few resources, and after he completed his time, he was released and proved, according to prosecutors' court filings, difficult to locate in order for him to testify at Lingmann's upcoming trial on the murder-to-hire charges. So the state had "Rich" picked up on a material-witness warrant and held for five punishing months in the Salt Lake County lock-up without charge.
"Rich"'s mental deterioration over those five months and then subsequent release into homelessness after his testimony was recorded, was told in a CW cover story last summer, "Rat Trap." He is currently doing up to five years in prison after being convicted of drug possession.
"Rich" testified in court last week. Several jury members held out for several hours on guilty verdicts, Alona MacGregor says. "Dennis was sitting there in a sweater, while "Rich" came in in an orange jumpsuit, chains and shackles, with tattoos." "Rich" taught her, she says, "there is honor among even criminals." The case also restored her faith in prosecutors that she says had been trampled underfoot by the years of prosecutors pursuing Kareena.
Now the MacGregors await the final act of their legal struggles, when their attorney, Wasatch Advocate's Abraham Bates, files an amended complaint in civil court later this week as the family seek to shed light on what they believe was a conspiracy to protect Kareena's alleged abusers.
That sexual abuse struck her family twice, Alona MacGregor says, is a tragic confirmation of national statistics, which show that one in three women will be sexually assaulted in their life time. "That two of my five daughters were abused is not acceptable to me," she says.

Every child is vulnerable to sexual predators, she argues. "These kind of people will snake their ways into your life."