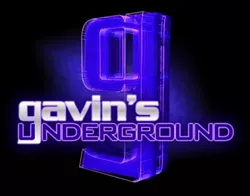 With the Alt Press Fest on the way this July, the interest for locally produced material is picking back up again --- Not like it ever really left, but always in the summer that itch for underground media starts hitting and people get back to putting together their small zines for public consumption. Today we're looking over one with a very interesting take over how it receives it's content.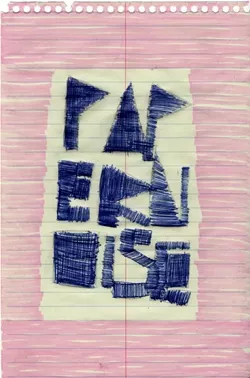 Paper Noise started making it's way around the valley last summer, based out of the idea of creating a soundtrack for potential creators to listen to for inspiration, then submitting their works to the publication as a collage of ideas to be released every couple of months. The zine gained local praise and the works of several localized writers, plus garnering a "Best Of" award from us for Best Music-Inspired Zine back in April. I got a chance to chat with our old friend Nick Potter (of Potter Press fame) about starting up the zine and the content, plus some thoughts on the local publishing scene and a few other topics.
Nick Potter
http://papernoisezine.blogspot.com/
Gavin: Hey Nick, first off, how have things been since we last chatted?
Nick: Pretty swell. Life seems a bit more chaotic having a child with a mind to destroy everything at arms length. Pro: he has short arms. Con: he climbs for anything out of reach. And somehow it's all endearing anyway (his penchant for destruction). So, yeah, pretty swell.
Gavin: How are things going for Potter Press, and how has it been receiving the recent recognition over the past year?
Nick: Swell-to-the-max. We've had a lot of really great experiences in the last year or so: an installation in the Contemporary Masters mini-golf show at the Salt Lake Art Center last summer; a solo show at Blonde Grizzly last Fall; and most recently a show at Copper Palate Press in March. That and we've printed a few new gig posters. I'm always surprised when we receive any type of recognition and super grateful. I still feel like an art rookie, but I guess we've been doing this whole Potter Press thing for about five years now. You'd think I would've come to terms with people actually liking what we make.
Gavin: When did you first take an interest in the local zine culture, and what were some of your favorites you checked out?
Nick: I suppose my interest in zines and zine culture was born out of my love for books and literature but my inability to see myself involved in that world in any substantive or "perfect bound" way. I think that's a common theme to anything that I've involved myself with over the years. It's from a feeling of inadequacy, I think, that my DIY ethic and aesthetic came to be—a kind of pretending really. I just wanted to make books. Looking back to high school, junior high school, elementary, I've always made little comics and art and books and pretended that they actually meant something. I'm always sinking myself into projects. I'm a bit impulsive that way.
Gavin: How did the idea come about to start up your own zine, and how did you pick the name Paper Noise?
Nick: I think I was mostly inspired by a friend who made a zine that I contributed to: Tell It Slant. I don't know if it had crossed my mind before then. But after the idea was planted (this was even before they eventually printed their first and, sadly, last issue) I became fixated on the possibilities surrounded in making a zine and developing community that way, became obsessive (as often happens with me) and couldn't stop myself from eventually making my own zine. Paper Noise was just a name I made up. It wasn't the first name I came up with, but it was the first name I came up with that Erin didn't think was totally pretentious and stupid, so I stuck with it.
Gavin: What was the process like for you in coming up with material for the first issue?
Nick: The process was fairly simple. I created some submission guidelines and asked my talented friends for submissions. Everything submitted, for that first issue at least, was based on a mix of music I created and each person's interpretation of the music.
Gavin: What was it like for you putting the first one together, did you think of the public reaction to it when it came out?
Nick: When we heard about the first Alt Press Fest I worked hard to get enough material together to make a zine in time for the fest. Putting it together was pretty satisfying. And pretty much what I expected (folding and stapling a million with Erin). I don't think I was particularly concerned about any reaction. In fact, I assumed that most people would be indifferent to it. But I thought it was cool and people were submitting, so I guess that was enough for me.
Gavin: Along with the written content you created a mix of songs as a musical companion to the zine. What inspired you to add that, and how do you pick the music?
Nick: If you are familiar with or follow our music blog, Forest Gospel, you'll know that Erin and I are huge music nerds. And I've always liked making mixes of music. All through high school I made mix CDs for my friends. They became these infamous, editioned things that I was just compelled to make and was lucky enough to have friends that loved them enough that making them felt important. Somehow, when the idea of making a zine first popped into my head, I thought combining it with a mix of music would be awesome. I made the mix intuitively without any specific idea in mind, just browsing through my music library and that's the uneventful story. We didn't end up burning CDs like I would've liked to, but we incorporated a downloadable mix of the music just the same.
Gavin: What made you decide to base the zine's content off submissions rather than create most of it yourself like a traditional zine?
Nick: Well, we've done a little of both at this point. I don't really know what a traditional zine entails so we just do whatever we think sounds interesting. I've always been amazed by the many and varied artistic talents of my friends and acquaintances and have long desired to catalog it so that I can share it with other people. Paper Noise is a perfect outlet for that.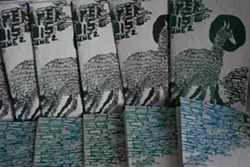 Gavin: What's the process like in taking the submissions and deciding what will go into each issue?
Nick: I guess it's just like you would expect. Submissions roll in and Erin and I see what would fit the size, aesthetic we're most interested in and then move forward from there.
Gavin: You're currently up to issue #6 as of this interview. What's the overall experience been like for you putting these books out, and what plans do you have for it down the road?
Nick: I guess the plan is to make enough money off the zines to afford a Ferrari and one of those Russian mini-giraffes. Our business model is to make as many quality books as possible whenever we have the chance. I'll continue to create mixes for submissions, and to solicit friends for chapbooks and whatnot until no one is interested anymore. Then I'll probably finish out Paper Noise with a few sad zines of my own and that will be that.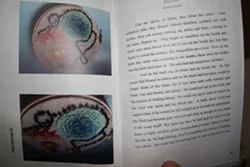 Gavin: Back in April you won a City Weekly "Best Of" award for the zine. What was your reaction to winning that and having the content being held in that regard?
Nick: As always, I was caught off guard. In fact, I didn't even know about it until a friend asked me about Paper Noise getting the award. I don't know if there is supposed to be a notification system or not, but I had no idea we had received any award until my friend casually mentioned it to us. I had to track down a copy of the City Weekly and hunt through the paper to verify that we were really in there. So, we were super surprised and ultimately happy that someone else thought that Paper Noise was worth mentioning.
Gavin: Going a bit local, what's your take on our local publishing scene, both good and bad?
Nick: The way I see it, any publishing that is happening locally is good. I'm excited by anyone willing to put time and money into publishing something, zine or otherwise. We are going to be involved in the Alt Press Fest again this year, and from what I can tell, the zine culture is expanding quite a bit. I'm really anticipating seeing everyone's work this year.
Gavin: Is there anything you believe could be done to make it more prominent?
Nick: No. Nothing out of the ordinary anyway. Covering zines and things in City Weekly is great. Any publicity is great. But it's not completely necessary I don't think. Zine-making culture is for people who can't help but make things, and they'll keep making them, prominent or not. Maybe I don't believe that. There are probably tons of things that could be done. The Alt Press Fest has been the biggest influence on the expansion of zine culture in Salt Lake City and hopefully, as it grows, more things will spring from that.
Gavin: What are some of the local zines you enjoy and think people should be checking out?
Nick: Anything from Birdbrain Press. And Kayla Porter makes some bombastic comics worth a million attentions.
Gavin: What can we expect from both you and Paper Noise over the rest of the year?
Nick: More. Much more hopefully. I'm currently working to finish formatting another group zine and then there are three other titles in the works: a fiction chapbook from Alex Czaja, an artbook from Julia Matheson, a fiction/poetry/something chapbook from Samuel Cheney -- and maybe some stuff from Erin and I as well. I figure, if I put their names in print, we'll have to finish them. I think we'll have most of that done by the Alt Press Fest though. I'll also have a new mix up and call for submissions soon. Also, Erin and I are working on the first part of a graphic novel that we hope to publish – Paper Noise style – in conjunction with a gallery show we have scheduled at Kayo in November. We're super excited about it and have been planning it for a looooong time. Also, I've wanted to do a group zine of fiction, poetry, letters, essays and art about Tom Waits, so if you know if anyone is interested in that, send them my way. Oh, and I was thinking we could do a Versus zine, Paper Noise versus Birdbrain Press, but I haven't talked to them about it. What do you think, Max and Laura? More.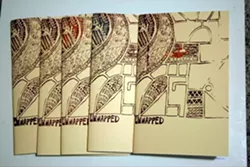 Gavin: Aside the obvious, is there anything you'd like to promote or plug?
Nick: Urban Arts Fest on May 21st, Alt Press Fest on July 9th. Uh, niceness? I'm a big fan of nice people. I'd like to promote them.
| | | | |
| --- | --- | --- | --- |
| Follow Gavin's Underground: | | | |