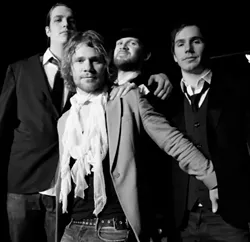 Today we've got seven localized albums to talk about, and we're playing catch-up with half of them so let's skip over the usual intro. --- First up is a release we skipped over last week from the group Corvid. We weren't trying to skip Corvid by any means, we knew there was an album on the way, but The Metro didn't promote the show this past Friday so it slipped by us. This side project from Tragic Black singer vISION had been getting some buzz around the valley for their live shows, and some added excitement came our way to know they were recording the album at Kitefishing Studio. Feeding The Addiction came out this past Friday to mixed thoughts from the music community, it's probably not quite up the alley for TB fans, more of a darker 80's glam feel to it, but it's worth at least checking out.
Next up is a low-fi psychedelic band by the name of Albino Father. Headed up by Matt Hoenes, who may not be an immediate familiar name but you've probably run into him frequently as one of the four knowledgeable faces at Slowtrain. (He's the dude with the mustache.) The four piece group have an EP named Crimmus and a single titled "Down The Line" online already, but this past March they recorded a second EP and promoted it around with various online outlets. Blanket is pretty good DIY album that's been getting attention from indie review sources, even got the group some airplay on UtahFM, but not much has been seen from them on a live stage. In any case, not a bad $5 album, you can buy it online via their Bandcamp page.
A couple weeks ago the band Problem Daughter put out a brand new album, of sorts. Made up of members from three different punk bands that broke up back in 2009, the group already have two full-length albums to their credit. Their debut album American Heroine and the follow-up With Open Hearts & Empty Hands. But beyond punk circles and the occasional mention on blogs like this, they've kinda gone unnoticed, which is a real shame since they're probably one of the hardest working punk bands in the state. Well now, much like an infomercial for their collection, you can have both albums in one. Simply titled The First Two Albums, you can get all 19 tracks on one CD as of two weeks ago. Its a cool way to catch up with a local punk band.
And then the final band we're catching up with are The Whits, a five-piece pop rock ensemble out of Provo. Its a little unfortunate this band hasn't gotten more attention from music critics and reviewers, you'd think a group with a female lead holding one hell of a soulful voice would have caught everyone's eye long before today, but sadly the group has been overlooked by many. Hopefully that's going to change soon as the group won a competition to play Stadium Of Fire this summer, and it doesn't hurt to have a new album out to gain some cred. Their debut EP Heartbreak Marathon was released late last month, one hell of a debut release I might add, solidly put together with few issues to complain about, this is one of those groups that could play most any local venue and do well. Give the album a shot.
Moving onto actual release shows, the first is tonight over at Bar Deluxe where we'll see the latest from the Samuel Smith Band. Best way to describe these guys (seen above)... just pure rock and roll. Not a lot of flash or flare to the band, they're one of those groups who simply come in and play, take 'em or leave 'em. Apparently more people love to take 'em as Smith and company have earned a really solid following in SLC with people demanding a release for a while now. Finally the group recording this six-track self-titled EP over at Counterpoint Studios over the winter, and an early preview of it shows a lot of promise from the group. Totally shocked with the talent and music they have that they didn't just put out a full-length. You can buy a copy while catching them tonight along with Triggers & Slips and John & The Deers, just $7 starting at 9PM.
But if that's not quite your cup of tea, there's another release in the lower end of the valley from the group Commodore Azalea. ...There's not a hell of a lot to write about this one, from all accounts it's a one-man show featuring Samuel Woodward and other backing members on occasion as he sees fit. And that's where the info stops. In fact if it weren't for fellow bands promoting this show on his behalf, most of you wouldn't even know he had an album (that we have no title or cover art for) or that the show itself would be happening. You can catch him tonight at The Underground (7730 South 480 West) for the release show along with the band Run, Forever. Just $5 at 7PM ($6 for a copy of the CD as well.) Here's a picture of him, which as far as we can tell, is as close to an album cover as you'll get.
And then finally to cap off this list is the latest from Adding Machines. The last time we heard from the eclectic trio was back in 2009 with the release of their EP Sweet Dreams, but beyond the initial hype and the occasional showcase down in Utah County, they've been relatively quiet. Which kinda sucks, this is another one of those groups who could do well around the state if they just got out more. Hopefully they'll do that with the release of this brand new full-length album, Death & Taxes. The tracks made their way online a few weeks ago, with fans putting emphasis on tracks like "Better Off" and "I'm A Mess". After listening to it in full, this is definitely a must-have album of 2011. You can catch them live at their release show tomorrow night at Muse Music, playing along side them in celebration will be Ferocious Oaks, Matt Weidauer and Black Square Tilt. Just $7 starting at 8PM, which ticket price includes a copy of the album!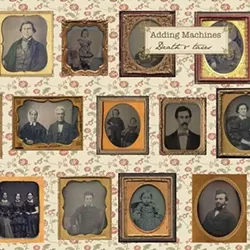 Head out, love music buy local!