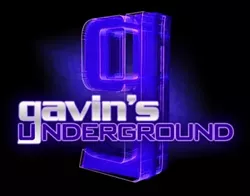 While many graphic artists learn their craft in several areas (illustration, animation, 3D modeling), not to many are given the opportunity to utilize everything they've ever mastered as their dayjob. --- The standard by most professionals is that you dabble in everything, but you have one specific form that you're an expert in. Today however, we get to sit down with a local artist, lucky enough to do everything and then some.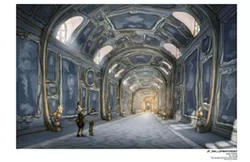 Jake Parker's name might not immediately ring any bells to most, but his work sure does. Having a hand in films like "Titan A.E.", " Bartok the Magnificent", "Ice Age" and more recently "Rio", not to mention being the main artists behind the children's book Missile Mouse, as well as a number of independent comic books. I got a chance to chat with Jake about his career and body of work, plus his thoughts on local comics and more.
Jake Parker
Gavin:  Hey Jake! First thing, tell us a little bit about yourself.
Jake:  Hello Gavin!  Well, I'm 34 and happily married with a bunch of kids.  I'm a recent transplant to Provo where I illustrate, design, and teach a few classes at BYU. I was about 11 or 12 when I really started getting into this stuff. That's when a lot of things sort of came together for me and I realized that illustration and comics weren't just pretty pictures to look at, but that there were professionals behind them and I wanted to be one of them someday.
Gavin:  How did you first get interested in illustration and comics, and what were some of your favorite titles growing up?
Jake:  One day when I was about 12 my mom came home from running errands and told me she noticed a store that sold comics in the same strip mall her sewing store was. It wasn't long before I was asking her when she was going back to buy material. Pretty soon after that I stepped foot in my first comic shop.  It was Atomic Comics in Mesa, Arizona and it was like plunging into a whole new world.  Previous to that I had just seen comics at the Circle K, mostly Batman and Superman, but now I was exposed to whole super hero teams like the X-Men and New Mutants. I collected a lot of those, I really got into Batman too.  The comic shop also opened me up to all sorts of alternative comics, and foreign comics as well.  So, I was reading a lot of Usagi Yojimbo, Bone, Appleseed, Battle Angel Alita and Elf Quest.  My parents understood me and helped a lot to cultivate my interest in art. I don't think there was a Christmas or birthday since I was about 12 where I didn't get some kind of art book or one of the Calvin and Hobbes collections. It was around this time when a lot of things sort of came together for me and I realized that illustration and comics weren't just pretty pictures to look at, but that there were professionals behind them and I wanted to be one of them someday.
Gavin:  Did you seek out any college prior to making it your profession, or did you just jump right in?
Jake:  I was taking classes at my local community college when an opportunity to work for Fox Animation presented itself.  So I left college to jump right into it.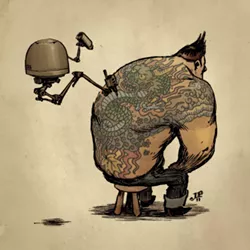 Gavin:  How did the opportunity come about to work for 20th Century Fox, and what was it like working for them on various projects?
Jake:  They had a studio in Phoenix and had imported a lot of talent, but were also looking for local talent as well.  I was visiting my old art teacher from high school when he told me I should give it a shot.  I sent them my portfolio, they saw a glimmer of something in my work and gave me a drawing test.  Miraculously I passed and they hired me on.  The spot they had open was for the "Rough Inbetween" department.  Back when animated features were hand drawn the studios had a team of artists to fill in the drawings that the animators didn't have time to do.  So I would draw all the drawings that went in between the drawings the animators did.  It was an eye opener for me to work at an animation studio.  I had never seen so many talented people working together in one place.  Prior to this I had no idea if drawing for a living was even viable, but here were 300 people in front of me doing art for a living, supporting families and paying off mortgages. While I was there I worked on "Bartok the Magnificent" and "Titan A.E."  Fox became my new art school.  I was actually pretty bored with inbetweening, so I haunted other departments like background painting and visual development.  There I would show the artists my work and get feedback and instruction.  I really owe a lot to those guys who sort of took me under their wing and helped me make an artist out of myself.
Gavin:  After Fox you went to ReelFX as part of their animation department. What was the change like for you, and what was the difference between both positions?
Jake:  There was a few years between Fox and ReelFX where I took odd art jobs, learned how to use a computer to enhance my art, and work on my craft some more.  ReelFX was a great place to work for because I got to wear so many different hats and flex a lot of different art muscles.  They had me storyboarding, concept arting, making aniamatics and art directing.  I got to work with some amazing and influential artists and I grew a lot there.
Gavin:  How did you get on board with Flight Comics back in 2004? And what work have you done for them over the years?
Jake:  Flight Comics had some extremely humble beginnings.  A guy I had known online named Kazu Kibuishi had the idea for the book, and it was just a comics anthology with a bunch of stories where each contributor would write and draw their own story.  There was no theme, just each person telling the story they wanted to tell, and a chance for us to show the world what we could do.  Each of us had our day jobs and Flight was this thing we all did on the side.  It was a chance to work on our own stories and develop our skills as comic artists.  Since there wasn't really a publisher that would invest in a book by a bunch of unknown amateurs we decided to just go for it and self publish.  But the work that started coming in for the book was at such a high caliber it wasn't long before we caught the interest of a publisher.  There really wasn't any book like it out there at the time and I think it struck a chord with people.  Eight volumes later the series comes to an end this summer.  I contributed stories to three of the volumes and also to an all ages spin off book called Flight Explorer.
Gavin:  Over time you've had some pretty cool titles out for younger teens, like Hugo Earhart and Lucy Nova, plus your own title The Robot & The Sparrow. What's the difference for you in creating your own works with your designs, and putting your work to other people's creations?
Jake:  Hugo Earhart was the story I contributed for the first volume of Flight.  I wouldn't exactly call it a "title" since it was just one 14 page story. Lucy Nova was a couple of 14 page stories I did for fun and to experiment a little more with drawing comics.  One of them was self published and the other was a follow up story in the back of Kazu's Daisy Kutter comic which was published by Viper Comics. The Robot & The Sparrow was the story I contributed to the second volume of Flight and is probably my favorite piece of art I've ever done. The only time I've drawn a comic that wasn't my own creation, was a 10 page Jimmy Neutron story I did for Nick Magazine.  It was fun to play around in that world for a little bit, but I much prefer creating my own worlds and characters.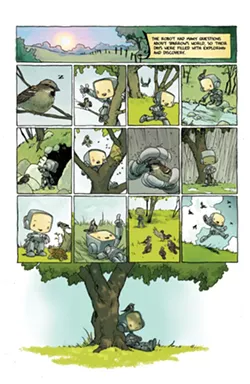 Gavin:  Shortly after joining up with them you also became a designer for Blue Sky Studios. What was it like for you balancing the two creative jobs at once?
Jake:  Actually, when I started working for Blue Sky I took a hiatus on doing stories for Flight. I wanted to focus on the new job and make sure I had a handle on it before taking on more work.  I had also moved my family to Connecticut for the job and we had just had our third child. So there was a lot of acclimating going on for a while.  It wasn't until the fifth volume that I created a new story...which actually got moved to the all ages book Flight Explorer.
Gavin:  When did the idea come about for Missile Mouse happen, and how did you end up partnering with Scholastic to release the series?
Jake:  So that story I did for Flight Explorer was a 20 page Missile Mouse adventure.  I first created Missile Mouse when I was 14 and had been drawing him off and on over the years.  Here's the design history of him on my website. When I was ready to do another Flight story I began working on a tale of a Victorian age explorer who saves a small island village from a demon.  I was showing it to a friend of mine and he had the wisdom to say this stinks, you should do a Missile Mouse story.  I took his advice and converted the story to a Missile Mouse adventure.  Several months after the story was published I was contacted by David Saylor over at Scholastic who had seen some of my Flight work and wanted to gauge my interest in doing a graphic novel with them.  It was pretty exciting to talk to him and our first meeting went great.  From then on I knew Scholastic would be the perfect home for Missile Mouse.
Gavin:  You've had a hand in putting your own touch on several works, most recently films like "Horton Hears A Who", "Ice Age" and "Rio". What's it like for you to see your work showcased at that kind of level?
Jake:  I love it.  Part of the appeal of working on an animated feature is the collaboration.  The chance to work with hundreds of amazing artists with a broad range of skill sets all at the top of their game is something I wish every artist could experience.  And then to know that what you helped to create is being seen by millions of people can be pretty exhilarating.  I like to sneak some things into the films when I can.  Little things, like in Rio there's a wooden crate Blu is found in.  There's some numbers on the crate that have special meaning to me.  I had forgotten I did that and when I saw it in the theater it was a bit of a surprise.
Gavin:  What made you decide to become a freelance illustrator, and what were the benefits for you not working solely for a single company?
Jake:  I think it was inevitable and each year that passed where I didn't try freelance out was just another year I was putting it off. Finally, a window of opportunity opened that I couldn't pass up and I decided to leave.  I had always been doing freelance on the side and after both Missile Mouse books were finished and I realized how fulfilling it was to work on those I had to give it a shot. The main reason for leaving was just to be able to put more time into my own projects.
Gavin:  When starting to work on something, what's the general process for you when creating a new design or character, from concept to final product?
Jake:  First step is to gather information.  If I'm working with a client I'll have them show me any design work that's already been done by others.  I want to know everything that's expected from the design.  If it's a character what he'll be doing, if it's a set what sort of action takes place in it.  Once I know the needs I can begin phase two: sketching out concepts.  I'll cast a wide net and see how far I can push things, give lots of options and then begin narrowing it down.  Each pass there's a refining going on until I get the design to a point where meets the needs of the project.  Then phase three is finishing it out and polishing the design.  Through out all of this I look at reference photos, and other artist's work for inspiration.
Gavin:  Is it difficult for you switching between something that's meant for publication and something that's meant for mass-media, or is it simply the same concept on different levels?
Jake:  It's not difficult whatsoever.  There's some shifting of gears for sure, but in the end it's still drawing, I'm still solving design problems, and I'm still making something that's going to be seen by others. I try to bring the same level of quality and craft to everything I do.
Gavin:  Without giving away any major details, what have you got coming up that people can check out?
Jake:  In September my first picture book will be out.  It's called The Astonishing Secret of Awesome Man written by Michael Chabon.  The publisher is Harper Collins and they've been really great to work with.  Check it out, your kids will love it.  Here's a link to the Harper Collins page about it.
Gavin:  Going local for a moment, what is your take on the local art scene, both good and bad?
Jake:  I'm new here and probably should get out more so this is my limited view of the Provo art scene. From what I can tell there's a lot of really talented crafters making prints, sewing stuff, creating jewelry and it's all pretty cool.  There's an almost unhealthy infatuation with mustaches though that I don't quite understand.  There's also a lot of children's book illustrators and a handful of comics guys who are all extremely talented.  We all need to get together more and talk shop.  Unless they're already doing that....in which case they need to invite me.
Gavin:  Who are some local artists and illustrators should people check out?
Jake:  Here is who's moving and shaking things in Provo: Jed Henry - NYTimes bestselling illustrator, Jake Wyatt - Amazing comics artist, currently working on Hawaiian Dick for Image, Kevin Merriman - One of my students from BYU.  I expect big things from this guy, Will Strong - Childrens book illustrator and is amazing with kids, Guy Francis - Amazing illustrator and the Co-Godfather of Dueling Banjo Pigs, Michael Mercer - Concept artist and character designer, Josh Black - Another extremely talented student of mine, Jess Smart Smiley - Draws some funny comics and has a graphic novel from Top Shelf, and Boston Madsen - Another student of mine recently graduated and taking the world by storm.

Gavin:  Being an artist for print media as well, how has the digital era affected the way you create art for books, when many titles are only being published online?
Jake:  There isn't a project I work on that isn't in some way touched by a computer.  The computer is fully integrated into my workflow.  I have no idea how I would get things done with out it.  From sketching to finishing to revisions and sending it off I use a computer at every step.  As for digital publishing, we're still at the crossroads right now so everything I do has to conform to print standards.  But I imagine in the future when more an more people have devices that facilitate easy reading and enjoying of online content you'll start to see more publications created exclusively for online publishing.  I don't think books will ever be replaced though.  They might become more of a collectors type thing.  As long as people like to have nice tangible objects that are well crafted and beautifully designed they will have books.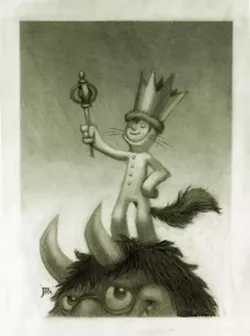 Gavin:  What can we expect from you over the rest of the year?
Jake:  I'll be working on a couple more picture books.  One for Scholastic, and another for Random House.  I've got a few projects in various stages of completion that I will either be self publishing or finding a publisher for. As always, keep an eye on my blog because nothing happens that doesn't' get posted there.
Gavin:  Is there anything you'd like to plug or promote?
Jake:  My blog where I post works in progress, finished stuff, and my thoughts on various aspects of creating and being creative. My Missile Mouse books are some great summer reading: The Star Crusher and Rescue on Tankium3. And Flight 8 comes out this summer with a story of mine in it: Flight Volume 8.
| | | | |
| --- | --- | --- | --- |
| Follow Gavin's Underground: | | | |