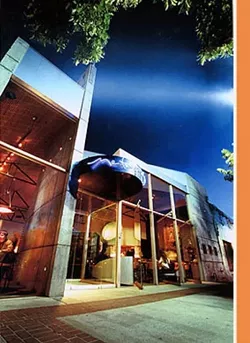 Metropolitan Chef Justin Shifflett and the restaurant's culinary team have released their new spring/summer menu and it's got some wonderful surprises. --- I stopped in last night to sample some of the new goodies and was highly impressed.
The new menu is peppered with an array of foods from local producers, including Amano Chocolate, Beehive Cheese Co., Maple Leaf Farms, Miller Honey, Morgan Valley Lamb, Niman Ranch, Pleasant Creek Ranch, Rimini Coffee, Shepard's Dairy and others.
Among the interesting new menu items are halibut cheeks with morels and almond-infused truffle oil; Pleasant Creek Ranch Wagyu beef; raw vegetable soup with black garlic; and Blue Nose bass with fava beans and rhubarb coulis, just to mention a few.
Here are some pix of a few of the new dishes:
Cold zucchini soup with black garlic and olive oil drizzle
Truffled flatbread pizza: truffle puree, truffle cheese, balsamic and fresh tarragon
Spiced duck soup with chick peas, grapefruit, jalapeno and scallions
Monday - Friday: 2-for-1 appetizers are featured, and every night Metropolitan offers 3 courses for $30.
Metropolitan
173 West Broadway
801-364-3472