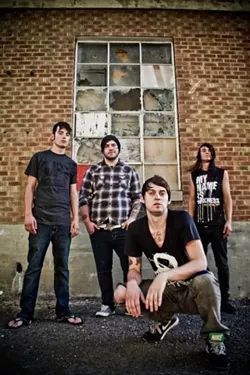 Today we've got four releases to chat about, and hey kids, one of them is on vinyl! --- Since we mentioned it, we might as well start with it, our old friends in Reviver have re-released their album Potential Wasteland on 7" vinyl! Badass, right? Sad part is, we didn't find out about the first release show at The Underground back on May 26th until that night. So this has actually been out for a couple weeks to select fans. But feat not, those of you going to Crucial Fest will have a second chance to pick up a copy. You can catch them tonight at Kilby Court along with Bird Eater, Bone Dance, Gunner and Endless Struggle. This is an absolute must-have as there are so few copies and no indication from the band of repressing.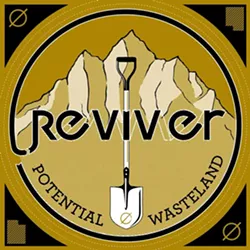 Next up on the bill is the official full-length release from The Suicycles. Some schmuck already wrote about the group in this week's issue, so we'll skip the finer details of their history and the album and get straight to the show. In celebration of the release they'll be playing tomorrow at Bar Deluxe along with Jake Allred, Dirty Blonde and Muscle Hawk. $6 at the door, and as an added bonus, the album (Sex, Drugs, and Death) has a "pay what you can" pricetag attached to it. That's one hell of a Friday show.
Meanwhile up in Ogden we'll see the latest release from Fire In The Skies. The last time we heard from these guys (seen above) was in late 2009 when the release of their self-titled EP. It got some pretty decent play on college and community radio, making them a standout name in Ogden and a frequent performer in Northern Utah. The band were on the radar for most of 2010 playing occasional shows while working on their next release, which we're finally getting to see this week. What Have We Become is some heavy hardcore metal. Not too heavy as to be diluted by noise, not catchy enough to be labeled as "by the numbers", just a fine middle ground of grit and chop to make it sound damn fine. Worth at least checking out. You can catch them at The Basement (329 24th Street) tomorrow along with the extra-sized lineup of Kalima, Breaux, Parley, Picture It In Ruins, Machines Of Man, Idols, and Burning Twilight. Show kicks off at 5PM, tickets are $8 in advance and $10 at the door.
And then this Saturday we see the debut release from Nick Neihart. Some of you might remember Neihart from his three-piece band The Sea Kittens, while many of you know him better from his solo performances around the city as a soulful folk singer. With two prior EPs to his name and an ever loyal fanbase, he's become a favorite opener for many of SLC's finest, but didn't push for a full-length until recently. In a true effort from the music community, Neihart raised a lot of his funding via KickStarter to pay his latest album off, while recording new material in the studio. Those efforts paid off with his latest release, Songs Made Of Salt. This album has some pretty powerful ballads, best heard in songs like "Old Country Woman" and "Night To Dark". Very well put together and arranged, probably one of the front runners for best solo album of the year. A must buy if you're into local folk and alt rock. You can catch him at Kilby Cout playing along with Andrew Goldring and David Williams. $6 starting at 7PM
Head out, love music, buy local!