Hello to all you green-ring-wearing, lantern-carrying, abs-flexing, poor-vision-imagining, is-this-really-the-best-DC-could-muster-up-for-me-after-waiting-20-years-for-them-to-get-off-their-asses Green Lantern enthusiasts! --- Now don't get me wrong, I am a Green Lantern fan -- I even have a silver ring around my home somewhere that looks far better than the one you see in the film. But come on, this has been in the works since 1991 and that is what we get? Although it IS an origins film, and the possible sequel looks far better. I personally preferred the animated film we got last year from the minds who brought you "ustice League Unlimited, but hey, not everything can be gold. Still, I liked it, but I wanted something more. There, got my geek out before we started this whole thing. Before we dive into everything, here's the latest addition to the 337 Memorial Wall.
Last night was buzzing with tons of events. Gallery Stroll (which we'll discuss Monday), CrucialFest, two album releases and, of course... SLC Fashion Stroll. One of the most crowded Fashion Strolls we've seen to date, at times it was packed going down Broadway. The runway featured a lot of Utah's more prominent designers, as well as up-and-coming talent from the SLCC Fashion Institute. You can check out nearly 200 photos (including the first runway session) over in this gallery.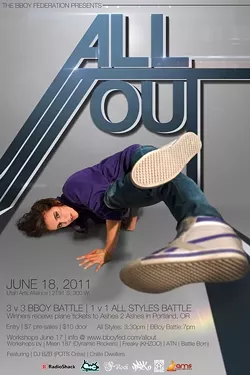 Not to be outdone, Saturday is packed with several events up and down the Wasatch Front. Aside from CrucialFest's big celebration in the park, there are two big shows to talk about. First up the BBoy Federation have their big All-Styles Battle happening over at the Utah Arts Alliance building (2191 South 300 West) starting at 3PM. 3-on-3 and 1on-1 competitions with a grand prize of seeing Ashes To Ashes in Portland. Even if you're not in it for the prize, seeing all these dancers clash with their personal best will be a sight to see. Just $10.
Meanwhile tonight down at Velour we'll see the finals for their summer edition of Battle Of The Bands. It's been an awesome five days for the venue, and for local music lovers, but it all comes down to tonight where we'll see the top five play 30 minutes a piece to declare a winner. Those top five are: Lady & Gent, Bottleship, Searching For Celia, Pat B. & The T-Birds, and Soft Science. The finals kick off tonight at 8PM for just $6 (that's a $1.25 a band for you $80 ticket buyers), and both JP and myself will be there tonight to cover the show and be part of the judges panel for the event. And I believe some prizes will be given away to the audience... Come support local music!
But if you can't make it down, you could go get drunk in the quickest way possible. The SLC Zombie Pub Crawl will kick off later tonight, presented by Salty Zombies. For those of you who don't know how this works, a quick tutorial... Dress like a zombie and hit up several bars in a night. The night is completely free along with two musical performances from Simian Greed and Accidente. Check out the flyer below for a full schedule, and remember to drink and feast on the living responsibly.
Going back to Fashion Stroll for a moment, designer Danny Nappi announced a special event for those who are wardrobe conscious. Know Your Body Type. A special presentation about what kind of body you have and finding the best clothes that fit you. More on the flyer below, but a must-attend for those who constantly feel like they're in ill-fitting designs.
Meanwhile, on Tuesday will be the next edition of the Music At Main series. Held in The Round at the Main Library, the free concert series highlights some of SLC's finest for a summer evening on the plaza, and usually comes with candid stories about the songs and the band members themselves. This year is looking exceptionally great, check out the lineup and head on over Tuesday night for a free show.
But if you're more into film on Tuesday, then feast your eyes toward the Megaplex at The Gateway, where the 48 Hour Film Festival will be showcasing all the entries who busted their asses over two days to get their films in. Tuesday evening will have two screenings, 6-8 and 8:30-10:30, and a third one on Wednesday from 6-8 with the finals and awards presented later in the week. This is a cool chance to see some of the best (and maybe not so best) coming out of SLC. Go check it out!
Next up is The Utah Arts Festival... but you're gonna read a lot from me next week talking about it and showing you pics from it, so this will just be a reminder. Starting next Thursday and going all the way to Sunday will be four days of art, music, film and many surprises along the way, all in the heart of downtown SLC. And if you're lucky, you can catch me acting like I know what I'm doing as the MC for several bands. See you there!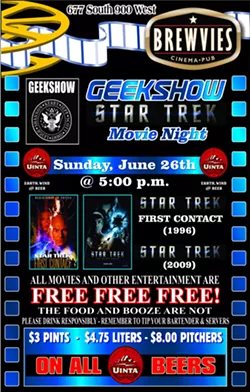 Fast forward a bit to next Sunday, where we'll see the latest installment of the Geek Show Movie Night at Brewvies -- your chance to partner up with your friends and drunkenly yell at the screen to some of your favorite sci-fi and comedic films. This month's mix boldly goes where no one has gone before, pairing Star Trek: First Contact with the 2009 relaunch of Star Trek from JJ Abrams. Nothing better than watching the Borg decimate the Enterprise, and the rebirth of Kirk and Spock together in one night. Oh yeah, did we forget to mention the night is free?
Next on the list near the end of June, Dr. Sketchy's Art School returns for another round of drawing over at Bar Deluxe. This month will feature Allison and Dago from My Dead Ego on the stage. Those of you looking to sketch will need to pay $10, but the event is cheap to attend at just $2. Definitely worth checking out.
And then finally to wrap things up, nearly two weeks from today is the next installment of the Rooftop Concert Series. If you've seen pictures from the event then you know how packed the first two were, and I'm betting by the time it wraps up the series will have near standing-room-only on that structure. July 1st brings us The Abbey Road Show (a Beatles tribute group comprised of several local musicians and singers from various groups, singing Side-B of the iconic album) and Sarah Sample, completely free to the public starting at 8 p.m. And don't forget to check out Provo's Gallery Stroll that night, as well, at the various galleries around the area.

As for the blog... Over the next couple weeks we'll visit Gallery Stroll, check out a line of bags and purses, see the final production for a theatre company and have even more complete festival coverage with two days of Arts Fest and a particular flea market. At least, that's the plan we've got in mind. Who knows what will happen between today and then? As always, we'll see.