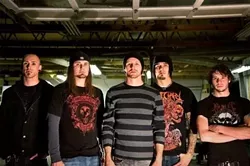 We've got five new local releases and supporting shows to talk about today, including two at the Arts Fest! Let's dive into the list. --- First up we see the debut release from Frame & Canvas. If this band sounds a little familiar but not quite, its because two bands have merged into one. Former members of Paxtin and Mesa Drive came together as a trio last year and started playing around SLC while hammering out their DIY album: The Lights, The Sound. This is very much in the harmonized emo rock category with a hint of acoustic ambiance. If you were a fan of either prior band then you'll probably enjoy this a lot. You can catch their release show tonight at The Rock (195 West 2100 South, the red warehouse behind the K2 Church) along with Kingston and Tessa & The Numbs. We don't know the ticket price but we know they're giving out free CDs, starting at 6PM.
Next up we hit Provo for two shows next to each other. Last week we mentioned the Fire In The Skies new album and show in Ogden, and this week they're at The Deathstar (between Velour and Muse Music). Playing along with them will be Sea Swallowed Us Whole, Feed Me To The Poor, Dead Wife By Knife and Look I Found Atlantis. But right next door at Muse Music will be the latest (and final) release from Schreoder. This 4-5 piece band with brothers Ben and Daniel Wells at the core took their name from the Peanuts character carried on as an eclectic rock group. Beyond that, they don't publicize themselves beyond their own shows, and barely promote their own shows at that. Lucky for us, Muse is promoting their final show before they breakup, and to commemorate it they're putting out a final album... to which we have no name or album art for. Playing in celebration will be Foxheart and Haili Gregson, $6 starting at 8PM. In lieu of an album cover, here's an awkward photo of the group
Meanwhile up in SLC we'll see the next release from Such Vengeance. The last time we heard from the Pleasant Grove metalheads was back in April 2010 with the release of their full-length album, The Time Is Now. It got the group (seen above) some fine recognition in the metal community with some airplay, but didn't do much beyond that. I'm sure the group are hoping for better with their latest full-length release, Golden Leaves, Rotten Roots. Its a pretty decent follow-up album, you can tell they've grown as performers while still holding onto some of their core metal roots. The album is worth at least a listen. Playing along side them at Club Vegas tomorrow will be Alias Code, Tezra and Mourn The Fall. $7 starting at 8PM.
Then on Sunday we've got two releases coming out of the Utah Arts Festival. The first from electronica pop group My Dead Ego. Much like last week, some schmuck writer already talked about them in this week's issue, so we'll skip the descrption and get to the plug. You can catch them at 3:45 on the Park Stage for a live show, and they'll have brand new copies of their EP Fairytales Of Industry on hand.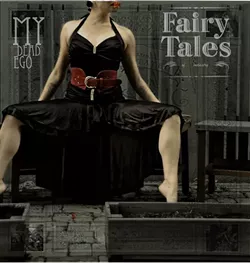 Finally, later that evening on the same stage you can catch the
The Numbs
, who will be celebrating their latest release at the festival. If you're any kind of fan of local hip-hop, then you already know the legend of The Numbs and their history and influence on local musicians. We'll be talking more about that in the blog next week, so stay tuned for that interview. Their latest album
Soulburn
is a master-crafted piece of work. Time and care were taken into honing out these rhymes, and the beats are equally superb. One of the big must-buy local albums of the year. The album doesn't officially hit until Tuesday, but I'm betting they'll have early copies on hand Sunday night after their 9PM performance. Album covers haven't been released yet, so here's an old pic of the group! (The don't update their pages much.)
Head out, love music, buy local!