City Weekly
recommended 35 must-see Utah Arts Festival attractions last week, but we wanted to find out what everyone else was talking about.---
The Utah Arts Festival has fully taken over Library and Washington Squares for the weekend. The festival is open noon-11 p.m. through Sunday, and single-day admission is $10. With myriad art options, it's hard to wade through it all. So, City Weekly asked a random sampling of festival-goers what they were digging on. Here's what they had to say:
What have you seen so far at the 2011 Utah Arts Festival that others need to see?
"I dig the yard art [artist Fred Conlon's company called Sugarpost]. I really like the way he's made the flamingos and the gnomes."

—Jen Long, Salt Lake City
"Higher Ground Learning [located at the Urban Arts area] is helping our youth cultivate their artistic nature, and there's the ability to buy their artwork. And the beer garden is pretty nice too; it helps to have a beer while you look at art, I think."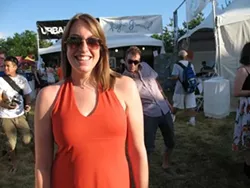 —Leslie Field, Salt Lake City
"I really like Ben Behunin. He had these little plaques with sayings that I think really speak to people. The festival is a really special place for me, because I met my husband here 20 years ago."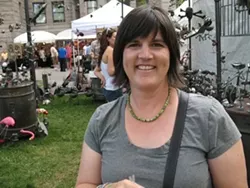 —Betsy Rics, Parley's Summit
"Absolutely, I would recommend Ballet West above everything else. It's just amazing. They are really my favorite."

—Edgar Jerez, Salt Lake City
"I really like the Hat Shop [Della Goheen]. Well, it's hot and you need a hat, so it's functional for the festival. I didn't buy this hat there though. I also like the Urban Arts area and the printmakers [Copper Palate Press]"

—Mike Poli, Salt Lake City
"I know Jen Hajj [playing guitar in photo] from other aspects of life, but we [a nightlife meet-up group for 20- to 30-year-olds] came for the Young Dubliners tonight."

—Erin Keenan, Farmington
For more tips on what to do around the Utah Arts Festival, read Dan Nailen's 35 Picks here.