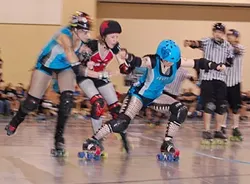 Saturday, June 25: Ogden's Junction City Roller Dolls took on Greeley, CO's Slaughterhouse Derby Girls at Layton's Davis Conference Center, in a doubleheader that also featured home teams Railway Banditas and Hilltop Aces. ---
JCRD's all-star Trainwrecks took an early lead of one point over SDG's Prime Cuts, which soon expanded to double-digits thanks to runaway jams by Killa Patra, Wreck N' Glamour and Zelda Cruz; Slaughterhouse's Play Chick'n With Me, Slim Slam Mayhem and Short Stack jammed just as hard, but could rarely penetrate JCRD's turquoise defensive wall. Score at halftime: Junction City Roller Dolls 103, Slaughterhouse 73.
SDG's Prime Cuts found some much-needed focus and momentum early in the second half, but then blocker Augusta Wind was sent down hard to the concrete track and blown out of the game. JCRD kept up the scoring onslaught, eventually letting the previously unutilized Tic Tac Flo, Miss Take and Clam Jammer take turns wearing the jam star. A late-period scoring tear by Slaughterhouse's Slim Slam Mayhem proved to be too little too late, shut down by a final coffin-nail jam by Wreck N' Glamour. Final score: Junction City Roller Dolls 152, Slaughterhouse Derby Dames 141.
Shots from Saturday's JCRD/SDG bout (Trainwrecks in blue, Prime Cuts in red):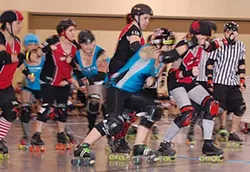 The double-header's second bout, between JCRD's season-undefeated Railway Banditas and always-defeated Hilltop Aces, looked to be over before it had barely begun: Within a handful of jams, the Banditas were up 30 points over the Aces, who were outmatched on every front. The Banditas did allow jammers Malibu Harpy and Zelda Cruz to make a couple of high-scoring runs, but spent the rest of the half kicking around the sky-blue underdogs. Score at halftime: Railway Banditas 74, Hilltop Aces 58.
If the Railway Banditas were (rightfully) feeling overconfident, the Hilltop Aces took full advantage by the midpoint of the second half: Back-to-back-to-back jams by Miss Take, Zelda Cruz and Malibu Harpy put the Aces up by over 15 points out of nowhere, a surprise slap that seemingly psyched the Banditas completely out of the bout. Banditas jammers Dawn Key Punch, Killa Patra and Demon Darling lost their scoring mojo and the previously impervious defensive line fell apart, with blockers like Dominique Trix spending more time in the (penalty) box than a KFC dinner special at closing time. Final score: Hilltop Aces 178, Railway Banditas 94.
Next Junction City Roller Dolls home bout: Saturday, Aug. 20 at Layton's Davis Conference Center, a double-header featuring the Trainwrecks vs. Everett, WA's Taco Kicker Rollergirls, and JCRD's Hilltop Aces vs. After Shocks. Tickets and info: JCRDolls.com.
Shots from Saturday's Hilltop Aces/Railway Banditas bout (Aces in blue, Banditas in red):