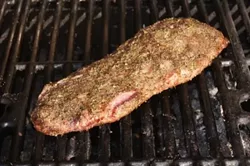 Summertime is for grilling and nothing could be simpler or more delicious than this easy recipe for grilled flat iron steak. --- I cooked it up last night and, frankly, it was awesome. It's just an easy-to-prepare dry rub and a quick sear on the grill. 
Here is how you do it. The rub recipe makes enough for about four steaks, so you can store the excess to use another time.
In a bowl, combine 4 tablespoons cracked black pepper with 1/4 cup cracked green peppercorns, kosher salt (to taste) and 1/8 teaspoon ground allspice. I grind up my peppercorns in a coffee grinder. 
Coat the flat iron steak (or skirt or flank steak) on both sides with the peppercorn rub and then sprinkle both sides with fresh minced rosemary.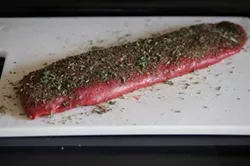 Refrigerate the steak for a minimum of 4 hours.
Remove the steak from the fridge about a half-hour before cooking and allow it to come to room temperature.
Cook the steak on a hot grill (or under the broiler) to taste - about 3 minutes per side for medium-rare.
Allow the steak to sit for 5 minutes, then slice and devour!